For those with limited mobility, a wheelchair can help maintain your independence and quality-of-life. Avoiding pressure sores is crucial and HPFY offers some tips to keep you healthy.
The fine line between maintaining your independence and mobility includes the risk of developing pressure ulcers for those who use wheelchairs daily. Pressure sores may seem like a minor problem, but they can lead to serious health issues down the road. These can be difficult to heal and can lead to serious infection over time. As someone who uses a wheelchair daily, I may be able to help you find the best way to deal with them and avoid them altogether.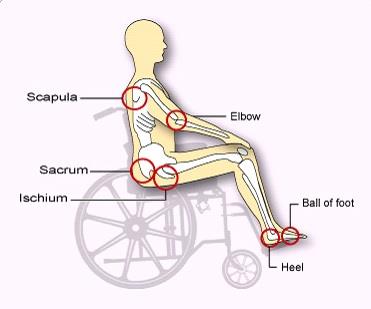 How Do Pressure Ulcers Develop?
I'm sure you have heard the term pressure sores or ulcers, but do you understand what they are and what causes them? A pressure sore or ulcer is simply damaged skin from being in one position for too long due to limited mobility. These commonly occur in areas that are bony and don't have a lot of excess tissue in the area (i.e. heels, elbows, and your backside). There are four main issues that can cause these types of injuries and they include:
These types of injuries can be difficult to heal, but can be avoided by a variety of treatments such as proper skin hygiene, shifting positions regularly, and utilizing medical aids that alleviate pressure points.
How to Combat Pressure Ulcers?
Once you understand what causes a pressure sore, the next logical step is finding a way to make sure you avoid them. Sounds easy, doesn't it? Not so fast!! Once a sore or ulcer becomes advanced it can be significantly more difficult to treat so early intervention is crucial to avoid potential infection. Yes, many of these products are common sense and are readily available, but there are some you may not know about that are much more efficient in preventing pressure sores. They can include:
Just by using or having some of these medical aids is not the total answer. By being diligent in shifting your position (if possible) and maintaining proper skin hygiene is crucially important in making sure our largest organ, the skin, is given the best hope. Work with your physical therapist to find the best method for avoiding pressure sores and be sure to be compliant!!
Disclaimer: All content found on our website, including images, videos, infographics and text were created solely for informational purposes. Our content should never be used for the purpose of diagnosis or treatment of any medical conditions. Content shared on our websites is not meant to be used as a substitute for advice from a certified medical professional. Reliance on the information provided on our website as a basis for patient treatment is solely at your own risk. We urge all our customers to always consult a physician or a certified medical professional before trying or using a new medical product.