Extra Long Flexible Drinking Straw
Spill Proof Container
Providence Spillproof Plastic Mug
What is a Drinking Aid?
Drinking Aids are designed to assist individuals in drinking while reducing accidental spills. They are ideal for people with hand tremors, dysphagia, reduced upper limb strength, and other swallowing issues. Disabled drinking aids like mugs, drinking cups for the elderly, straws, etc., are easy to pick up, hold and drink. They allow individuals to drink liquids independently without any assistance. Health Products For You provides drinking utensils from popular manufacturers like Maddak, Freedom Distributors, Medline Industries, North Coast Medical, etc.
Types of Drinking Cups for Elderly
There are different types of drinking aids available, like cups with handles, cups with lids and spouts, cup holders, and straws.
Benefits of Non-Spill Cups for Adults
The use of adapted drinking cups for dementia and other hard-to-manage ailments can help the person develop self-determination and confidence. These assistive aids help them feel independent and improve their nutritional intake. With the use of drinking cups for the elderly, their caregivers can ensure they get adequate nutritional supplements on a daily basis. Easy-grip drinking cups also help enhance the appetite in older adults and children. They help people eat and drink comfortably without any help.
When are Adapted Drinking Aids used?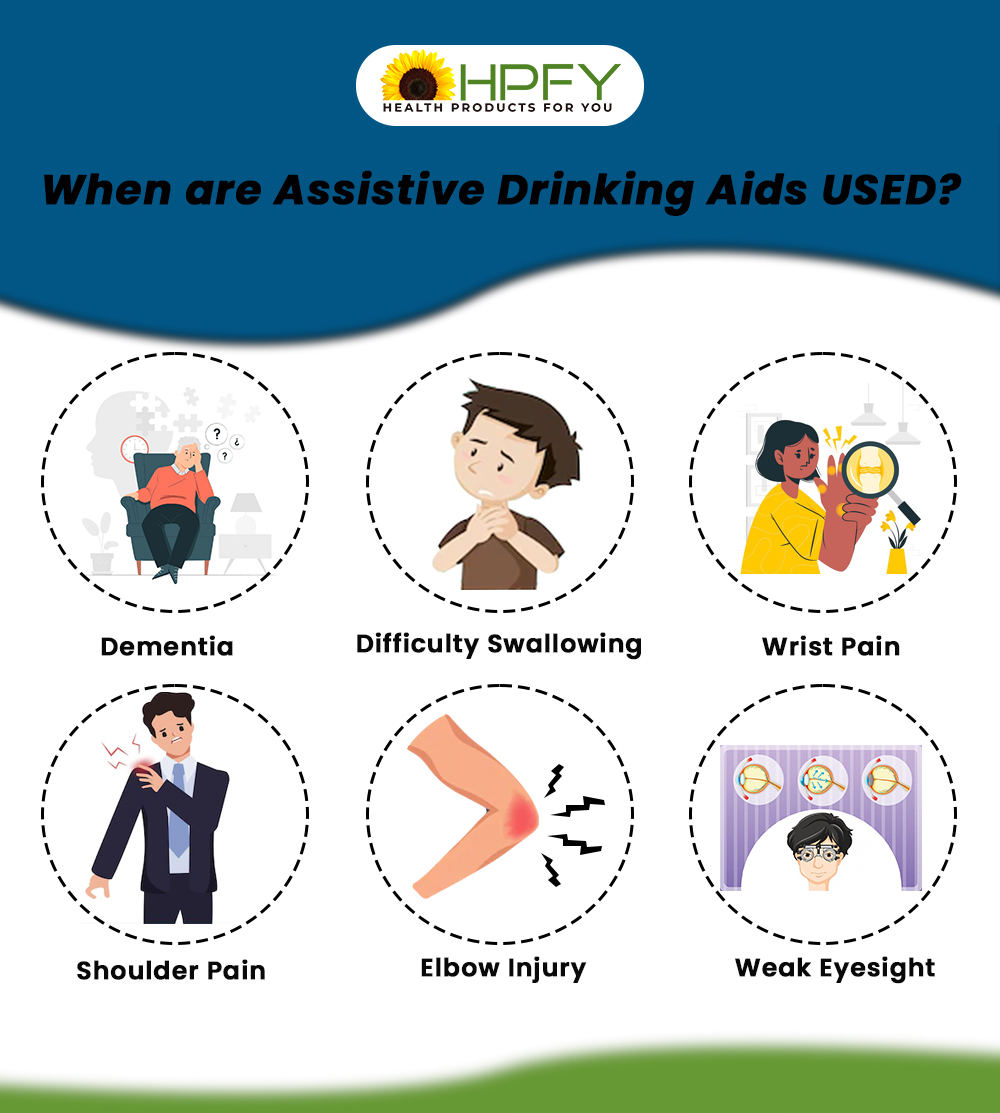 What causes difficulty in handling Drinking Cups?
The following are the reasons that cause difficulties in handling cups and drinking successfully:
Reduced grip due to pain, joint deformity, or stiffness 
Inability to control the amount of liquid entering the mouth 
Loss of sensation in hands, and as a result, the user has difficulty feeling the cup he/she is holding 
Stiffness or pain in arms, neck, and shoulders, making it difficult to bring the cup close to the mouth 
Sight loss or impaired vision 
Lack of muscle control 
Slow movements
Where to buy Adaptive Drinking Cups online?
Health Products For You provides drinking cups for elderly from popular manufacturers at the most affordable prices ever. Our wide collection also includes Cups with Handles, Cups with Lids or Spouts, Cup Holders, and much more. Browse through our wide collection and choose the design that best suits you. Place your order with us today and earn reward dollars on every purchase. You can use these reward dollars on your next order. 
More Information about Adaptive Drinking Aids