Wiesner Incontinence Clamp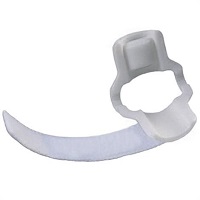 Personal Medical C3 Male Incontinence Device
Bard Cunningham Penile Clamp
What is a Penis Clamp?
A penis clamp is a medical device used for the management of male urinary incontinence, which is the involuntary leakage of urine. The clamp is typically made of a soft, flexible material, and it is worn externally on the penis. When closed, the clamp applies pressure to the urethra, which is the tube that carries urine from the bladder out of the body. This pressure helps to prevent urine from leaking out, effectively managing urinary incontinence. There can be various causes of urinary incontinence, such as prostate surgery, bladder surgery, nerve damage, or other medical conditions, and it can affect men of different ages. Some may even find that urinary pads, adult diapers & briefs hamper their routine movements. In such situations, a penile clamp becomes the best alternative. 
Penis clamps are typically used as a non-invasive treatment option for male urinary incontinence when other treatments, such as medications or behavioral changes, have not been effective. Experience comfort and confidence with our best-selling penile clamp for men from top-selling brands and manufacturers.
Benefits of using Penile Clamp for Incontinence
Prevents urine leakage
Reduces risk of urinary tract infections
Lowers the risk of dermatitis
Helps individuals with diabetes, obesity, and some surgeries
Boosts confidence
Provides a discreet and comfortable experience
Offers freedom to lead an active life
How does an incontinence clamp work?
Male incontinence clamps are worn around the penis to block urine flow. Once the penis clamp is in place, it is closed to apply pressure to the urethra. The clamp compresses the urethra, which helps to prevent the flow of urine. This slight pressure controls the bladder leakage without affecting the blood circulation in the penis. It is important to remember that the penis clamp should be released every 2-3 hours to prevent bladder overfilling. Penis clamps are usually adjustable to allow for a customized fit. The user or caregiver can adjust the tension of the clamp to find the right balance between effectively preventing urine leakage and ensuring comfort.
Indications
A penile clamp will work well in the following situations:
For active men who need discreet incontinence products
For preventing urine leakage for a specific period, like while doing exercise
Stress urinary incontinence
Occasional urine leakage
Preventing urine leakage is more important than containing it
There is a normal feeling in your penis
How to use a penis clamp?
Wash your hands thoroughly and pat dry them before applying the penis clamp 
Place the penis between two foam pads on the clamp in the middle of the shaft. 
Then, tighten the penile clamp to compress the urethra. Ensure it is not too tight to restrict blood circulation. Set the required pressure. 
Shape the upper foam pad with fingers to get optimal fit and comfort.
Tips for safe usage
Avoid keeping the clamp in the same place for over two hours. Keep moving the clamp up or down the shaft every two hours. 
Every two hours, remove the medical clamp to pass the urine to avoid urinary tract infection. 
Avoid using a penis clamp while sleeping. 
The penile clamp should not be too tight on the penis. Ensure that normal blood flow is maintained to prevent any skin irritation. 
Check for signs of wear and tear and replace the incontinence clamp accordingly.
What to consider?
Size - Penis Clamp is available in a variety of size options. Some come in size fits options, while others come in small, regular, and extensive options. They further include some separate settings to adjust the pressure exerted on the urethra.
Locking Mechanism - Different male incontinence products come with different locking options. You can choose from ratchet catch systems, spring wire systems, and elastic strap options, depending on your requirements. The best will be the one that will easily adjust to your requirements.
Maintenance - Depending on how much time you want to invest in your male incontinence products, you can choose between reusable or disposable penis clamps. The reusable penile clamp can be washed with mild soap and water and reused.
Where to buy penile clamps online?
Health Products for You offers a vast collection of male incontinence devices from top-selling manufacturers like Personal Med, Wiesner Healthcare, and many more.
Our Best Incontinence Clamps
Read more about Male Incontinence