ABC Leisure Mastectomy Bra Style 110
ABC Comfy Mastectomy Bra Style 131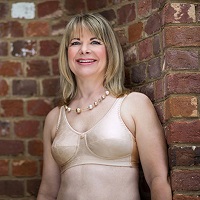 ABC Rose Contour Mastectomy Bra Style 103
Our line of ABC mastectomy bras has an aesthetic appeal and stands out for its versatility and extensive comfort. Buying ABC bras involves choosing from a wide selection. The front closure ABC mastectomy bra is luxuriously soft and gentle, while there is so much fashion built into the lacy ABC mastectomy bra. When healing is complete, reduce the effects of edema and hematoma with our compression mastectomy bra.
ABC Bra gives you the best leisure bras great for relaxation and casual leisure activities. ABC Leisure bras style 110 is a perfect example of coverage and support without discomfort. It is made with breathable cotton with pockets on both sides to accommodate most types of breast forms.
How to Measure for ABC Mastectomy Bras?
Measure for the band size:
The circumference should be measured at the Bra Band.

Measurement should be snug.
The patient should hold arms at the sides or on hips while the circumference is measured.

Add either 4 or 5 inches to the measurement of circumference to achieve an even number.
ABC bra fitting tips for patients with wheelchair
Some patients can stand even if they cannot ambulate; it would be easier to get measurements if the patient could stand
If the patient cannot stand, measurements can be taken while seated. When the patient is seated in the wheelchair, do not add extra measurements to the chest circumference
Measure for the cup size
Measure from the center of the sternum, over the apex of the natural breast, under the arm, to the center of the spine.
Measurement should be taut, not snug.
Double the measurement.
How to know which mastectomy bras will work best for you?
Every woman is designed differently. Regardless of how much you think you know about bras, it's always best to see how they fit you. When choosing from ABC mastectomy bras, three things mentioned below should be given priority:
Comfort
Confidence
Ease of wear.
What's the difference between post-mastectomy bras and regular bras?
Inside the bra cup of post-mastectomy bras, there are pockets designed to hold breast prostheses in place. They also help to allow for the extra weight of a silicone breast form. In the case of regular bras, there are no specialized bra pockets present to hold the breast form in place.
Other Useful Links
FAQ's
Frequently asked questions
Yes, this is possible. However, it is more effective to wear pocketed mastectomy bras because these have been developed specially to hold the breast form weight. ABC post-mastectomy bras offer the security one may need.
ABC compression mastectomy bras enhance blood circulation to the chest. The increase in blood flow assists in faster recovery from the surgery. ABC compression bras have Velcro straps for a better fit with special front closure.
ABC post mastectomy bras should preferably be hand washed. They can be machine washed but only after being placed in a lingerie bag. It is recommended not to put these bras in a dryer as the heat can damage the elastic or molded bra cups.
Breast forms have a life expectancy of two years. Insurance and Medicare allow you a new breast form every two years.