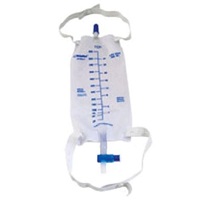 Cardinal Health Drainage Leg Bag With T-Tap Valve
Hollister Urinary Leg Bag
What is a Urinary Leg Bag?
A Urinary leg bag is a medical device used to collect urine from a patient who has an indwelling urinary catheter. It is typically a small bag made of flexible material that is attached to the leg of the patient using straps or other fasteners. The bag is connected to the catheter via a tubing system, allowing urine to drain from the bladder into the bag for collection. It fits under your clothes and allows you to do your normal daily activities. The urine leg bag allows you to move around more easily. Because the bag is hidden under your clothes, it will make you feel more comfortable with the catheter.
Urinary leg bags are commonly used in patients who are unable to empty their bladder due to various medical conditions, such as urinary retention, neurogenic bladder, or post-surgical recovery. These are directly attached to Foley Catheters or External Condom Catheters. You can find plenty of single-use and reusable urine leg bags at HPFY. Additionally, bladder bags for urine collection are quite versatile and one can find a varied variety of urine bags in different sizes and shapes. At HPFY we have brought to you a vast collection of urinary catheter leg bags manufactured by the leading names of the industry such as Bard Inc., Coloplast, Hollister Incorporated, and many more.
How to Choose a Urinary Leg Bag?
Size: Choose a leg bag size that is appropriate for the patient's needs, considering factors such as the patient's urine output and the expected duration of use.
Material: Leg bags are typically made of flexible materials such as vinyl or silicone. Consider the material that is most suitable for the patient's comfort, durability, and skin sensitivity.
Features: These urine bags may have various features such as anti-reflux valves, drainage ports, and adjustable straps. Consider the specific features that may be beneficial for the patient's condition and lifestyle.
Comfort: Choose a leg bag that is comfortable for the patient to wear, with a proper fit and minimal discomfort during movement or activities.
Security: Look for leg bags that have secure attachment mechanisms, such as adjustable straps or leg bands, to prevent accidental dislodging or slipping.
Durability: Consider the durability and quality of the leg bag to ensure it can withstand regular use and potential wear and tear.
Ease of use: Catheter leg bags should be easy to use and empty, with clear instructions for patients and caregivers to follow.
How to use a Leg Bag?
Using a urinary drainage bag is no rocket science but for somebody who has just started using them, it can be quite difficult in the beginning. Here is how you can use a catheter leg bag -
Keep hygiene in check: Wash your hands with soap and water before and after touching your catheter to avoid any chances of infection.
Strap it nice: Your leg bag can either be attached to your thigh or calf, whichever makes you feel comfortable. Make sure the leg bag straps are tied neither too tight nor too loose, as tight straps can hamper the blood circulation in your leg and too loose straps will not keep the bag in place properly.
Sterilize well: Use alcohol to clean the tip of the drainage tube before attaching it to the catheter. It will help the catheter remain germ and bacteria-free.
Avoid constant pulling: The connecting tube should not pull on your catheter. Skin breakdown can occur if there is constant pulling on the catheter.
Keep an eye on the tube: Check the tube often to make sure it is not kinked or twisted. Blockage in the tube can cause urine to back up into your bladder. Your urine must flow straight through the tube into your leg bag. Always keep the leg bag below your bladder. This prevents urine from the bag from going back into your bladder, which may cause an infection.
Empty the Leg Bag: Empty your leg bag when it is half full, or every 3 hours. Waiting for it to get filled fully before emptying is not a great idea as a full bag may break or disconnect from the catheter.
Change it before sleeping: Switch to your bedside drainage bag before going to bed as your bedside bag can hold more urine. Do not use your leg bag at night because it could become too full or break, use a bedside drainage bag instead, it is bigger in size as compared to normal leg bags and provides more comfort during the nighttime.
Clean the bag after use: It is recommended that you clean a urine bag after every use. It keeps the leg bag safe from infection and ready for next use.
Cleaning Instructions
Initiate the process before going to bed, and begin with emptying the bag.
Once the catheter leg bag is emptied properly, remove it and attach a nighttime drainage bag using Drainage Bag Accessories.
Use cold water to rinse the used leg bag and shake it rigorously. Do it twice for about 20 seconds and drain the water into the toilet.
Fill the bag with 2 parts vinegar and 3 parts water. Let it soak for 20 minutes, then rinse and let dry.
Follow your healthcare provider's instructions on replacing your leg bag with a new one.
Frequently Asked Questions
1. How often should a urinary leg bag be changed?
Empty your urinary leg bag regularly to avoid becoming too full and heavy, which may pull on your catheter. It would help if you changed the urine leg bag every 2 to 3 hours.
2. Do urine bags come in different sizes?
Catheter leg bags come in all different sizes and styles. You will need to use a bedside bag with a larger capacity at night.
3. When should we call the doctor?
Fever or chills.
Pain around your sides or lower back.
Feeling tired, achy, and have a tough time focusing.
Urine smells bad
Pain in your bladder or pelvis.
What can be used along with Urinary leg Bags?
CathWear Catheter Underwear - CathWear can hold up to two 600 ml leg bags and are helpful for users who have an active life and want to take the catheter along.
Bard StatLock Foley Stabilization Device - Designed to secure and stabilize a Foley catheter in place, reducing the risk of catheter dislodgement or migratio
Dale Hold-n-Place Foley Catheter Holder - Stabilizes the indwelling catheter, reducing the likelihood of traumatic removal, without restricting patient movement
Where to buy Catheter Leg Bag?
We, at Health Products For You, have a huge variety of urine collection gas for adults. Our top-selling products i.e., the Hollister Urinary Leg Bag which is a comfortable low profile bag that rests discreetly against the leg with soft pleated sides, promoting independence and quality of life, and the Medline Leg Bag which comes with comfort straps and twist valve drainage port that is used for those patients who require a catheter but are able to ambulate on their own, are well-known for their durability and comfort. We also offer leg bags from brands like Covidien and Mckesson. Along with top-quality products, HPFY offers huge discounts, Reward Dollars, quick delivery, and much more to its customers. You can explore our collection today and avail exciting deals on Urologicals.
Articles and Research Papers