McKesson Skin Barrier Wipe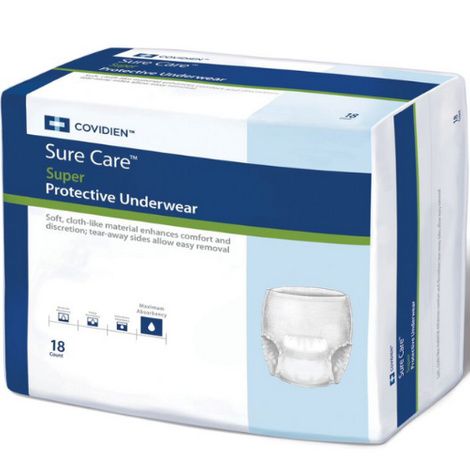 Sure Care Plus Protective Underwear - Heavy Absorbency
What are Pull Up Diapers?
Adult Pull Ups are designed to add protection for users with incontinence. The protective underwear fits like regular underwear and can be easily slipped up and down, making it ideal for people with an active lifestyle. It has a discreet design that feels comfortable under clothing and offers dryness with good absorbency. HPFY offers a wide variety of pull ups for men and women. Here, you will find incontinent underwear and pants from experienced manufacturers who deliver high-quality products that provide protection, odor control, and skin care simultaneously. They provide excellent protection, and their super absorbent core and anti-leak guards help you stay dry and fresh.
How to choose the best Pull Up Diapers for Adults?
When choosing an incontinence garment, base your selection on:
1. Pull Ups Sizing
Size is an important factor to consider when choosing your incontinence protective underwear because you must get the right fit. You will be uncomfortable if the underwear is too tight. At the same time, if it is loose, there is a good chance of leakage. Incontinence manufacturers offer several pull up diaper size – X-small, small, medium, large, X-large, XX-Large, etc. If one size is smaller it is better to try the next larger size because the correct fit is important for comfort and leak-proof experience.
2. Level of Incontinence Protection
There are different absorbency levels available for protective underwear. What is the level of protection you are seeking? Know your urine leakage or outflow level and select the type suitable. There are pull on underwear for:
If your fluid flow is moderate in the daytime but heavier at night and you need stronger protection for the night then go for an absorbent pad in the day and protective underwear for nightwear.
3. Specialty Groups for Incontinence Pants
Be gender-specific for the correct size. Our selection includes Womens Adult Diapers, pull ups for men, Unisex pull on incontinence underwear, adult protective underwear, youth protective underwear, and incontinence underwear for baby boys and girls.
4. Washable and Disposable Underwear
Protective underwear and pants are available in washable and disposable underwear type. The washable or reusable variety is cost effective and comfortable. The disposable type (like McKesson Underwear, Cardinal Underwear) may prove costlier but displays great absorbency. Choosing from the two will depend on the protection level required. We offer a huge variety from pull-on elastic waist incontinence pants and belted shield undergarment to bariatric protective underwear. You can customize your needs depending on the size, style, level as well as material (cotton, spandex, nylon, stretch, polymer, etc).
Branded and high quality, these products are available at big discounts on our site. Tena absorbency protective underwear for all levels of protection are popular buys. Protective underwear and pants from makers like Medtronic/Covidien, Tranquility, Fitright Super Protective Underwear as well as Wellness pull-up absorbent underwear are top quality.
How to wear Pull Up Diapers?
Check the back of the protective underwear with a marking of "back".
Wear the adult pull-up by placing one leg into each leg hole.
Slide the pull-up diaper just like an underwear
Check that the protective underwear has a proper fit and is comfortable.
How to remove Adult Pull Ups?
Remove the Adult pull up diapers once they are full
Tear away the side seams of both the sides, one at a time, then lift the pull-up diapers away
Where to buy Protective Underwear online?
Protective Underwear offers a cloth-like feel to the wearer and feels comfortable against the skin. These pull up diapers are breathable and are easy to put on or remove. Health Products For You offers a huge collection of protective undergarments from renowned manufactures like Prevail, Medline Industries, Essity, Attends Healthcare Products, and many more.
Other Useful Links: