Hip Replacement Surgeries have become common around the world. Weakened bones and joints during old age restrict a person's movement and make it difficult for a person to even sit. Hip replacement procedure gives them another shot at enjoying life pain free. Accidents and other disorders might also result in a person needing a replacement surgery. While the surgery takes just a few hours, the recovery could take not just days but months. The recovery from a hip replacement surgery is not just painful but at times even frustrating. Especially for those independent people who are used to taking care of their own needs and cannot get used to being dependent on someone to move.
Necessity is the mother of all inventions and thus in today's world there are a plethora of products available that can help an individual in the initial period of recovery. These types of devices and tools help a person get through the tough time of coping with a slow and painful recovery from hip replacement surgery.
Beyond the recovery period, some of these hip replacement products enable a person to carry out basic day to day house chores without the support of someone else. This makes them independent and confident thus somewhat help in the healing process.
1. Transfer Benches
Moving around in the bathroom can be a difficult task. Transfer benches or shower benches are specifically designed for a person to easily move to and fro from a bathtub or a shower area. The design is based on simple mechanics and helps a person move without exerting pressure or strain on their hip. They can be placed permanently inside the bathroom and can also be removed if necessary. After a hip replacement surgery, one is not recommended to exert stress or strain on the hip and continuous sitting and standing while in the bathroom might cause pain and discomfort. Transfer benches can ease this discomfort. Moving inside or outside the bathtub or using the toilet involves the risks of slipping and falling. Transfer benches and chairs reduce these risks drastically as a person no longer has to manually move from one position to another in the bathroom.
An individual comfortable sits on the bench or the chair and another person slides the seat into the desired position. Non-sliding benches have handles are lightweight so that a person can be lifted and placed into the desired position.
There are two types of transfer benches, Sliding benches and Non-sliding benches. The non-sliding ones usually are like a chair and have a backrest and are lightweight for easy transportation. They can be easily carried around in the bathroom. The sliding ones are usually fixed in one place but are easier to use than their counterpart.
Benefits of Transfer Benches
The padded seating of the chair makes it comfortable for the user and provides comfort to the buttocks

The chair can be separated in most cases from the track functioning, thus making it easier for the person to move out of the bathroom on the chair itself

It can be used in almost all places in the bathroom including the bathtub, commode, or the shower area

The locking system on the rails ensures maximum safety of the user

They come in bariatric variants as well thus allowing everyone to use them

You can choose benches that come in fixed heights and adjustable heights

Many of the benches have suctions cups on the legs that increase stability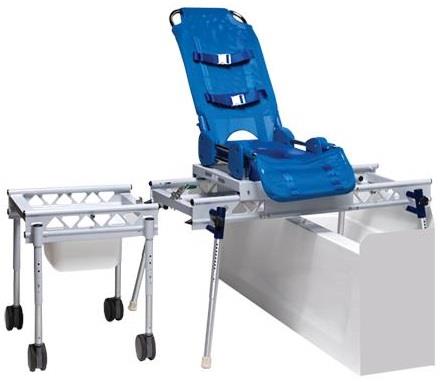 2. Reachers
Accidents, physical disabilities, or neurological issues might many a time impair the use of a person's hand. A hip replacement surgery might leave a person unable to have a full range of physical movements for a small period of time. This causes a lot of difficulty in completing even the most basic of household chores. Picking up, pushing or pulling things, and even holding something firmly becomes a major issue. This is where reachers come into play. They use a simple pulley like mechanism to help a person pull, push, hold, or pick things up. One can consider them to be an extension of the arm. A simple tug or pull to the handle engages a lever which in turn moves the arm at the extended end thus putting the reacher in motion.
There are six basic types of reachers such as all purpose, ergonomic, folding, adjustable length, light-weight, and outdoor reachers. They are classified on the structure and the varying features of each reacher.
Benefits of Reachers
They reduce the need for extending or stressing the arm or the hand

The easy use of reachers have made them common in households around the country

The brightly coloured claw and handle allow it to be seen easily

The claw is made of slip resistant material to avoid accidents

The handle is ergonomic and responds to a gentle push or pull of the lever

They are usually light-weight and can be carried around easily

They can be attached to wheelchairs or benches so that they can come in handy whenever needed

They can be folded many a time and can be stored easily in the house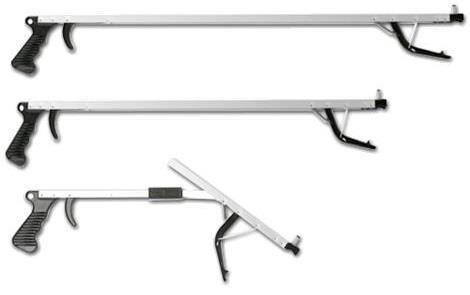 3. Shower Sprays
Shower sprays are something which people mostly have in every home around the world but the ones used for rehabilitation are different from the ones we use at our homes on a daily basis. The functioning is the same as common shower sprays but the structure is specifically designed for people adapting to repercussions of decreased hand strength and grip, injuries, etc. After a hip replacement surgery, a person should be most careful in the bathroom, as there are higher chances of being injured. These shower sprays are specially crafted to ensure a person bathes without any difficulty of gripping or moving around much.
They allow a person the freedom to bathe independently and thus ensuring the privacy of the activity. One can easily attach the shower spray in almost every bathroom type. There are four types of shower sprays or heads such as adjustable, hand-held, fixed, and portable. Adjustable shower heads can be removed and attached on to shower sprays.
Hand-held shower heads increases the range of use thus allowing a person to use it while sitting.
Fixed shower heads are usually recommended for people who bath in the bathtub and do not move while bathing Portable shower heads include sliding showerheads that can be moved around while attached to the wall
Benefits of Shower Sprays
They can be attached on to the wall or used while moving around in the bathroom

They can be connected to a hose and used as hand held shower sprays

Many of them have a detachable shower head and can be used as both fixed and portable

They reduce the need of a third person while bathing

They have a massaging head that can be used to sooth the pain in some regions of the body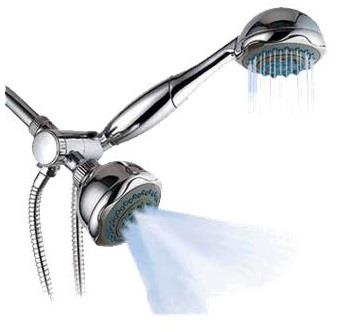 4. Seat Raisers
Bending down or even entering a seating position quickly is not recommended to people who have undergone hip replacement surgeries. Commodes in modern toilets can be considered low for people who have difficulties in sitting down in those specific positions. Hence toilet seat raisers are used to allow a person to easily use the toilet without having to go through any difficulty. They increase the height of the commode thus ensuring that the person doesn't have to bend down or sit in an uncomfortable position while using the toilet. They come with or without armrests. They also have a detachable lid if needed by the user.
There are three types of toilet seat risers:
Hinged – They have hinges at the rear portion of the seat to allow other people to use the toilet without using the riser. It can be lifted and placed back again whenever needed
Elongated – They care wider at the base and have enough space to give comfortable seating to the user
Basic Risers – They are simple in design and only serve the basic function of raising the toilet seat
Benefits of Seat Raisers
They are mostly made of plastic that is skin friendly and is water-proof

No assembly is required for seat raisers as they are one unit

They can be easily fixed over all types of commodes and are smooth to fix and use

They come in variants that are high and can support almost all body weights

They include armrests that can be detached. These armrests provide additional support

They have screws or other locking systems that ensure the safety of the user

They can be cleaned easily with soap and water to ensure hygiene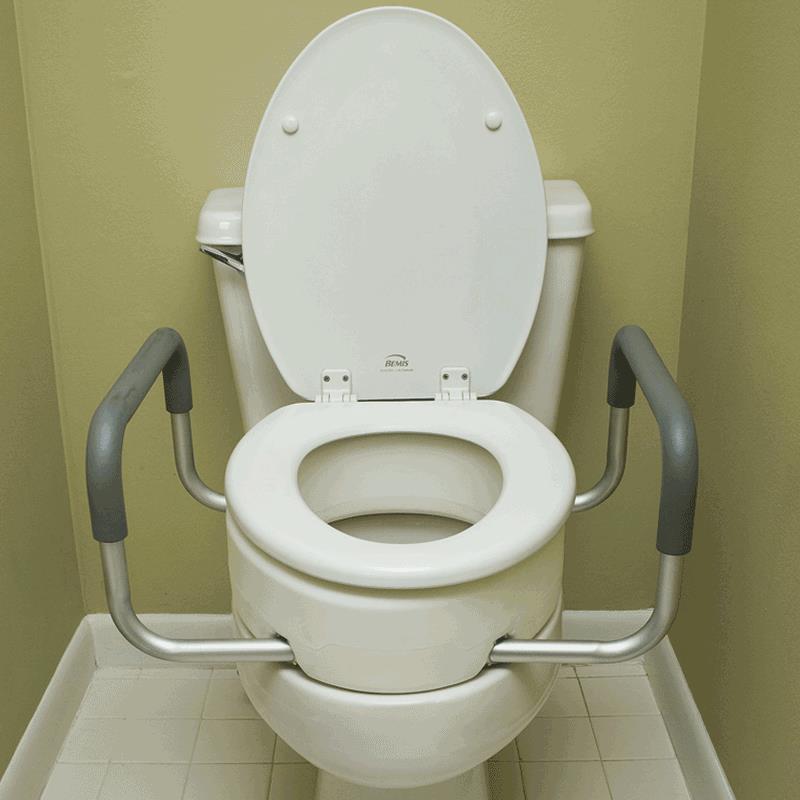 5. Dressing Aids
Dressing up requires a number of activities coming together which includes, standing up, sitting, bending, and moving the legs and arms in different positions. All these can be difficult for a person who has just gone through a hip replacement surgery. A number of dressing aids can help people easily dress up without having to go through a lot of difficulty or pain.
There are a number of things one must put on before starting the day and even more if one needs to go outdoors. From shoes to socks, from buttoning a shirt to tying the shoelaces, almost all of the activities require complex movements of sitting down, standing or using the arms and legs in a continuous motion, all of which might be difficult for someone who has gone through a hip replacement surgery.
There are a number of different dressing aids such as:
Shoelaces and Fasteners – Elastic shoelaces are a common thing used by almost all those who have a difficulty in tying shoelaces again and again or bending down to untie or tie them.
Dressing Sticks – They come in various structural types and features and include sticks that help in wearing clothes and undergarments.
Hair Grooming Aids – They include brushes, combs, elastic bands etc, which can be used in different ways with different features to reduce discomfort or pain of any kind during use.
Zippers and Button Aids – Buttoning a shirt can be difficult during times when the arm doesn't have enough strength to perform this activity. Button aids help in relieving this situation. Zippers can also be attached to help.
Shoe Horns – One can easily just slip their leg in the shoe while a show horn is clipped or placed inside the shoe. It then easily slides out without any discomfort.
Hip Kits– These kits are equipped with almost all kinds of dressing aids in one. From simple reachers to bathing aids and other important aids, hip kits are specifically designed to aid people during the rehabilitation phase of hip replacement surgeries.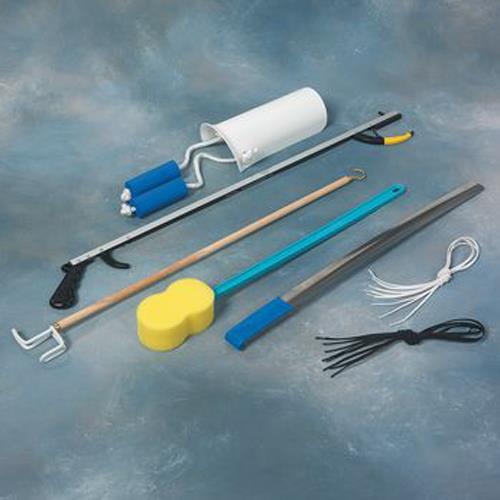 6. Grab Bars and Rails
Getting out of the bathtub or getting up from the commode might require assistance for many people who have gone through a hip replacement surgery. A person would always prefer privacy in such situations which requires one to be independent. Grab bars and rails attached in the bathroom can help a person achieve this independency and privacy. Made of either rubber or stainless steel these grab bars or rails can be easily attached over the rim of the bathtub, beside the commode or on the walls of the bathroom.
Holding the grab bar while bathing or using the toilet allows a person to maintain stability and reduces the risk of falling. Maintaining balance in the bathroom is important as slipping or falling in the bathroom can result in injuries. Especially people who have undergone hip replacement surgeries have to take care while in the bathroom.
There are six types of grab bars such as wall grab bars, tub grab bars, suction cup grab bars, knurled grab bars, curved grab bars, and security poles.
There are a four types of safety rails viz., tub safety rails, toilet safety rails, toilet safety frames, shower support rails.
Benefits of Grabs Bars and Rails
Help in maintaining balance and reduce the chances of slipping or falling in the bathroom

Can be attached easily to the walls of the bathroom at different angles and positions

Grab poles reach from the floor to the ceiling and the different special feature enhance the experience by providing comfort and safety

They are perfect for people with limited mobility or limited range of motion due to major surgeries

They are cheap and easy to install and one of the easiest ways to ensure patient safety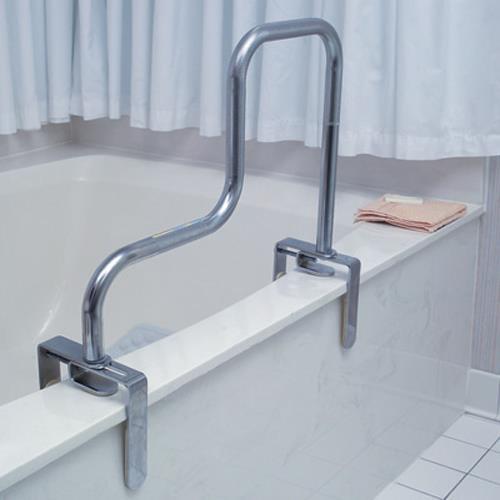 7. Canes
One of the oldest support systems for mobility in history, canes in today's time have grown with the advent of technology. From being chopped or broken pieces of wood in the ancient past to highly durable and strong ones today, canes have come a far way. Hip replacement surgeries might often leave you with decreased strength of the thigh and buttock muscles thus causing pain or discomfort while standing, getting up, or walking. One of the most convenient and safe options are canes. Various types of canes such as wooden, steel, quad –canes, travel canes, etc give the person the liberty to make choices according to their needs.
Installing grab bars and poles everywhere around the house isn't a feasible option and so people who have difficulty while standing up or sitting down without a strong support are recommended to use canes.
Even while walking one requires strength and stress is exerted on the legs as well as the hip and abdomen. To reduce this strain canes are used, that not only absorb the strain but also help in maintaining balance.
Benefits of Canes
The help in maintaining balance while walking, standing, or sitting down.

Reduce the stress on the legs, thigh, abdomen, and hip muscles

Made with strong and durable material to ensure the longevity of the cane

Ergonomic handles allow easy usage and firm grip

Reduce the chances of falling or tripping while walking or standing up

Many a time, they are equipped with wheels to increase mobility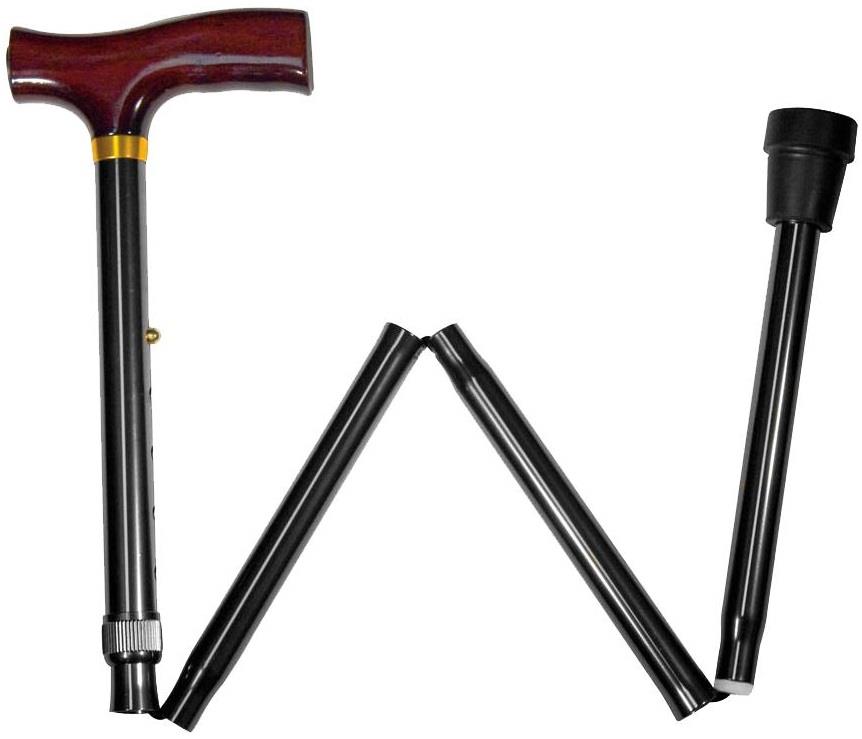 8. Bath Accessories
Hip replacement surgery renders the patients temporarily incapable of doing the basic physical motions like bending over. This temporary handicap can result in difficulties in completing all the activities that surmise as bathing, independently. Bath accessories like the long handled brushes replace the human dependency factor thus allowing a person to be independent and have privacy while bathing.

The long handle gives the person the enough range to scrub between the toes without bending over, to clean the back and other hard to reach regions of the body.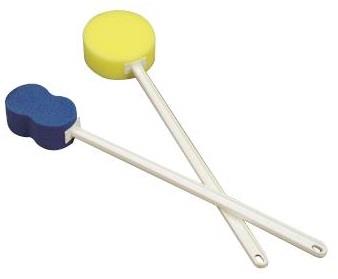 These tools and aids have been a boon for people who have gone through a hip replacement surgery or will be going through one soon. The rehabilitation or recovery period of most major surgeries might be a difficult time for people but these aids help a person get through this time independently and comfortably.
Disclaimer: All content found on our website, including images, videos, infographics and text were created solely for informational purposes. Our content should never be used for the purpose of diagnosis or treatment of any medical conditions. Content shared on our websites is not meant to be used as a substitute for advice from a certified medical professional. Reliance on the information provided on our website as a basis for patient treatment is solely at your own risk. We urge all our customers to always consult a physician or a certified medical professional before trying or using a new medical product.