Routines for an Easier Life During Coronavirus

Everybody has a routine. Whether we know it or not, we are creatures of habit. We go to work and spend time with our families, and in between, all of our tasks or errands are pretty much done by a routine we establish. Basically, it's the rhythm of our life. Now with the coronavirus pandemic, these routines have been interrupted and have been replaced by "the new normal." Instead of lamenting the interruption in our daily schedule, let's establish a new routine to make life easier and we here at HPFY can help.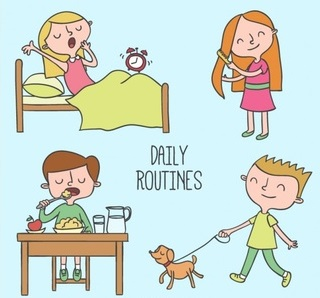 What is the "New Normal?"
For now, the days of going out in public without a care are on pause. Healthcare experts have suggested that we stay 6 feet apart (social distancing) or wear a face covering or mask. Across the country businesses have been slowly reopening, but with restrictions on occupancy and operations. Facemasks are where we need to start for a new routine. Much like we hang our keys on a hook when we get home, install hooks for each member of the family to hang up their masks when they get home. This way we know where they are and they don't get lost. This also reminds us as we leave the house to put on our masks. Also, for our children we could pack an extra mask in their backpack or lunchbox the night before. You may want to check out these facemasks and face guards:
Reusable Face Shield: Made from PETG (polyethylene terephthalate glycol), this mask has a nonporous surface that can be cleaned with antibacterial wipes.
Gen 3-Ply Protective Pleated Face Mask with Earloops: These are FDA approved and filter 95% of airborne particles. The three layers of polypropylene are made from nonwoven fiber fabric.
N95 Particulate Respirator And Surgical Mask: N95 Particulate Respirator And Surgical Mask has comfortable inner materials and helps provide respiratory protection against certain airborne particles, including those generated by electrocautery, laser surgery, and other powered medical instruments. The individually packaged flat fold design allows for convenient storage before use. It is designed to help provide respiratory protection for the wearer.
My New Routine During COVID-19 Lockdown
Routines allow us to do things without having to think about them. Kind of an autopilot for our daily events. So, what qualifies to be included in a new daily routine to make your life easier? Face coverings and masks are now part of our everyday life if we want to beat this pandemic. Developing an everyday routine that encompasses disinfecting and anti-bacterial cleaning is crucial. At home, replacing our everyday hand soap with antibacterial soaps can be part of the new everyday routine. Washing our hands just before bedtime creates a routine that becomes second nature. Some great soaps include:
Medline HealthGuard Foaming Antibacterial Hand Soap: Containing 0.13% benzalkonium chloride to kill 99.99% of common germs, this foaming hand soap can easily replace your bathroom hand/bar of soap. The aloe and vitamin E also help keep skin moisturized.
Germ War Hand Sanitizer: Fighting viruses can require the use of ethyl alcohol and this sanitizer is made from 62% ethyl alcohol. It can clean and sanitize your hands daily and keep your hands moisturized with aloe. Great for home use or in any healthcare facility!!
Molnlycke Hibiclens Antiseptic Antimicrobial Skin Cleanser: The rapid bactericidal activity of this cleanser can eliminate a broad spectrum of bacteria, virus, and even molds and fungus. This is simple to integrate into your everyday skin care routine.
TriDerma Moisturizing Hand Sanitizer: Just 15 seconds is all this hand sanitizer needs to kill 99.9% of germs. It's saving grace is the soothing botanicals that keep hands hydrated and soft.
Medline Benzalkonium Chloride Antiseptic Towelettes: In order to keep our kids safe, these towelettes are a perfect way to create a routine of keeping their hands clean. Simply put one in their lunchbox each day will enhance their compliance to handwashing daily. They are alcohol and latex free while providing bactericidal cleansing.
Germ War Hand Sanitizer
The best way we can minimize the risk of spreading the virus is to keep surfaces that we touch clean and disinfected. The use of hand wipes can help keep surfaces that we touch and contact every day clean and virus free. Start a daily routine of wiping down common work or home spaces to keep these areas as clean and virus free as possible. Start by wiping down the kitchen area when you go for your morning cup of coffee. At work, start your day by wiping down your desk and computer keyboard. As you leave for the day, quick wipe down is a great habit to get into. Also, you can make it a point to wipe down your groceries as soon as you get home to keep your family safe. Some cleaning/disinfecting options include:
Medline Micro-Kill Bleach Germicidal Bleach Wipes: These wipes have the equivalent of a 1:10 dilution of bleach and can effectively clean most nonporous surfaces. These meet the CMS tag F441 requirements for a 1:10 bleach dilution.
Isopropyl Alcohol: For simple cleaning and disinfecting, isopropyl alcohol works by permeating the entire cell and coagulating proteins in order to kill the offending, malignant microorganism.
McKesson StayDry Scented Soft Pack Personal Wipes: These wipes are easy to take with us on our daily routines and are alcohol/latex free. Clean your hands and other areas simply and easily with these premoistened and soft wipes that can be part of your everyday cleaning routine.
Medline ReadyBath SELECT Medium Weight Cleansing Washcloths: Soft, pH balanced, and alcohol free, these single use cloths minimize the chance of cross-contamination with their easy to use packaging and contain Benzalkonium Chloride for effective cleaning and portability. Your new daily routine can now be easily adhered to no matter where you are.
There are many ways that we can individually help diminish the effects of Covid-19, but the number one tool in our toolbox is compliance. We need to introduce new routines that target the spread of this coronavirus. You can start with a habit and turn it into a routine, which can then become a ritual. If we all develop better habits and compliance, we can return to the way we did things pre-Covid-19.
Disclaimer: All content found on our website, including images, videos, infographics and text were created solely for informational purposes. Our content should never be used for the purpose of diagnosis or treatment of any medical conditions. Content shared on our websites is not meant to be used as a substitute for advice from a certified medical professional. Reliance on the information provided on our website as a basis for patient treatment is solely at your own risk. We urge all our customers to always consult a physician or a certified medical professional before trying or using a new medical product.