Everybody has a routine. Whether we know it or not, we are creatures of habit. We go to work and spend time with our families, and in between, all of our tasks or errands are pretty much done by a routine we establish. Basically, it's the rhythm of our life. Now with the coronavirus pandemic, these routines have been interrupted and have been replaced by "the new normal." Instead of lamenting the interruption in our daily schedule, let's establish a new routine to make life easier and we here at HPFY can help.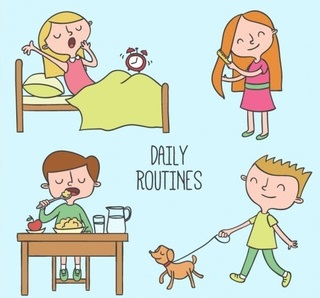 What is the "New Normal?"
For now, the days of going out in public without a care are on pause. Healthcare experts have suggested that we stay 6 feet apart (social distancing) or wear a face covering or mask. Across the country businesses have been slowly reopening, but with restrictions on occupancy and operations. Facemasks are where we need to start for a new routine. Much like we hang our keys on a hook when we get home, install hooks for each member of the family to hang up their masks when they get home. This way we know where they are and they don't get lost. This also reminds us as we leave the house to put on our masks. Also, for our children we could pack an extra mask in their backpack or lunchbox the night before. You may want to check out these facemasks and face guards:
Reusable Face Shield: Made from PETG (polyethylene terephthalate glycol), this mask has a nonporous surface that can be cleaned with antibacterial wipes.
Gen 3-Ply Protective Pleated Face Mask with Earloops: These are FDA approved and filter 95% of airborne particles. The three layers of polypropylene are made from nonwoven fiber fabric.
N95 Particulate Respirator And Surgical Mask: N95 Particulate Respirator And Surgical Mask has comfortable inner materials and helps provide respiratory protection against certain airborne particles, including those generated by electrocautery, laser surgery, and other powered medical instruments. The individually packaged flat fold design allows for convenient storage before use. It is designed to help provide respiratory protection for the wearer.
My New Routine During COVID-19 Lockdown
Routines allow us to do things without having to think about them. Kind of an autopilot for our daily events. So, what qualifies to be included in a new daily routine to make your life easier? Face coverings and masks are now part of our everyday life if we want to beat this pandemic. Developing an everyday routine that encompasses disinfecting and anti-bacterial cleaning is crucial. At home, replacing our everyday hand soap with antibacterial soaps can be part of the new everyday routine. Washing our hands just before bedtime creates a routine that becomes second nature. Some great soaps include: