Each year the flu season comes with a score of viruses ranging from the simple influenza virus to combinations of viruses that impacts the overall health of the country. According to the Center for Disease Control and Prevention, the flu season peaks during the months of January and February and can extend up to May. The start of this year has brought with it another novel strand of virus, the coronavirus, which has begun impacting people around the world.
What is Coronavirus?
The Coronavirus is a family of virus that includes a range of virus strands such as the common cold, SARS, & MERS. Affecting the respiratory system of an individual it usually begins with symptoms of common cold and leads to respiratory infections. Though the effects at first are mild as compared to lethal viruses like Ebola, complications can lead to SARS and MERS which can be highly lethal.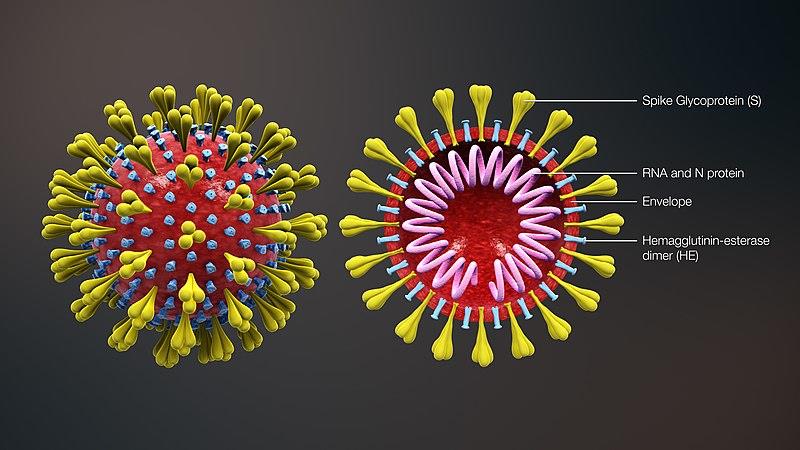 Source: Scientific Animations (CC BY-SA 4.0)
Coronavirus and the Flu Season
Coronavirus is not a single strand of virus but a family of virus, and so one can sometimes confuse influenza with coronavirus and vice versa. This confusion can be common since the beginning of both the viruses have similar symptoms such as runny nose, coughing, sore throats, sinusitis, and a mild fever. Distinguishing between the onsets of both the viruses is important to cure them and prevent any further infections or complications.
Symptoms of Influenza
Influenza starts with a common cold and the symptoms then intensify if not treated in time. The symptoms include:
The basic symptoms of influenza can be treated at home, but if things begin to complicate, visit your doctor or a medical professional immediately.
Symptoms of Coronavirus
Coronavirus, as discussed earlier, starts with a common cold and then can complicate into something as serious as SARS or MERS. Since coronavirus is not a single strand of virus, its complications can vary from person to person. Several other factors add up to complicating the situation by causing infections in the respiratory tract and lead to other conditions such as pneumonia, respiratory tract infections, bronchitis, etc.
Preventing Influenza and Coronavirus
Since the start of both the viruses is the same, we can use similar prevention techniques to stop the spread of these viruses as well as controlling the symptoms of the conditions.
Treating Coronavirus and Influenza
We can use a wide range of techniques to treat the initial symptoms of coronavirus and influenza, but one must immediately consult a doctor if things get complicated.
Coronavirus and Hygiene
The onset of the coronavirus has reminded us of the importance of hygiene in our daily lives. Maintaining hygiene is highly important in not only preventing the coronavirus from infecting us but also keeps other viruses, bacteria, and pathogens away. Here are a few things we can always do to maintain a hygienic environment around us:
We, at HPFY, not only aim to provide the right health and wellness products to prevent and treat coronavirus and influenza but also provide all the information required to recognize, diagnose, and take necessary steps to prevent complications from influenza and coronavirus.
Disclaimer: All content found on our website, including images, videos, infographics and text were created solely for informational purposes. Our content should never be used for the purpose of diagnosis or treatment of any medical conditions. Content shared on our websites is not meant to be used as a substitute for advice from a certified medical professional. Reliance on the information provided on our website as a basis for patient treatment is solely at your own risk. We urge all our customers to always consult a physician or a certified medical professional before trying or using a new medical product.