Proper Use and Care of Nebulizer

A nebulizer is a compact and portable device that turns liquid medicine into a mist for easy intake. It is prescribed by doctors as a treatment for people who are suffering from asthma or other respiratory diseases. It is sometimes considered an easier method of medication delivery for children and adults who have difficulty using inhalers with respiratory issues. A nebulizer delivers same type of medication as a pocket sized inhaler (MDI), but works in a different way. During an asthma attack the airways become narrow and it is impossible to take deep breaths. This makes nebulizer an easy and effective way to deliver medication, without taking deep breaths.
Nebulizer machines are readily available in large and small sizes. They both hold an air compressor, a container for liquid medicine, and a tube that connects the air compressor to the medicine container.
Given below are the supplies needed to use a nebulizer
Compressor tubing
Medication
How to use a Nebulizer?
Wash your hands properly with soap under running water. Rinse your hands and dry them.
Unscrew the nebulizer medicine cup and carefully put the prescribed medication into the nebulizer. Secure the top tightly to prevent the medication from spilling out.
Stay close to an electrical outlet if the system is not battery operated.
Attach the mouthpiece or mask to the nebulizer cup.
Attach one end of the nebulizer tubing to the medicine cup and the other end to an air compressor used for nebulizers.
Sit on a comfortable chair. If you are using a mask, position it comfortably on the face. If you are using a mouthpiece, place it between the teeth and seal the lips around it.
Turn on the compressor and watch for the light mist. Slowly and deeply breathe in and out through your mouth until the mist is gone.
To let the medication settle into the airways, hold each breath for 2-3 seconds before breathing out.
Breathe until all the medicine is used. The whole treatment may take around 10 to 15 minutes.
Turn off the machine when done.
How to clean a Nebulizer?
Start with washing your hands with soap and water or an alcohol-based sanitizer.
Detach each part i.e., mouthpiece, tubing, and the compressed air machine.
Thoroughly rinse the mask or mouthpiece under warm water for a minute or less.
Do not wash the nebulizer tubing or compressor.
Shake off any excess water and place the nebulizer parts on a clean towel to air dry. This might take some time depending on the environmental conditions.
Alternately, you can reattach the nebulizer pieces to the compressor and turn on the compressor to dry the nebulizer quickly.
Put the entire nebulizer back together, when the pieces are completely dry.
Also, disinfect the equipment twice in a week after washing it and then dry it completely. Use disinfectant for better results.
Use clean and damp cloth material to wipe the compressor machine. When the compressor is not in use, cover it with a clean and dry cloth.
Check air compressor filters as directed. Replace or clean them according to the directions of the manufacturer.
Top Selling Nebulizers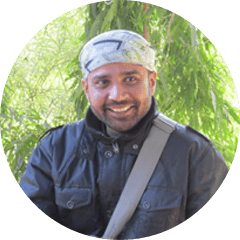 Ayush Henry

Ayush Henry, has been a Health Products For You contributor since 2016. He holds an MBA in hospitality and a MA in English. A professional HR soft skills trainer and copywriter, he ...
Trending Articles
Enteral Feeding: The What, When, and How
When traditional oral intake is not feasible, enteral feeding comes into play. It supports nutritional needs of individuals recovering from an injury or surgery. Dive into this informative article and learn what, when, why, and how of enteral feeding and ensure optimal patient care.
Using the Carpal Solution Carpal Tunnel Wrist Support
Looking for a non-invasive option to manage carpal tunnel symptoms? Experience relief from constant tingling and pain with this Carpal Solution Wrist Support. Read this article to know about the unique features and benefits of this wrist support brace designed to deal with CTS and find why it is one of the most reliable wrist braces available on the market.
Top 5 Best Reviewed Nebulizers of 2023
Need an effective and affordable nebulizer? Look no further, in this article we offer 5 of our best reviewed nebulizers that are loved by our customers. Click to read more and find the perfect nebulizer for all your respiratory needs.
10 Best Overnight Adult Diapers
Worried about nighttime leaks? Say goodbye to leakage with our ten best overnight adult diapers and wake up refreshed and dry.
Five Best Cervical Traction Devices of 2023
Neck pain can wreak havoc on your otherwise healthy life. Traction device improves your cervical health and overall well-being. Read more to find our best cervical traction devices designed to curb the stiffness and discomfort of cervical muscles.