An asthma attack can appear at any time, but exercise-induced asthma attacks can lead to EIB, which is exercise induced broncoconstriction. HPFY offers solutions to help with EIB.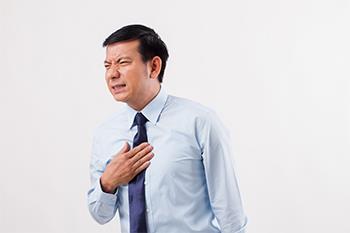 As it turns out, our bodies require the intake of oxygen in order to perform or even stay alive. Often we experience medical conditions that interfere with this process and can make life pretty miserable. For those with exercise-induced broncoconstriction or EIB, working out or partaking in any physical activities (sports, manual labor, or playing with the kids) can be difficult. While this breathing hindering issue can make things difficult, there are ways to combat this ailment in order to stay active and maintain your quality of life.
EIB Cause
Exercise induced broncoconstriction occurs when the airways in our lungs narrow due to exercise or some other form of physical exertion. Contrary to its name, EIB does not cause asthma but is a trigger of it. It is believed EIB occurs after a period of aerobic activity that increases oxygen demand. This demand requires supplemental breathing through the mouth, as opposed to breathing through the nose or nasal passages. This additional air does not have the benefit of being warmed or moistened by the nasal passages and therefore increases blood flow to the linings of the lungs. It's the constriction of these tiny airways that creates EIB.
Defeating EIB Asthma
As with any other health issue or malady, you should use every available option to fight exercise induced broncoconstriction. Finding ways to keep your airways open is obviously of great importance. Your options for fighting EIB can include:
Asthma is one of the most common types of breathing maladies and can be dangerous to sufferers if they are not prepared. This is especially true of exercise-induced broncoconstriction. We like our activities, so make sure the risk of exercise-induced  bronchoconstriction is minimized. Get out and enjoy this crazy world!!
Disclaimer: All content found on our website, including images, videos, infographics and text were created solely for informational purposes. Our content should never be used for the purpose of diagnosis or treatment of any medical conditions. Content shared on our websites is not meant to be used as a substitute for advice from a certified medical professional. Reliance on the information provided on our website as a basis for patient treatment is solely at your own risk. We urge all our customers to always consult a physician or a certified medical professional before trying or using a new medical product.