Allergies and Asthma: Nebulize and Exercise It!!
Asthma is a disease that affects the bronchial tubes in our lungs that brings the air we breathe into and out of our lungs. There are many triggers for asthma, and one of the most popular is allergies. This is called allergic asthma and contributes to a great deal of asthma cases. According to the American Academy of Allergy, Asthma, and Immunology approximately half of the 20 million Americans with asthma suffer from allergic asthma. Springtime is a favorite of everyone except for those who may have difficulty breathing due to tree pollen, flowers, and grass. Since these allergens are just about everywhere in the spring, what is the best way to enjoy spring without wheezing, sneezing, and coughing? The most effective way to combat this may be with the use of a nebulizer or by exercising your respiratory muscles.
Breathe Deep
With all the trees and flowers springing to life there is plenty to impact those of us who suffer from allergy induced asthma. As mayoclinic.org points out, an allergic response is when our immune system identifies a harmless substance such as pollen or grass as an interloper in our bodies and attacks it with proteins (a.k.a. antibodies). This can lead to runny noses and itchy eyes, but for some of us this reaction can affect our lungs and breathing leading to asthma symptoms. To combat this, your doctor may prescribe liquid medicine that can be converted into a fine mist through the use of a nebulizer. There is no reason to succumb to allergy induced asthma. You may opt for a portable nebulizer system such as the Devilbiss Traveler Nebulizer. With one of the smallest compressors on the market, it is highly portable and convenient. Another portable option is the Respironics InnoSpire Mini Compressor Nebulizer System , which is compact and lightweight while delivering effective aerosol treatments on the go. Both can be used with batteries or with a car charger adapter for worry free therapy. If you opt for a table top nebulizer (may help your child with therapy compliance) one good option is the Respironics InnoSpire Essence Compressor Nebulizer System . With fewer parts to assemble or clean, it is simple and effective to use. Since children can be affected by allergies and asthma, a nebulizer designed specifically for children may be perfect. The Mabis DMI Margo Moo Compressor Nebulizer Kit uses a friendly, whimsical cow design, but delivers effective aerosol treatments. Perhaps your child loves penguins, so the Drive Penguin Pediatric Compressor Nebulizer can turn respiratory therapy into fun time. The more fun it is, the more compliant our children will be for their therapy!! They can be paired with a fun mask, such as the Respironics Sami the Seal Children Mask For Sidestream Plus Nebulizer or the Pari Bubbles the Fish II Pediatric Aerosol Mask to make therapy time, playtime. Take control of your life and don't let allergies or asthma rule you.
Take Your Lungs to the Gym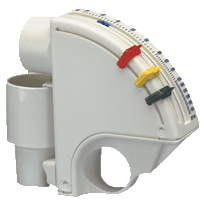 Besides taking prescription medicine, there are other ways to optimize your lung capacity during these pollen filled days. For instance, the Hudson RCI Voldyne 5000 Volumetric Exerciser is designed to maintain and improve inspiratory volume and respiratory fitness. It's like a workout for your lungs!! You can detect changes in your lung efficiency by using a peak flow meter such as the Monaghan TruZone Peak Flow Meter . It is simple to use for both pediatrics and adults affected by asthma. The use of a spirometer is another way to monitor our lung efficiency. The Smiths Medical Portex Flow-based Incentives Spirometer was originally designed to keep lungs active after surgery, but can be an effective tool to monitor air inhaled/exhaled from the lungs. Another way to exercise your respiratory muscles and improve breathing is the Breather Respiratory Muscle Training Device , which can provide consistent and specific pressure that works for all patients regardless of their breathing. Exercising your lung capacity, along with medication, can help you manage asthma brought on by allergies.
By working with your doctor or nurse you can choose the best way to deal with allergies and asthma. By finding the correct method to deliver medicated relief or building respiratory muscles you can enjoy the warm months of spring and summer outdoors instead of being locked inside due to pollen, grass, and other allergens!!
Related Articles
Disclaimer: All content found on our website, including images, videos, infographics and text were created solely for informational purposes. Our content should never be used for the purpose of diagnosis or treatment of any medical conditions. Content shared on our websites is not meant to be used as a substitute for advice from a certified medical professional. Reliance on the information provided on our website as a basis for patient treatment is solely at your own risk. We urge all our customers to always consult a physician or a certified medical professional before trying or using a new medical product.