Introduction     |     Why Use It     |     Types
When you think about a syringe probably only one thing comes to mind…a shot. The truth is there is much more to a syringe then you actually realize. For instance, what is the difference between oral syringes and injectable syringes? If you are like me, the answer is…huh? Apparently there are some quite significant differences between syringes. We here at Health Products for You can give you some information you may not have been aware of concerning syringes.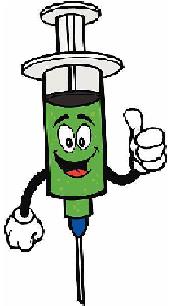 What Is a Syringe and Why Use It?
From the time we were young children, most of us have feared going to the doctor and getting a shot. The use of syringes (a.k.a. needles) usually means the administration of medicines or vaccines, but what exactly is a syringe? A syringe is simply a tube with a snuggly fit plunger that pushes a liquid through a needle or tubing. This can be a vaccine to avoid a virus such as measles or polio. A syringe can be used to inject liquid nutrients into a feeding tube or even for life-saving medication for an allergic reaction or insulin. While all syringes mechanically operate in the same manner, there are some differences in needles and syringes that should be noted. The two most common types of needles are:
Luer Lock Hub: These needles are only used on the Luer Lock syringe barrel and use a threading system to screw the needle to the syringe securely.
Poly Propylene Slip Hub: This type of needle is used with other common syringes and compress for easy installation and removal.
Both of these needle types are available in different thicknesses that vary from 14-30gauge and varying lengths between ¼" and 2" depending on their use. Shorter needles are used for injections just below the skin, while longer needles are for injections requiring getting past muscles. Finer gauge needles are less painful, while thicker gauge needles are required for longer needling actions or those with tougher skin.
Syringe Barrel Types
Okay, so there are different needles but are there different types of medical syringes? Of course there are. While there are predominantly two different types of needles, there are roughly 5 common syringe types and they include:
1. Luer Lock Syringe
Just like the Luer lock needles; these syringe barrels have a threaded tip that allows for the Luer lock needles to be screwed on securely. Other types of needles will not securely fit this type of syringe.
2. Normal Slip Tip Syringe
These syringe barrels allow the needle to slip over the tip and compress for easy installation/removal. These can also be referred to as Luer slip syringes.
3. Catheter Tip Syringe
This type of syringe is often used when injecting through a tube or where a regular slip tip needle is larger than a standard slip tip. These are good for injecting into things where the tapered tip can form a tight seal. These can even be used to rinse out wounds or large abscesses in a veterinary setting.
4. Eccentric Tip Syringe
When you need to inject something parallel to the skin, an eccentric tip syringe is commonly used. The tip is in line with the outer body of the barrel and is perfect for injecting into a vein and not penetrating both walls of the vein.
5. Insulin Syringe
One of the more common types of syringes, these are for single use and are inexpensive. They commonly have a U-100 marking on them that indicates the concentration of 100 units of insulin per 1 ml. and often incorporate a fine needle.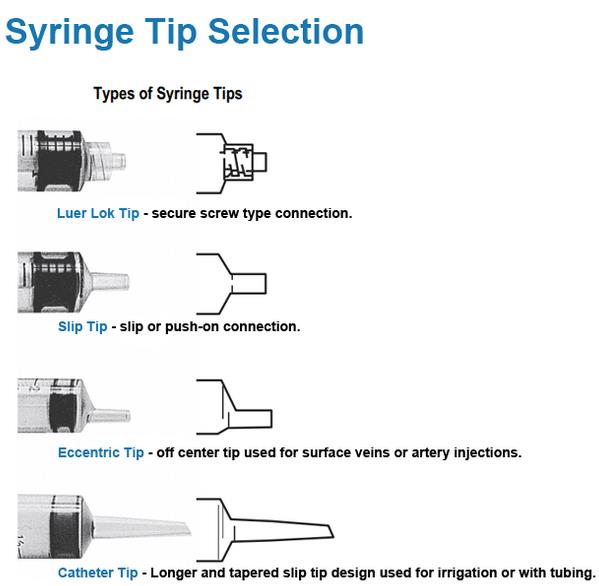 When dealing with sharp medical waste, such as syringes and needles, care should always be taken in the disposal of these potential hazards. Loose needle should never be placed in the regular garbage, recycling, or down the toilet to avoid accidental puncture. Needles and syringes should be disposed of in a dedicated, sharps disposable system.
Yes, each one of these syringes and needles performs the same basic task, but it's the subtle differences in each that makes them the right tool for the right job. Be sure to understand exactly how you need to use a syringe or needle in order to get the right syringe for you and your medical need.
Disclaimer: All content found on our website, including images, videos, infographics and text were created solely for informational purposes. Our content should never be used for the purpose of diagnosis or treatment of any medical conditions. Content shared on our websites is not meant to be used as a substitute for advice from a certified medical professional. Reliance on the information provided on our website as a basis for patient treatment is solely at your own risk. We urge all our customers to always consult a physician or a certified medical professional before trying or using a new medical product.