Finding the proper wheelchair for your specific needs may seem like a daunting, almost impossible feat. As you can imagine, wheelchairs are not a one-size-fits-all solution to every mobility issue. As much as each person is individually different, so are wheelchairs. Finding the best lightweight or electric wheelchair may be difficult but not impossible. We here at HPFY are here to help you choose the best possible wheelchair by presenting the top 10 reviewed wheelchairs of 2018.
Important Factors to Consider When Buying a Wheelchair
Each individual need for a mobility aid, such as a wheelchair, is specific to that user. You should work with your physical therapist to not only determine which features you may need, but to be measured so that whatever wheelchair you choose is fitted properly to you. Each wheelchair has its own features and some of them include:
Lightweight frames
Rechargeable battery power
Tilt/recline options
Extendable leg rests
Heavy-duty, durable frames
Foldable for storage
10 Best Wheelchair to buy in 2022
Here at HPFY we have compiled 10 of the best reviewed wheelchairs by users. Hopefully this will help you find the proper wheelchair for your specific need. These include:
1. Drive Sentra EC Heavy Duty Wheelchair
The Carbon Steel Frame Wheelchair offers easy transition of seat to hemi-level. The triple coated chrome gives the Drive Sentra EC Heavy Duty Wheelchair an attractive, and easy-to-clean look. The wheelchair is deemed exclusive and low maintenance due to the Urethane tires mounted on composite wheel. A happy customer gave the product 5-star rating and wrote, "Arrived quickly. Box rather banged up but the wheelchair was fine. It was quite heavy. Very fast service."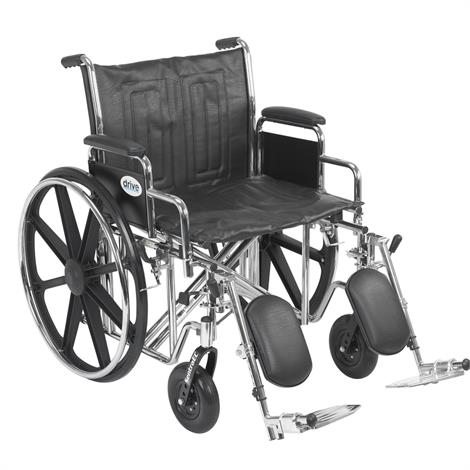 Drive Sentra EC Heavy Duty Wheelchair
2. Invacare Tracer SX5 Recliner Wheelchair
A combination of durability from a lightweight frame and comfort from a full reclining back contributes to the five-star rating of this Invacare Wheelchair. With a plethora of options available, this top reviewed wheelchair can be easily customized to each and every individual user. As one reviewer stated: Wheelchair Happiness: June 26, 2017 by Tara S (CA, United States) "This wheelchair will allow me to have some freedom at the Skitlled Nursing Facility where I live. I'm so happy! Thank you." It is this versatility that makes this wheelchair stand out.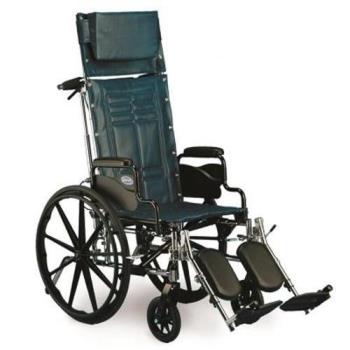 Invacare Tracer SX5 Recliner Wheelchair
3. Drive Lightweight Expedition Aluminum Transport Chair
The Powder Coated Aluminum Frame Wheelchair comes with loop locks. The Hand lever, at the back, on the Drive Lightweight Expedition Aluminum Transport Chair makes it easy and convenient to fold down and maneuver from one place to another. Additionally, the seat of the chair is made with durable nylon upholstery. The construction of the wheelchair was mindfully done to ensure additional safety and thus offers seatbelt and hand brakes. A customer of ours reviewed this product and wrote, ""Product is lightweight and easy to handle. The taller wheels make it easier to move on all types of surfaces."
4. Invacare IVC 9000 SL Lightweight Wheelchair
This highly reviewed lightweight wheelchair is a high strength, durable wheelchair option at a moderate price. It has dual axle positions that allow for various seat-to-floor heights. Users are offered a plethora of options to customize this quality wheelchair. It's these options that make this chair extremely desirable.
One reviewer has said: Great overall chair & least wide of the Tracer series product line: November 2, 2018 by S. Douglass (HI, United States) "I like the 9000SL because it is the least wide overall of those in the Invacare product line (compared to other chairs like the Tracer SX5 or EX2) with the same seat width. The shorter width really helps when you live in an older house whose doors are not as wide. I also like that it comes standard with the black Nylon upholstery which my Mom finds more comfortable than the Vinyl and it is available in different colors like the deep purple my mom likes. It makes her chair stand out and easy to spot. Really appreciate the fantastic customer service from HPFY who called to confirm my custom order before shipping and followed up to make sure it arrived safely. They are one of the few companies that have set reasonable shipping rates to those of us living way out here in Hawaii. I look forward to my next purchase from them." That's quite an accolade!!
5. Invacare Tracer IV Heavy Duty Manual Wheelchair
Invacare Tracer IV Heavy Duty Manual Wheelchair is designed for those with an active lifestyle but need the peace of mind of a reinforced heavy-duty frame, this five-star wheelchair offers superior durability and style. The carbon steel frame is designed to be long-lasting and the dual axle positions give a variety of seat-to-floor heights. An abundance of options make this chair highly customizable for every user.
6. Drive Silver Sport Full Reclining Wheelchair
This 4-star reclining wheelchair by Drive offers users a state-of-the-art hydraulic reclining system that can allow for adjustments up to 180°. The ability to recline and shift pressure points can go a long way to avoiding pressure sores and possible infections down the road. The carbon steel frame and durable nylon upholstery make this reclining wheelchair lightweight and easy to care for. With the rear anti-tippers standard, this wheelchair offers the user the security of knowing they won't tip backwards. This well reviewed wheelchair is available in three different frame sizes and does have options in order to customize it to your measurements.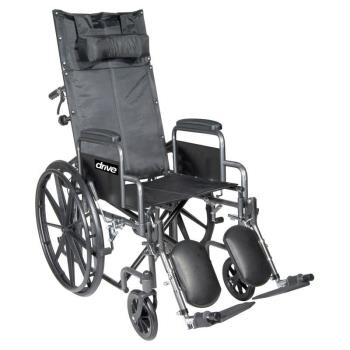 Drive Silver Sport Full Reclining Wheelchair
7. Drive Fly-Lite Aluminum Transport Chair
For those that need a lightweight, minimal wheelchair for transport, this transport chair is ideal. With 8 inch casters in the rear and 6 inch casters in front, this 5-star reviewed chair can handle up to 300 pounds and can fold down for easy storage or transport. As one reviewer stated: Great Chair July 22, 2017 by CD "We love this chair!! Easy to use, light weight. We are buying a second one. Our 1st chair is about 8yrs old and in great condition. Easy to take on planes. Getting a 2nd one for backup."Simple and easy to use!!
8. Invacare 9000 XDT Wheelchair
Stability is the cornerstone of this Invacare chair. It is designed for those who want/need an extra wide, heavy-duty, or a taller chair for seat to floor clearance. This low maintenance chair is constructed of triple chrome plated carbon steel and gives the user the comfort of heavy-duty front riggings and arms for proper positioning. There are plenty of options to customize this chair to each individual user.
9. Drive Cirrus Plus EC Folding Power Chair
A highly reviewed power chair may not be thought of as foldable, yet this is exactly what this chair offers. This combines the convenience of a power chair with the storage and transport advantages of a lightweight manual wheelchair. It has an adjustable joystick mount and foldable battery tray as well as an adjustable padded tension back upholstery and cushion seat for comfort and customization.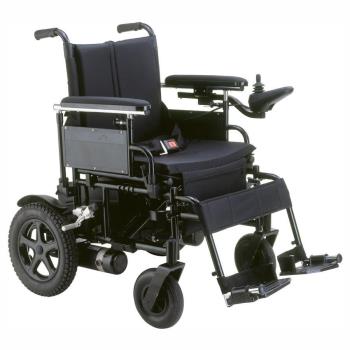 Drive Cirrus Plus EC Folding Power Chair
10. Graham Field Everest & Jennings Traveler HD Wheelchair
Graham Field Everest & Jennings Traveler HD Wheelchair is built with a heavy-duty frame in order to accommodate patient up to 500 pounds and is designed for easy patient transport as well as hospital/clinical use. It is available in a multitude of options so it can be used in a wide variety of applications for almost every patient. The two position axle and castor fork gives the user 2 inch height adjustments. Safe and sturdy while being easily maneuverable gives caregivers and medical staff the flexibility for a whole host of patients.
The task of finding the right wheelchair may seem difficult, but hopefully these top reviewed wheelchairs can help you make a better decision. It is important to work with your physical therapist in order to know what features you may need, but finding wheelchair reviews from other users can give you greater insight to the top wheelchairs available.
Disclaimer: All content found on our website, including images, videos, infographics and text were created solely for informational purposes. Our content should never be used for the purpose of diagnosis or treatment of any medical conditions. Content shared on our websites is not meant to be used as a substitute for advice from a certified medical professional. Reliance on the information provided on our website as a basis for patient treatment is solely at your own risk. We urge all our customers to always consult a physician or a certified medical professional before trying or using a new medical product.