10 Potential Health Benefits Of A Rocking Chair

A rocking chair is a timeless hallmark of comfort and relaxation. Our grandparents reminisce about the good old days, and young parents calm their crying babies while rocking back and forth. 
But rocking chairs are much more than just a timeless piece of furniture. In fact, they do much more than they are credited for. Take a look at the top 10 health benefits of using a rocking chair.  
10 Potential Health Benefits Of A Rocking Chair
1. Reduces Anxiety and Stress 
Rocking in a chair induces a gentle and rhythmic motion that calms the body and mind. This repetitive motion can help reduce stress and anxiety. Rocking releases endorphins in the brain, improving mood and reducing stress, anxiety, and tension. 
In stressful situations, the body naturally engages in rocking movements to self-soothe and produce a feeling of nostalgia and relief. Light rocking increases the release of endorphins in the brain, relieving depression and pain. 
2. Corrects Posture 
Sitting in a rocking chair engages your core muscles. It helps improve your posture by strengthening your back, abdomen, and pelvis muscles. Regular use of a rocking chair can prevent slouching. 
Bad posture is the leading cause of chronic back pain. Since a rocking chair engages the pelvic floor and back muscles, it automatically relieves back pain. It boosts blood flow, sending more oxygen to the joints to reduce inflammation and pain.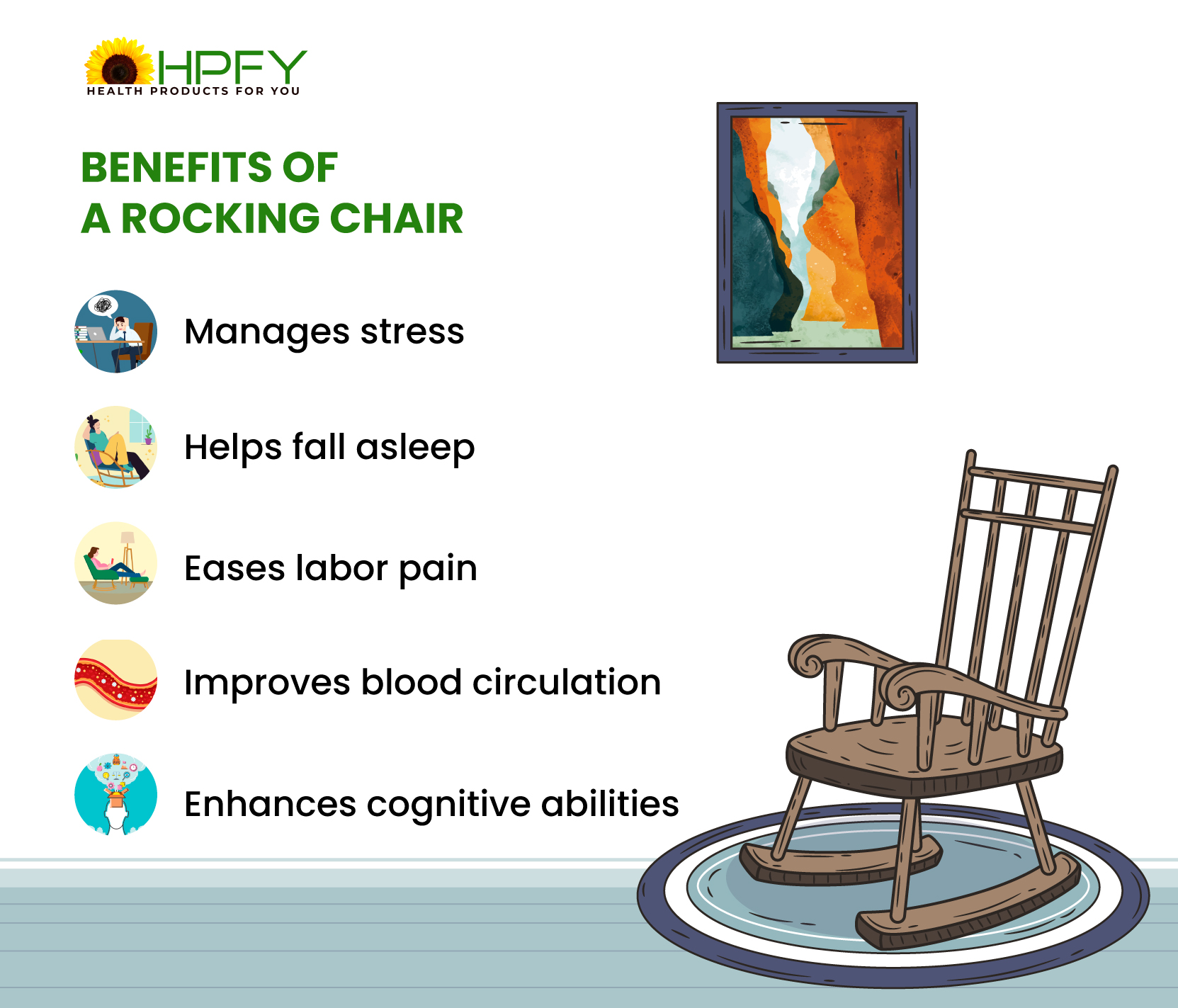 3. Enhances Blood Circulation 
The rocking motion stimulates blood flow throughout the body. This gentle movement encourages circulation and prevents blood from pooling in the lower extremities, reducing the risk of conditions such as varicose veins and deep vein thrombosis. 
4. Makes Muscle Relax 
Rocking in a chair provides a gentle massage-like sensation to the muscles. This motion helps relieve muscle tension and tightness, making it especially beneficial for individuals who spend long hours sitting or have sedentary lifestyles. 
As rocking makes muscles relax, it also promotes deep sleep and long-term memory formation. It makes kids sleepy and helps adults with insomnia to fall asleep. Animals also experience the same effects of rocking as humans. 
5. Increases Balance and Coordination 
Balancing and coordinating your body's movements while rocking strengthens your core muscles, which are crucial for stability. Regular rocking chair use can help improve balance and coordination, reducing the risk of falls, particularly in older people. 
6. Improves Digestion 
Research has shown that rocking has a positive impact on the digestive system. The gentle motion stimulates the abdomen muscles, aiding digestion and relieving constipation. Additionally, rocking can help reduce symptoms of acid reflux and heartburn. 
7. Alleviates Arthritis Symptoms 
Rocking chairs can provide relief for arthritis or joint pain. The gentle motion helps increase joint mobility, reduce stiffness, and alleviate discomfort, making it an excellent therapeutic tool for those with arthritis. 
8. Aids with Mental Stimulation and Focus 
Rhythmically rocking can stimulate the brain, improve focus, and enhance concentration. Experts suggest that rocking helps boost cognitive function, making it an excellent addition to study areas or workspaces. 
9. Helps with Pregnancy, Labor and Beyond 
Rocking during pregnancy improves the baby's neurodevelopment in the womb and reduces labor pain. Similarly, using a rocking chair post-childbirth improves balance and blood circulation, reducing postpartum muscle pain. It also aids the baby's vestibular system, stimulating growth and respiratory regulation. 
10. Improves Emotional Health of Dementia Patients  
Dementia and Alzheimer's Disease affects a person's cognitive abilities and interferes with daily life, negatively impacting  behavior, feelings, and relationships. A comfortable rocking chair can help improve psychological and emotional well-being.  
Whether you choose a classic wooden rocker or a modern upholstered version, incorporating a wooden or portable rocking chair into your daily routine can be a delightful and therapeutic addition. Indulge in the gentle sway, and experience all the health benefits a rocking chair can bring. 
Disclaimer: All content found on our website, including images, videos, infographics, and text were created solely for informational purposes. Our reviewed content should never be used for the purpose of diagnosis or treatment of any medical conditions. Content shared on our websites is not meant to be used as a substitute for advice from a certified medical professional. Reliance on the information provided on our website as a basis for patient treatment is solely at your own risk. We urge all our customers to always consult a physician or a certified medical professional before trying or using a new medical product.