Pressure Injuries - Causes, Prevention, And Treatment

Pressure ulcers, pressure injuries, or bedsores are one and the same. They are an injury to the skin and underlying tissue and are most common on bony prominences caused by pressure. Those at greatest risk for developing pressure injuries are people with limited mobility, spinal cord injuries, the elderly, people with chronic conditions, obese or underweight patients, and those at end-of-life stages. These wounds pose a significant threat to the body and increase the risk of infection and pain. They lead to hospitalization and loss of function. The cost to manage these wounds in a hospital setting for Medicare patients is 2.5 million each year. Pressure wounds impact the quality of life by causing social isolation secondary to pain, odor, and drainage. They create a burden on the families and caregivers as well as a financial strain.
What are Extrinsic and Intrinsic Risk Factors?
External Factors
Extrinsic factors that affect tissue tolerance start with shear. Shear is the combination of gravity plus friction. Gravity pulls the body down. The second is friction which is the resistance between the patient and a surface. Last is moisture, continence is a predisposing factor for skin breakdown. It alters the resiliency of skin to external forces by weakening collagen and the lipid layer of the skin.
Intrinsic Factors
One intrinsic factor that affects tissue tolerance is malnutrition. Vitamins play an important role in maintaining the integrity of the skin. Vitamin A assists with re-epithelization, collagen synthesis, and cellular cohesion. Vitamin C aids in collagen synthesis and immune function and enhances the activation of cells that fight infection, such as leukocytes and macrophages. Vitamin E also aids in collagen synthesis, fat metabolism, and stabilization of the cell membrane.
Advanced age affects tissue tolerance. With age, the nutrient exchange is decreased and the dermo-epidermal junction of the skin flattens, causing less resistance to shear force. Loss of skin thickness causes the skin to become thin and transparent. Skin tears are more common. Decreased sensory perception occurs due to changes in the nerves of the skin.
Low blood pressure as a result of age, shock, or dehydration causes decreased perfusion (blood flow) to the skin. The deep tissue under the surface of the skin is vulnerable to injury as blood flow is pulled to vital organs rather than the skin layers. The heels of the feet are at increased risk for breakdown.
Stress affects collagen synthesis, whether emotional or physical. Changes in environment, such as hospitalization, and transition to short or long-term care facilities are examples. Cortisol levels are increased during stressful situations. The increased levels negatively impact healing.
Other factors that increase the risk for tissue intolerance are smoking, elevated body temperature, anemia, and respiratory function. Smoking causes vasoconstriction which decreases blood flow and affects oxygen carried by the blood. Oxygenation at the cellular level directly inhibits healing. Elevated body temperature increased the metabolic rate, which in turn increases oxygen consumption in the cells. Anemia affects oxygen-carrying capacity in the red blood cells.
What are the 4 stages of Pressure Ulcers?
A Stage I pressure ulcer presents as non-branch able redness of a localized area of intact skin over a bony prominence. The area may be painful, warmer than the surrounding skin, or can be firm or soft. Those with darker skin tones may be more difficult to assess.
A Stage II pressure ulcer presents as a shallow ulcer with a red-pink wound bed. It has partial thickness loss of the skin. It may appear shiny or a dry shallow ulcer without bruising.
Stage III involves skin loss and full-thickness tissue loss. The subcutaneous fat may be visible. The depth of a stage III ulcer varies by location. Areas such as the nose, ear, back of the head, and ankle do not have much subcutaneous fat. Bone, muscle, or tendon is not visible in stage III pressure ulcers.
Stage IV pressure ulcer is full-thickness with tissue loss, exposing bone, muscle, or tendon. The depth varies by location just as it does in stage III. Ulcers in this stage have an increased risk for osteomyelitis, an infection in the bone. This is a dangerous infection and requires hospitalization and IV antibiotics.
A suspected deep tissue injury is a purple, bruise appearing area of intact skin. It is impossible to gauge the depth of injury. Again, this may be difficult to detect in patients with dark-colored skin. These wounds can worsen quickly even when interventions are in place. The full extent of the injury is not visible.
Prevention and Treatment of Pressure Injuries
Prevention is a key step in the development of pressure ulcers. Risk assessment and screening is good starting point. The skin should be evaluated on a regular basis for those at risk. Using supportive products can limit the risk of skin breakdown.
Support surfaces should be used for those at risk. Pressure redistribution mattress or foam mattress topper such as Geneva Healthcare Convoluted Egg Crate Foam Mattress Pad can assist with support. Gel pads and gel cushions can be found to offer support on wheelchairs or seating. Patients should be repositioned every 2 hours while in bed, avoiding positioning that places pressure on bony prominences. If not bedridden, change to a chair but repositioning in a chair should be done every hour. Many positioning aides are available depending on the need. The Core Leg Spacer Positioning Pillow supports leg positions, preventing knees and thighs from having contact between them. Positioning Wedges assist to offload weight from one point by shifting a position slightly.
It is important to avoid pressure on heels and elbows. Various products are available to offload pressure on the heels, such as the Skil-Care Heel Float Air Boot. Medline Knit Heel & Elbow Protector are available for both.
Limit elevation of the head of the bed and use a knee gatch to prevent sliding down in the bed. This will reduce injury by shear. When repositioning the patient, use an EZ Slide TLC Positioning Pad.
Monitor nutrition and hydration. Keep dry skin moisturized, and try Remedy Intensive Skin Therapy Repair Cream. Do not massage bony prominences as this can worsen tissue injuries. Provide toileting schedules to minimize excessive moisture. Use barrier creams such as 3M Cavilon Durable Barrier Cream to protect from incontinent moisture-associated dermatitis (inflammation of the skin). Consider absorbent pads that wick away moisture. These are available in washable (Becks Reusable Under Pads) or disposable pads (Attends Air Dri Breathable Under Pads).
Stage I Treatment
Treating a Stage I pressure ulcer includes all the preventative measures previously mentioned. By eliminating pressure on the area and keeping the skin clean and dry, Stage I ulcers can heal without issue. If the intervention does not occur at this stage, the ulcer will quickly progress to Stage II. Transparent film dressing such as Tegaderm can be placed over the area or a hydrocolloid dressing such as DuoDerm by ConvaTec. Transparent film dressings should be changed every 3-5 days while a hydrocolloid dressing should be changed every 3-7 days.
Stage II Treatment
When caring for a Stage II pressure injury, the preventative steps should be continued. Stage II wounds should be evaluated by a physician or wound care nurse for an appropriate treatment plan. The wound should be cleaned with normal saline or a wound cleanser such as Medline's Skintegrity Wound Cleanser. This will help loosen debris and dead skin cells from the wound. Transparent film dressing and hydrocolloid dressing can be used on Stage II ulcers. If the wound bed is dry, a hydrogel such as Cardinal Health Hydrogel Wound Dressing or MPM Excel Hydrogel Dressing. If using a hydrogel, I recommend covering the wound with a transparent film dressing such as Tegaderm or Smith & Nephew Opsite. These dressings should be changed daily. Another option is a foam dressing. If the wound is very wet or has exudate (drainage), a foam dressing is highly absorptive. An example is McKesson Hydrocellular Silicone Adhesive Foam Dressing or Smith & Nephew's Allevyn Gentle Border. These dressings will not adhere to the wound bed and should be changed every 2-4 days. These wounds can heal quickly.
Stage III Treatment
If stage I and II ulcers are not treated aggressively, progression to Stage III can occur rapidly. The treatment goal for these wounds should include hydration and nutrition. As mentioned earlier, wounds need proper nutrition to heal. Avoiding infection is very important for stage III and IV ulcers. Keeping the wound bed moist is critical for proper healing. Dressings for Stage III are foam dressings, hydrogel dressings, hydrocolloids, Hydrofiber, and alginate dressings. Alginate and Hydrofiber dressing are highly absorbent and should be used in wounds with moderate to heavy exudate. The risk for infection in Stage III and IV ulcers is high and many of these dressings with silver (Ag) are available. Silver is antimicrobial. For example, Medline Optifoam Ag Antimicrobial Gentle Border dressing is a foam dressing. If using hydrogel dressings, try Cardinal Health Essentials Silver Amorphous Hydrogel. Calcium alginate is available with or without silver, Hollister CalciCare Calcium Alginate dressing. ConvaTec Aquacel Hydrofiber dressings are available with or without silver as well. Both alginate and Hydrofiber dressings are available as a ribbon or roping which can be placed in wounds that tunnel under the skin surface. Hydrocolloid dressings are available in various shapes and sizes to accommodate wounds in areas that have special needs like the coccyx. ConvaTec DuoDerm Signal Dressings have many to choose from.
Stage IV Treatment
Ulcers that reach this stage may require surgical intervention. They take months, even years to heal. Again, proper nutrition and hydration are vital. The risk for infection is high; using dressings with silver is suggested to keep the microbial load down. The caregiver must be diligent with following the treatment plan. Positioning and offloading pressure are a must.
The best treatment plan for any pressure injury is prevention. If preventative steps are put in place and followed with care, these wounds would not be so costly to manage nor heal time so lengthy. Avoidance of pain and social isolation will be limited in this special needs population.
Where can I buy Pressure Ulcer Treatment Products?
Health Products For You has a wide range of effective and pocket-friendly solutions to treat pressure ulcers. Buy from top manufacturers and get the best online discounts on every purchase you make. Order Today!
Author Profile: Christine Kijek, Registered Colorectal Nurse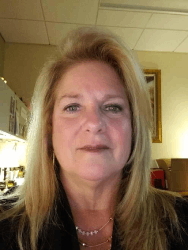 Christine Kijek is a colorectal nurse at Danbury Hospital in Danbury, CT. She has a wealth of knowledge in this field as well as personal experience. HPFY is thrilled that she has been an active participant in the Ostomy Support Group. She has experience working as a coordinator for cancer patients, post-operative care, and home health care for disabled children and adults. And guess what! Christine is also the recipient of the Nurse Exemplar Award. Christine lives in Bethel, CT with her husband Ed. Her children are married and live nearby. She has 4 grandchildren and is known as GiGi. Christine enjoys riding motorcycles and spends many hours gardening. She can often be found onboard a Carnival Cruise ship lounging by the pool.
Disclaimer: All content found on our website, including images, videos, infographics, and text were created solely for informational purposes. Our content should never be used for the purpose of diagnosis or treatment of any medical conditions. Content shared on our websites is not meant to be used as a substitute for advice from a certified medical professional. Reliance on the information provided on our website as a basis for patient treatment is solely at your own risk. We urge all our customers to always consult a physician or a certified medical professional before trying or using a new medical product.