As a mother of two (2) kids, one of whom is a toddler, life without a stroller would literally come to a standstill! It not only offers a comfortable ride for the little one but also has provision to stock up essentials under seat. With features like flat folding, reclining back, big all terrain wheels, strollers have become the top item on the parents 'must have kids gear' lists.
The modern pediatric strollers fulfill a variety of mobility needs of children of all ages. Their multitude of add-on features and accessories make them absolutely indispensable. They even meet certain special needs wherein they can be used as push chairs and wheelchairs. The wide variety of choices available, it may make the desired pick confusing. So, before zeroing in on the one that suits your child the best, ponder over the following considerations:
How and where will the stroller be used?
Do its features meet your child's special needs, if any?
Is it maneuverable on rough terrains or climb curbs or stairs?
Do its safety provisions meet your requirements?
Lastly, its appeal to the child in terms of its style, design, color, etc.
While a user tries to make a need-based decision, the broad characteristic features of the product will also facilitate the decision-making process. To mention a few,
1. Lightweight frame
Strollers with a lightweight frame are easily portable. This coupled with a compact folding system makes their storage and transportation super convenient. The Special Tomato EIO Push Chair, weighs only 22 lbs. It folds compactly and even has a latch to keep it folded. It is designed for children in the age group of early intervention to pre-adolescence. To give better comfort and support to smaller children, it has special liners and sitters. Its canopy with window, not only keeps the kids shaded, but can also be retracted and removed, when not required.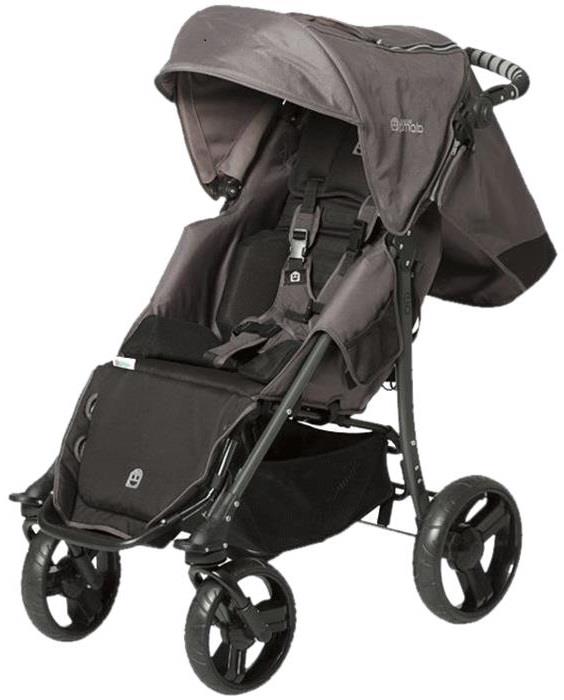 2. User weight capacity
Most of the strollers have a limited user weight capacity, it being in the range of 80 to 120 lbs. The Special Tomato Large MPS Push Chair, has a user weight capacity in the range of 100 – 200 lbs. This makes it a perfect choice for a child with special needs, who would continue to need a stroller as he/she grows up. It is available in three (3) different sizes. It can accommodate kids from infancy till 15 years of age. With a fixed front wheel, it can be used for adventurous treks. At the same time, the swivel rear wheels make it apt for indoor use.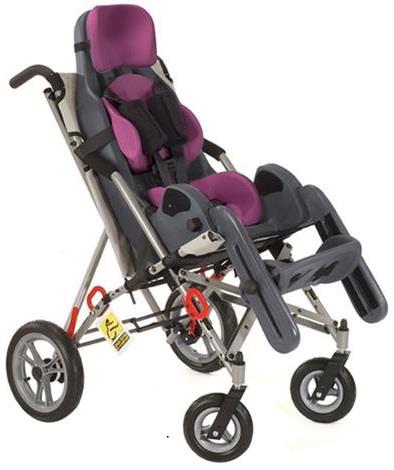 3. Safety features
Harness system with chest and shoulder straps and lap belt keeps the child safe and secure in all sitting positions. They are also equipped with a rear wheel parking brake and hand brake on the push handle. If you need added safety features especially when the child has mild to moderate physical difficulties, the Special Tomato Jogger Stroller is your choice. Its rear brake allows the parent to easily park the stroller. The 5-point comfort wrap harness, has locking buckles to keep the pelvic strap intact. The child can comfortably use the footwell which even has a side guard.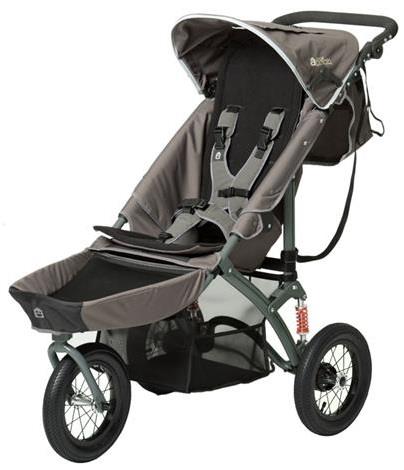 4. Wheels for easy maneuvering on uneven terrain as well as indoor use.
Most of the strollers have 8 to 14 inches wheels which makes it easy to tread the stroller on all kinds of surfaces. They also have a functional rear suspension to allow their use on all kinds of surfaces. Either or both the front and rear wheels swivel, enabling indoor use of the stroller. If you are an outdoor person who makes a lot of such trips with small kids, opt for the Beach Pediatric Stroller with Hood. Its large and low-pressure poly urethane wheels enable its use on uneven terrains, gravel, grass, snow and sand.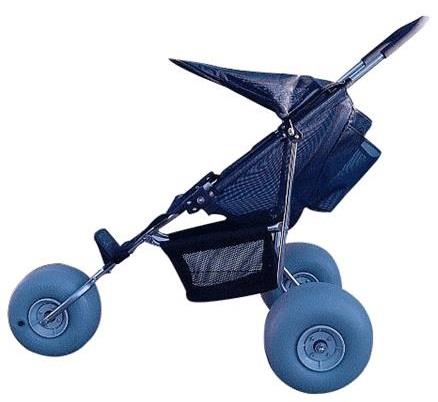 5. Reclining and padded seat back
The child can be in different comfortable positions. He/she can sit upright or be in a TV watching position or nap cozily by reclining the seat back. They seat covers are anti-absorbent and UV resistant so as to keep the child cool and comfortable. They can be further upholstered with durable and washable material. An extra layer of padding on the head pillow and back and hip laterals will give a pelvic and trunk cushioning to the child.
6. Adjustable Footrest
Adjustable and collapsible foot rest and height adjustable push handle. The footrest may even have foot straps and side boards.
7. Accessories
Stroller accessories such as under seat storage, water bottle carrier, further add to its utility. Behind the seat storage is also a common feature.
So, while there are options which let the parents take kids for a casual stroll, there are choices which will make a trip to the beach or a jog in the park with your little one a fun experience.
There are options to meet the mobility needs of special kids with cerebral palsy, autism, muscular dystrophy, or any other disability. Even for those recovering from any injury or illness, pediatric wheelchairs will meet their special mobility needs. The Convaid Cruiser Scout Multi Terrain Standard Pediatric Wheelchair, is specially designed for this purpose. It comes equipped with Convaid's proprietary self-tensioning seating system, which provides increased seating tolerance and can promotes neutral pelvic positioning. The upholstery is not just durable, but also has therapeutic advantages. A vast age group from 6 to 21 years is covered and a weight capacity from 66 to 200 lbs. can be accommodated.
Making a well-informed decision in cases of children with special needs, may not be easy. Hence, it is always advisable to consult a professional medical and therapy team. The parent/caregiver should ensure to invest in a pediatric wheelchair which best meets the child's needs.
Disclaimer: All content found on our website, including images, videos, infographics and text were created solely for informational purposes. Our content should never be used for the purpose of diagnosis or treatment of any medical conditions. Content shared on our websites is not meant to be used as a substitute for advice from a certified medical professional. Reliance on the information provided on our website as a basis for patient treatment is solely at your own risk. We urge all our customers to always consult a physician or a certified medical professional before trying or using a new medical product.