A pandemic is defined as an outbreak that spreads through a country or the world. The current coronavirus pandemic has created some very unique situations. These are often referred to as "the new normal." While we may be calling these situations normal, it doesn't mean that we have simple ways to navigate them. New problems require new, sometimes different solutions. We here at HPFY can help you identify potential problems that are associated with the Covid-19 pandemic and the ways to navigate around them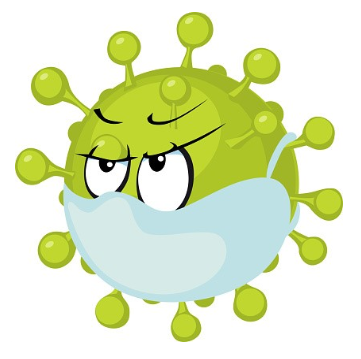 Maskne…Yes It's a Thing
Everyday life (at least in the short term) will require the use of facemasks in order to reduce the spread of coronavirus. Wearing a mask for long periods of time can lead to a new condition referred to as Maskne. Basically, this is acne brought about by the skin on our face being covered by a mask. This can trap sweat and dirt leading to outbreaks of acne. How should we treat this? Here are some options:
Hand Sanitizer Dryness
The main ingredient in most hand sanitizers is alcohol. No, not the stuff we drink but the industrial cleaning kind. One characteristic of alcohol is that it evaporates quickly and with this evaporation so goes the moisture in our hands. This leads to dry skin. Try some of these options:
Relax… We'll Get through This
Throughout this pandemic there has been a heightened level of stress. Part of our overall well-being is managing this stress in a healthy, constructive manner. Believe it or not, some stress is good for us and is a defense mechanism we use for survival. In the case of coronavirus, it's a matter of surviving the "new normal." A couple of options for relaxation include:
Yoga: This type of low impact exercise can help by not only strengthening your core muscles and improving balance but induces calmness and serenity. Grab your yoga mat and yoga block and get Zen!!
Aromatherapy: The use of essential oils can create an atmosphere of calmness and serenity that can positively affect our mood. Scent is a great stress reliever and a superb way to unwind after a day of dealing with this Covid-19 pandemic. Simply grab your diffuser and your favorite scent in order to induce relaxation. Some essential oils, such as Bon Vital, can even be added to moisturizing cream to help with coronavirus stress relief.
Relaxation CD: Music can be a great form of stress release. It can provide an aura of serenity and calmness in your home, office, or even car. This can make dealing with the Covid-19 pandemic just a little bit more tolerable. Just pop in a Stress Stop CD and unwind!!
The coronavirus pandemic has presented us with some new challenges for everyday existence. New physical and mental obstacles may require a new approach. Understanding what the new obstacles are can help you develop a plan of attack to keep you safe and healthy. Remember, we are in it together and we will triumph together!!
Disclaimer: All content found on our website, including images, videos, infographics and text were created solely for informational purposes. Our content should never be used for the purpose of diagnosis or treatment of any medical conditions. Content shared on our websites is not meant to be used as a substitute for advice from a certified medical professional. Reliance on the information provided on our website as a basis for patient treatment is solely at your own risk. We urge all our customers to always consult a physician or a certified medical professional before trying or using a new medical product.