How Is COVID-19 Impacting Our Relationships?

The entire world is going through an official or unofficial lockdown. With people not leaving their homes and ensuring the safety of their loved ones, a distinct positive shift is becoming visible in relationships, both with others and with ourselves.
The COVID Pandemic and Familial Relationships
In our normal daily routines, we divide our time between work, personal time, and family time. The COVID-19 pandemic has forced us to stay within the confines of our home, giving us more time to interact with our family members. Talking to each other, eating together, and since they are the only possible physical social interaction we have during this time, we tend to be more open to them then we were before. A study conducted in Hong Kong after the SARS epidemic in the east showed that 60% of people who were quarantined within their homes cared more about the feelings of their family members and understood them better than before.
A wide number of social research experiments have also proven that in situations like these we tend to engage more with our family members initiating deeper conversations and clearing inhibitions while doing so. This not only was proven to help the individuals have better relationships at work, but also increased their positive outlook towards life.
In Lockdown without Your Dear Ones?
The sudden onset of the COVID-19 pandemic throughout the US has caused people to stay confined in their homes for an indefinite period. The WHO has recommended people to stay home and avoid meeting any family and friends that don't live with them as it might promote the spread of the COVID-19 virus.
The demographic most affected by this situation are the elderly. Since the elderly are the most susceptible to COVID-19, social distancing was paramount to their health. Meeting their children and grandchildren is one of the things the elderly look forward to, but this pandemic has restricted them from doing so, thus making an already difficult situation, even more, harder to bear. This is a no-win situation in some ways, the physical separation is causing mental anguish, but meeting them would risk their physical health. However, small modifications to our normal interactions can help keep them happy as well as safe. Though we cannot meet them, we can talk to them on the phone, they can read stories to their grandchildren on video calls, and much more.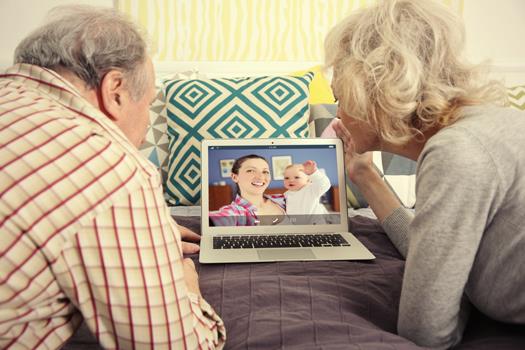 Another demographic that is being impacted more is those that live alone due to work or education. The COVID-19 pandemic has put them in a situation where they cannot go back home or get out of the house to meet their family and friends. Psychology Today says that a feeling of fear coupled with such sudden solitude can be a favorable condition for the onset of depression. Acting proactively in such a situation can help us avoid unfavorable thoughts and feelings. Ensuring we are constantly in touch with our loved ones via phone, video calls, or emails, can help us relieve ourselves of the feeling of fear and solitude. A regular exercise regimen can keep the endorphins flowing, thus helping keep a positive attitude towards the circumstances. There are many other things that once can practice in terms of distant socializing to have a safe and healthy quarantine.
All the Time to Introspect!
Many psychiatrists throughout the ages have researched and proven the effects solitude has on our mental health. Psychology Today explains that a person in solitude has ample of time for introspection. Introspection according to the Stanford Encyclopedia of Philosophy is the means of learning about yourself in terms of mental states and processes.
Introspection helps us understand the highs and lows of our mental state, such as when we feel happy, what makes us happy, what are the tasks that we enjoy doing, etc. This gives us room to chalk out a plan to keep the unpleasantness away from us so that we are happier throughout the day. The lockdown from this Pandemic has given us that time we could never take out before from the craziness of our fast-paced lives to slow down and introspect. To see what we can change to take better care of ourselves. To see what it is that we have control over to change that can improve our physical and mental well being.
When we come out of this lockdown and quarantine, we will hopefully all have stronger relationships with ourselves and people that matter the most to us.
Disclaimer: All content found on our website, including images, videos, infographics text were created solely for informational purposes. Our content should never be used for the purpose of diagnosis or treatment of any medical conditions. Content shared on our websites is not meant to be used as a substitute for advice from a certified medical professional. Reliance on the information provided on our website as a basis for patient treatment is solely at your own risk. We urge all our customers to always consult a physician or a certified medical professional before trying or using a new medical product.