10 Medical Aids You Can't Live Without

Most of us take the routine tasks of our everyday life for granted. However, they can be a major challenge for those of us with limited mobility from injury, illness, or age for whom everything from tying our shoelaces to eating to using the bathroom is a struggle.
Causes of Mobility and Physical Disability
Nobody likes to admit they're getting older and need help doing the things they could do effortlessly earlier. Something as simple as using the bathroom can lead to serious injury from a fall. Falls are one of the primary causes of broken bones in our senior population. Some other maladies that can lead to limited dexterity or mobility are:
Whatever the reason, finding ways to overcome immobility is critical to the quality of your everyday life. We all like to be independent !
Thankfully, help is at hand. HPFY shows you 10 daily medical aids to help those with limited mobility or dexterity with their daily chores and improve the quality of their life.
Top 10 Daily Living Aids for 2023
1. Drive Stand Alone Toilet Safety Rail
Using the commode can be difficult and dangerous for the mobility-challenged. This toilet rail can be assembled easily using only simple wing nuts and without any tools. It is freestanding around your existing toilet. It fits standard and elongated toilets and features padded armrests for comfort and even a magazine rack for convenience.
Available in black, white, and brown colors, these shoelaces are made of high-quality durable elastic which keeps the user's foot in place all day. For those with limited hand mobility or dexterity, these laces are perfectly suited for everyday dressing. They feature a no-tie shoelaces design invaluable for those with only one usable hand.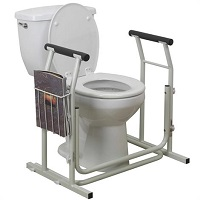 Drive Stand Alone Toilet Safety Rail
This lightweight aluminum reacher is available in sizes ranging from 26"-32" and can easily grab objects in those hard-to-reach areas such as high shelves, floors, or behind furniture. It features a 3-inch jaw opening that is slip-resistant and the secure grip is easy for those with weak hands, arthritis, or dexterity issues. The magnetic tip makes picking up metallic objects easier. It is rustproof so both in- and outdoor use is easy. Now there is simply no place those objects can hide!
Ideal for individuals who need dressing assistance or paraplegics alike, this leg lifter comes in a variety of sizes starting at 34.5" all the way up to 41". It lets users move their legs independently and allows senior citizens to live an independent life. It is ideal for moving your legs from a prone to a seated position easily. It is comfortable and easy to use while being both lightweight and sturdy.
With two available sizes, short 12" and long 15," those with limited mobility can use this daily aid to do multiple things such as hold toilet paper, shower loofahs, washcloths, and even ointment pads. It makes your daily hygiene routine easier and convenient with one simple tool. Made from durable steel, these are smooth and comfortable for every user and last a long time.
Able to hold up to 7 ounces of hot or cold liquid, this lightweight and durable drinking cup is perfect for users of all ages. Those with dexterity issues with their hands can benefit from the fact that once the lid is screwed on, the liquid does not spill even if turned upside down. It features an ergonomic "J" handle and is latex and BPA-free while being completely dishwasher safe. No more mess!
Who knew a complete set of eating utensils were available for those with a weak grip or other hand problems? These utensils offer 4 dining options : teaspoon, soup spoon, fork, and a spork. They can be used by Parkinson's and arthritis patients, by those recovering from a stroke, and those with fine motor skills or gripping difficulties. These utensils are made from stainless steel and are BPA and phthalates-free. They are dishwasher safe up to 180°.
This opener is perfect for those with difficulties opening cans, bottles, or jars. It is ergonomically designed to reduce the stress and discomfort on the user's hands. It has a secure and comfortable grip to gently release the vacuum seal on jars. It is easily used without assistance and is dishwasher safe. So go open that can already!
This drinking straw provides flexibility and stability for hands-free drinking. It makes it easier for those in a wheelchair or others with limited mobility to get a sip from their cup without either lifting it from a cup holder or leaning over to the level of the cup. Ideal for standard tables or even restaurants, all you need do is simply adjust the straw into the position that works for you. Its length can be customized by cutting with scissors. It has three-way bending options. Completely reusable and washable, this drinking straw is perfect for those with arthritis. Now say cheers with your favorite beverage!
Anyone who has had a
hip or knee replacement
knows that recovery needs help. This five-piece kit makes everyday tasks during post-surgery rehabilitation easier without assistance. It offers a 32" reacher/grabber, sock aid with foam handles, 27.5" dressing stick, 22" long shoehorn, and a 23.5" long-handled bath sponge to make getting dressed a lot easier - and a lot more independent! This is a must-have for anyone recovering at home. So go on then, dress up and say hello to the day!
These medical aids let us be ourselves – and what's more- by ourselves. After all, who doesn't want to be self-reliant! And so, who wouldn't love these godsends!
Check them out!
Disclaimer: All content found on our website, including images, videos, infographics and text were created solely for informational purposes. Our content should never be used for the purpose of diagnosis or treatment of any medical conditions. Content shared on our websites is not meant to be used as a substitute for advice from a certified medical professional. Reliance on the information provided on our website as a basis for patient treatment is solely at your own risk. We urge all our customers to always consult a physician or a certified medical professional before trying or using a new medical product.