Types of Male External Catheters
There are different types of external male urinary catheters available. The main difference between them is based on the material, shape and adhesive type.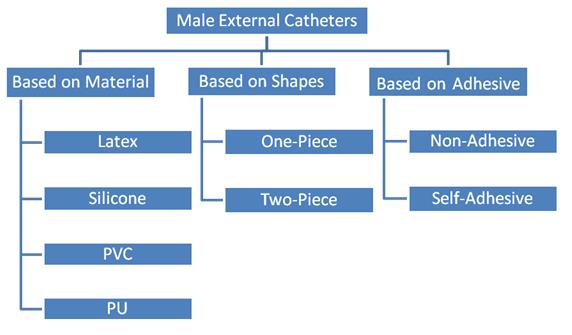 Types of External Catheters - Based on Material
Based on the type of material used, there are four types of male external catheters containing latex, silicone, poly vinyl chloride and polyurethane.
1. Latex Catheters
Latex is a very soft and flexible natural product. External condom catheters made up of latex are easy to roll on the penis because of their flexibility. Also, they feel very soft against the skin.
2. Silicone Catheters
Silicone is a translucent, breathable and bio-compatible material. For those who have latex allergies, silicone external urinary catheters can be a great alternative. They are skin-friendly and their translucency allows the users to inspect the skin for any irritation or skin problem.
3. Poly vinyl chloride (PVC) Catheters
Poly vinyl chloride is a synthetic plastic polymer with resistant material which can stand against urine and mechanical impact. PVC catheters for men may have bio-hazardous effects in long run.
4. Polyurethane (PU) Catheter
Just like PVC, polyurethane is also a synthetic material. PU male catheters are thinner and provide more comfort as compared to other materials. Many of the latex free external catheters for males are made from PU.
Types of External Catheters - Based on Shape
The male external catheters can be divided into one-piece or two-piece on the basis of shape of the catheters.
1. One-Piece External Catheters
One-piece male external catheters constitute of a single piece that is just required to be pulled on. There is no need to struggle with wearing on two or more pieces.
2. Two-Piece External Catheters
Two-piece external urinary catheters consist of two parts. One part is worn on the penis and it remains there. The other part is a removable drainage tip that is connected to the drainage tube.
Types of External Catheters - Based on Adhesives
There are two types of external catheters based on the type of adhesive used, namely, non-adhesive external catheters and self-adhesive external catheters.
1. Non-Adhesive External Catheters
Non-adhesive male external catheters do not contain any adhesive. They are required to be affixed to the penis with the help of skin glue, single or double-sided adhesive strips or foam strips. Skin adhesives are applied before rolling on the catheter. Adhesive strips are encircled on the penis to attach the catheter. Reusable foam and elastic strips are used where there is frequent need of replacing the catheter.
2. Self-Adhesive External Catheters
Self adhesive male external catheters have a sticky film on their inner surface which helps them in attaching to the penis. They are simply rolled up and pressed gently to fix in place.
Top Ten Male External Condom Catheters
External Catheter Size Chart
For appropriate male external catheter sizing, circumference of penis is required to be measured. In order to get the right size, penis is measured at the shaft where its diameter is the largest. Patient should sit on the edge of a bed or chair with slight distance between the legs. In this position, best measurement can be taken. There is no need to measure the length of the penis. Condom catheters usually fit most penis lengths, except for the case where it is retracted or small.
If there is some confusion between two sizes, select the smaller one for better fit and leakage protection. Material of male external catheters is flexible and will snugly fit around the penis. Larger of the two sizes can result in leakage.

How to use Male External Catheters?
Firstly wash your hands with soap and water.
Take some soap and water, and wash the penis. Rinse it and let it dry out. Wait for around 15 to 20 minutes before application, so that the penis dries out completely.
Trim the hair present on penis and its base with scissors to prevent them from sticking to the adhesive. You can also use a paper towel with a hole in the center and slip it on the penis. This will keep hair away from the adhesive.
Ensure that no redness or irritation occurs on the penis.
Pull back foreskin to its natural position, if you are uncircumcised.
You can use a skin protective wipe for increasing adherence and easy removal of catheter, but allow it to dry after applying.
Collect all the male catheter supplies.
Choose among the below given methods depending on the type of catheter, to adhere the catheter to the penis.
Once the catheter is placed over penis, choose a drainage bag for collecting urine.
Attach the tubing end to the condom catheter.
Single-Sided Adhesive Strip
Pace the male external catheter over penis, leaving about 1-1.5 inches of space between the catheter and the penis tip.
Gently unroll the catheter over the entire shaft of the penis.
From one side of the adhesive strip, remove the paper liner.
Wrap the tape with adhesive side down, in a spiral fashion starting from the penis head. Do not apply too tight as it will restrict the blood circulation.
Double-Sided Adhesive Strip
From one side of the adhesive strip, remove the paper liner.
Wrap the tape on penis shaft with adhesive side down, beginning from just behind the penis head.
Then remove the paper liner from the other side of the strip and continue applying in the spiral fashion, overlapping the ends of the tape. Remember that applying too tightly will restrict the blood flow.
Put condom catheter over the penis head, leaving around 1 - 1.5 inches of space between the catheter and penis tip.
Unroll the catheter gently over the entire penis and press gently to get a secure fit.
Self-Adhesive Catheter
Gently stretch the penis and unroll the self-adhesive external catheter down its shaft.
Press the catheter to remove any air bubbles or creases. This will create a leak-proof seal.
No adhesive strip or skin glue is required to affix this catheter.
Removing the External Catheter
Take warm water and wet a washcloth in it. Apply it to the penis and keep it there for few minutes. This will release the adhesive.
Roll off the male external catheter to remove it. When it is rolled off, adhesive also comes out with it.
To remove any residue of adhesive remaining, wash the penis with soap and water. Avoid using adhesive removers that are harsh on skin because it can cause chapping or cracking of skin.
At last, wash hands with soap and water again to prevent contamination.
Disclaimer: All content found on our website, including images, videos, infographics and text were created solely for informational purposes. Our content should never be used for the purpose of diagnosis or treatment of any medical conditions. Content shared on our websites is not meant to be used as a substitute for advice from a certified medical professional. Reliance on the information provided on our website as a basis for patient treatment is solely at your own risk. We urge all our customers to always consult a physician or a certified medical professional before trying or using a new medical product.