Disabilities such as Parkinson's disease, arthritis, recovery from stroke, impacted fine-motor skills or grasping difficulties can make it difficult to carry out basic household chores. Adaptive utensils help overcome these difficulties. They are ergonomically designed and allow for continued independence as well as assure maximum comfort and dignity in preparing and enjoying meals.
Angled and bendable utensils
Tendonitis, frozen limbs, bursitis and dislocation of joints are some of the most common injuries to affect the arms, limbs and joints. Angled and bendable utensils make eating a comfortable taskby reducing the effort required in bending the wrist, elbow or shoulder. They feature a shaft design which can be hand bent to the left, right or at any angle as per the user comfort level.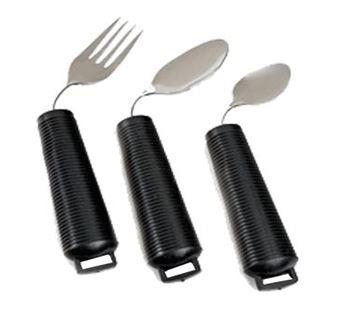 Special grip cutlery
Around 35 muscles in the hand and forearm control movement of the hand and give it the ability to move and perform tasks like gripping an object. When the muscles, or nerves controlling it, are diseased this can lead to overall hand weakness culminating in a weak grip. Special grip cutleryis comfort cutlery for easier holding. Included are large grippers designed to reduce pressure on joints.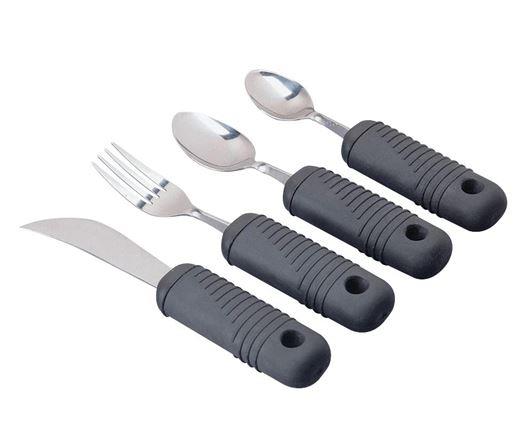 Weighted utensils
A hand tremor, though not fatal, can make daily chores difficult. It can also be a warning sign for some kind of a neurological and degenerative condition. Weighted utensils provide stability to those with hand tremors or reduced coordination. People who find it difficult to hold standard cutlery and avoid spillage can also use these aids. The additional weight of the utensils allows comfortable positioning and provides a firm grip.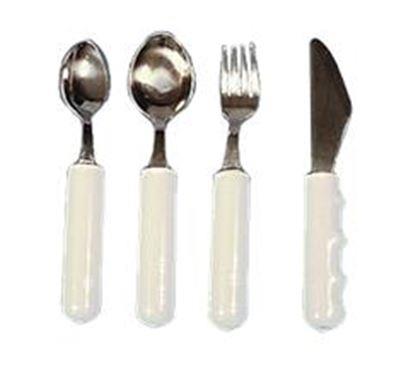 Rocker knives or T-rocker knives
A person may experience loss of grip, tremors and limited dexterity of the limbs owing to certain illnesses such as osteoarthritis, Parkinson's disease and stroke. These issues may find some relief with technology such as Rocker Knives or T-Rocker Knives. These are functionally-designed tools that enable a stronger grip for tasks such as cutting, chopping, etc., for individuals who use only one hand to maintain their independence in the kitchen.