Covid-19: After Your Vaccination

We have been waiting (somewhat patiently) for the last year for a vaccine to the Covid-19 virus so that we can get back to "normal." With multiple vaccines available, we don't need to take precautions anymore, right? Sorry to burst your bubble, but even though more people are becoming vaccinated it is still important to follow some simple and considerate health guidelines. We here at HPFY can fill you in on what we should be doing after we receive our vaccinations.
Vaccines Are Successful!!
The past year has seen immeasurable and unprecedented chaos caused by Covid-19 in just about every corner of our country. Fortunately, pharmaceutical companies have developed vaccines in unprecedented speed. While this short timeframe may be the cause for doubt, the vaccines have proven to be safe and effective. The three vaccines that have been approved by the FDA have proven to be highly effective with rates of:
Try our newly added iHealth COVID-19 Antigen Rapid Test Kit
iHealth COVID-19 Antigen Rapid Test Kit
Pfizer-BioNTech: Clinical trials of this vaccine showed 95% success rate in preventing confirmed Covid-19 illness in those without evidence of prior infection.
Moderna: Those who received the two-dose vaccination in clinical trials showed the vaccine is 94.1% effective in preventing illness in those without evidence of prior infection.
Johnson & Johnson: This single-shot vaccine showed an efficacy of 66.3% in preventing lab-confirmed Covid-19 illness two weeks after receiving the vaccine.
States have been rolling out vaccine eligibility by age and shortly just about everyone over the age of 16 will be eligible to receive a vaccination if they choose to have one. Even though these vaccines are becoming more available there are precautions we should take in order to ensure the safety of ourselves and those around us. The quicker we get vaccinated, the less of a chance the virus mutates into something potentially more dangerous. That's why we should take some precautions for a little while longer.
What should I do after receiving the COVID Vaccine?
Okay, you have scheduled your vaccine shot or have had your first shot so what should your next step be? Even though one-shot provides some protection against coronavirus you should not consider yourself immune until you have received a full regiment of which vaccine you had. Until then, protective equipment is a good idea until full vaccination has been achieved. Your best bets are:
The comfortable inner materials of this mask provides protection from airborne particles while the embossed top panel helps reduce fogging when the user wears glasses. The innovative chin tab makes positioning, donning, and adjustment simple and easy. It is also designed to be fluid resistant to help protect against splash and splatter of potentially infectious liquids such as blood. It is comfortable against the skin and is designed to fit numerous types of face shapes and sizes.
With a bacteria and particulate filtering efficiency of 95% or better, this facemask is suitable for protection from powders, PM2.5 smog particulates, flu viruses, and even bacteria. Great for protection from wind and cold weather, simply place this mask on the bridge of your nose and press the area around your nose and you are protected!! Simple and economical, this mask is available in packs of 20 or 100.
The universal size and fluid resistance of these simple and economical facemasks filter over 95% of airborne particles. It offers three layers of polypropylene material and is FDA approved to protect the user from bacteria and viruses. Made from high quality nonwoven fabric, these masks have adjustable earloops, adjustable nose bridges, and seamless crimping for full protection when worn over your nose and mouth.

Makrite NIOSH Certified N95 Pre-Formed Cone Disposable Particulate Respirator Mask

This durable mask offers a soft and comfortable inner surface to protect from solids and other airborne particulates, providing 95% protection. One of the more widely used masks available, this disposable facemask provides an adjustable nose piece and head straps for a proper fit while providing exceptionally low breathing resistance to improve user compliance. OSHA even recommends them for TB situations and in protecting from aerosols free of oil and/or non-volatile liquid particles.
Featuring a fit that is great for blocking large airborne particles, this facemask is intended for general public use as an emergency use alternative to provide a barrier for your nose and mouth to protect from airborne pathogens and viruses. It can protect from dust, pollen, and smoke while allowing the user to breathe normally.
Makrite NIOSH Certified N95 Pre-Formed Cone Disposable Particulate Respirator Mask
Another way to keep ourselves safe is with the use of gloves. By wearing gloves we can stop the transmission of Covid-19 from those who haven't been vaccinated yet or have not received two shots (if necessary). Five great options for gloves include:
Lightweight for improved dexterity and minimizing hand fatigue, these gloves meet or exceed ASTM and FDA standards while passing ASTM F1671 test protocol for resistance to penetration by bloodborne pathogens. Latex-free and nonsterile, these gloves have a textured surface for an improved grip while being 21 CFR parts 170-199 for food contact. The lightweight nitrile material provides superior tactile sensitivity while being latex-free to reduce allergic reactions.

Boardwalk Exam Vinyl Gloves

Ideal for activities ranging from food preparation to painting, these vinyl gloves can be used even in doctors' or dentists' offices when a sterile glove is not required. These powder-free gloves can even be worn by EMS personnel and those employed in precision parts handling, manufacturing, and assembly jobs.
Boardwalk Exam Vinyl Gloves
Gen General Purpose Vinyl Gloves

These vinyl gloves eliminate exposure to latex and potential allergic reactions and are quick and easy to put on. They are designed for non-medical, light duty applications and are safe for food contact applications while providing excellent protection at an economical price.

Boardwalk General Purpose Vinyl Gloves

Ideal for users who may have a latex allergy, these gloves provide excellent tactile sensitivity and protection. They are perfect for food contact applications while being easy to put on and remove for unmatched functionality and value.

Allerderm Cotton Glove Liner

For those who wear vinyl/latex gloves all day, these glove liners are made of 100% all cotton fibers and provide an extra layer of protection and even warmth during cold weather. They can protect the user from irritated or damaged skin by preventing your skin from drying and cracking and even keeping harsh chemicals away from your skin. Seamless and lightweight, they can be worn underneath vinyl gloves and can be washed for multiple wearrings which makes them convenient and economical!!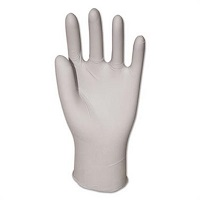 Gen General Purpose Vinyl Gloves
Boardwalk General Purpose Vinyl Gloves
Allerderm Cotton Glove Liner
Covid-19 is slowly being beaten, but we are not out of the woods just yet. Yes, fatigue is a real thing when it comes to coronavirus and it's easy to say "I've had enough." The vaccines are our best answer to ending this pandemic, but we need to do what's right for just a little longer. Continue to wear a mask in public or when around those not fully vaccinated, wash your hands regularly, and (when possible) wear gloves. There is light at the end of the tunnel and with compliance, we will get there faster!!
Disclaimer: All content found on our website, including images, videos, infographics, and text were created solely for informational purposes. Our content should never be used for the purpose of diagnosis or treatment of any medical conditions. Content shared on our websites is not meant to be used as a substitute for advice from a certified medical professional. Reliance on the information provided on our website as a basis for patient treatment is solely at your own risk. We urge all our customers to always consult a physician or a certified medical professional before trying or using a new medical product.