Sometimes you need a piece of medical equipment that you can carry with you while you travel. The environment today has made it difficult today for people with respiratory problems to live carefree in the open. Every time you travel you have to carry a nebulizer with you to be on the safer side. Obviously, it is difficult to carry the one that you use at home with you as it takes up a lot of space and also requires a place to be set up. This is where technology today has helped develop nebulizers that are not only compact in size but also lightweight. They can be carried wherever you go, so that using a nebulizer outdoors becomes hassle free.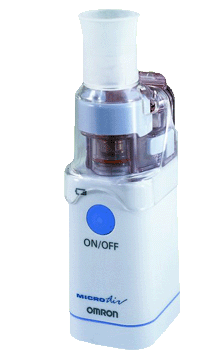 The Omron MicroAir Portable Nebulizer with Vibrating Mesh Technology is the smallest nebulizer that utilizes vibrating mesh technology (V.M.T.) and efficiently delivers solution medications for patients suffering from asthma, COPD or other respiratory conditions. You will appreciate the small product size and powerful delivery that is comparable to any table-top compressor nebulizer systems. It provides respiratory relief wherever you go. The Hudson RCI Large Volume Disposable Nebulizer is designed to provide high-accuracy delivery of humidified gas. It comes with bright yellow, venturi-style entrainment ring with incremental dial for setting oxygen concentrations. It is disposable and can be thrown away safely after use.
The Hudson RCI Micro Mist Small Volume Nebulizer is a small volume nebulizer, designed for high performance and affordability. It can be used in both handheld and inline treatments. It shape and design helps the patient to move it within a 90 degree range and so is apt for even patients with special needs.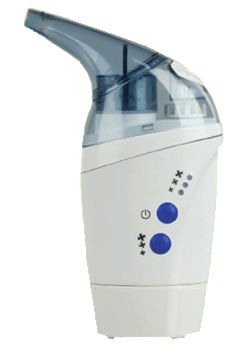 The DeVilbiss Traveler Portable Compressor Nebulizer System is designed to help active customers get more out of their aerosol therapy. This nebulizer system is an ideal travel companion which makes treatments easy and convenient when the user away from home. It is highly portable and one of the smallest compressor nebulizers in the market. It weighs less than a pound and is smaller than a standard size postcard. The 45 minutes battery life keeps users fully powered and ready for treatments. The Pari Trek S Portable Compressor Nebulizer Aerosol System combines fast and efficient aerosol treatments with portable technology. It is perfect for those with active lifestyles and it allows patients the freedom to take treatments anywhere. This system comes with Pari LC Sprint reusable nebulizer which delivers a consistent particle size for targeted delivery to the lungs while wasting less medication.
The Mabis DMI MiniBreeze Ultrasonic Nebulizer is portable and produces a fine mist for advanced medication therapy. The medication is delivered through mouthpiece, nasal piece or mask in this smallest and quietest unit. It automatically shuts off, after approximately 10 minutes. It is compact in size and is very easy to use while travelling. The Respironics InnoSpire Mini Compressor Nebulizer System converts liquid medication into fine mist and is apt for patient prescribed with inhalation therapy. It is compact and lightweight and can be used very efficiently while travelling.
Disclaimer: All content found on our website, including images, videos, infographics and text were created solely for informational purposes. Our content should never be used for the purpose of diagnosis or treatment of any medical conditions. Content shared on our websites is not meant to be used as a substitute for advice from a certified medical professional. Reliance on the information provided on our website as a basis for patient treatment is solely at your own risk. We urge all our customers to always consult a physician or a certified medical professional before trying or using a new medical product.