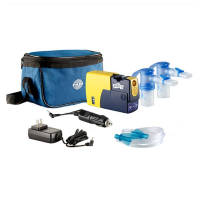 Pari Trek S Portable Nebulizers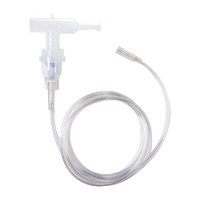 Medline Nebulizer Mouthpiece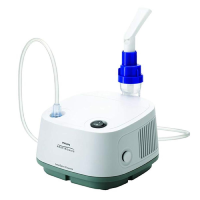 Innospire Essence Compressor Nebulizer
Chronic respiratory diseases like asthma or emphysema make it difficult for the affected person to breathe. This brings in the need for long-term care respiratory therapy systems called nebulizers. Nebulizers also serve people in emergencies like stroke, drowning, choking, heart attack, or shock. Nebulizers are drug delivery devices used to administer medication in mist form directly into the respiratory tract. Nebulizers break the medication into small aerosol droplets that can be inhaled directly from the mouthpiece. (Aerosol is the mixture of liquid and gas).
Compressors are the systems that push the medicated mist into the lungs via a nebulizer system. These come as either stationary plug-in devices or as battery-powered devices for portable nebulizers. Nebulizer compressors are available in various types and designs to cater to people with specific respiratory needs like patients with asthma, bronchitis, or COPD.
We also carry mouthpieces and nebulizer masks, replacement filters, mouthpiece adapters, and many other things required for a smooth respiratory therapy session.
Types of Nebulizers
Table Top Nebulizer
This type of nebulizer system is designed for use on sturdy and still surfaces. They are generally less expensive and come with a longer warranty. Usually table top nebulizers are used for providing respiratory therapy to small children and infants.
Best-Selling Table Top Nebulizers
Portable Nebulizers
These nebulizers are also called the hand-held nebulizers and provide the users with more freedom of movement as they operate while being held. These nebulizers are generally powered by a 12V DC auto adaptor or a battery. Portable nebulizers are lighter and smaller than tabletop nebulizers. Buy portable nebulizers such as Pari Trek S Compressor Aerosol System that induce fast and effective respiratory treatments for an active lifestyle.
Best-Selling Portable Nebulizers
Piston-Pump Compressor Nebulizers
These are also known as jet or aerosol nebulizers. These nebulizers generate air from piston-powered compressors that pass through a medicated liquid to form a breathable mist. These nebulizer machines are very effective and less expensive than the ultrasonic nebulizers but are a little noisy.
Best-Selling Compressor Nebulizers
Disposable Nebulizer
Disposable nebulizer reduces the risk of infections and requires less maintenance. They are ideal for traveling and can be taken along with portable nebulizers. Disposable nebulizers are easy to clean as compared to a regular nebulizer. They can also be handy for children when they are going on camps or field trips.
Best-Selling Disposable Nebulizers
Mesh Nebulizer
Mesh nebulizers use a mesh cap with tiny holes to dispense medication into consistent particle sizes that can be inhaled easily and comfortably. These nebulizers are silent, small, and compact, enabling you to finish your treatment in as little as 5 minutes. They're also often battery operated, giving patients the freedom to finish their respiratory treatment when they're on-the-go.
Best-Selling Mesh Nebulizers
Nebulizers are widely used in home and hospital settings for medication delivery to patients with chronic respiratory diseases. Nebulizers have opened new horizons for people with health issues like asthma and COPD who were earlier confined to their homes. Please Choose from our exclusive range of nebulizer products. Quality and value assured!
Where to buy Nebulizers and compressor online?
HPFY carries a wide range of Nebulizers and compressor that will meet all your needs from top leading manufacturers such as Drive Medical, McKesson, Medline Industries, and 3B Medical.
Article and Research on Nebulizer Supplies