Pediatric Nebulizers – Choosing the Right One for Your Kid

It's always a tough time getting your kid to adapt to a device that looks more like hospital equipment than something the kids might enjoy looking at. Kids are always fascinated by looking at things that intrigue them. Things like animal toys, toy cars, dolls, etc. make the child happy and also put a smile on their face. We are always confused on how to have a piece of medical equipment that does not scare the child but makes him happy while using it. We at HPFY strive to bring to you such medical equipment. Unfortunately, kids today, face a lot of respiratory problems, because of the increased pollution and the unhealthy playing environment.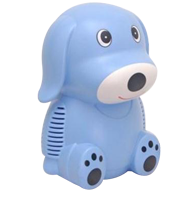 Common nebulizers might not look appealing to children, but a nebulizer masqueraded as a cute little puppy might just work for you. The Tag Pediatric Puppy Aerosol Compressor is in the form of a cute little dog. It comes complete with a nebulizer, a mouthpiece, tubing and a filter. The filter is easy to replace. It is a fun and child-friendly design that helps reduce anxiety during the treatment. It is highly durable and easy to operate and has very quiet operation so as to not alarm your child. The Drive Beagle Pediatric Nebulizer Compressor is shaped just like a Beagle and the colors are also similar to the real animal. It has a powerful piston pump and is dependable and quiet.
The ReliaMed Jo Jo The Jellyfish Pediatric Compressor Nebulizer Kit is in the form of a little blue jellyfish and provides aerosol medication therapy for the treatment of many respiratory conditions, including bronchial asthma, respiratory infections, and small airway disease. It is very child friendly and is highly appealing to children. Other animal shaped nebulizers includes the Tag Pediatric Penguin Aerosol Compressor and the Mabis DMI Digger Dog Nebulizer.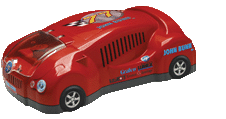 If your child loves vehicles like race cars, trains, trucks, etc. then Graham Field John Bunn Neb-u-Tyke Train Pediatric Nebulizer Compressor is a perfect choice. It is in the shape of a train engine and come with a nebulizer kit and piston driven compressor. It also includes a set of stickers with which the kid can design the train. The Graham-Field Neb-u-Tyke Speedster Pediatric Nebulizer Compressor is the best race car type option. The nebulizer is shaped like a red race car and is comes complete with a sticker set. It has a reliable piston driven compressor.
Children love to doodle, and a nebulizer equipped with a doodling pad, is the perfect choice for the artist in your kid. The Graham Field John Bunn Neb-u-Tyke Neb-a-Doodle Pediatric Nebulizer Compressor comes with a doodling pad which will keep your child engrossed during the treatment process. The Pari Baby Reusable Nebulizer Set is designed specifically for babies and young children under the age of one. It combines efficient aerosol delivery with practical applications. The only tight fitting and non-latex mask is designed for use in the delivery of pulmicort respules, but is suitable for all approved nebulizer solutions. The rotatable elbow piece allows for multiple delivery positions.
Disclaimer: All content found on our website, including images, videos, infographics and text were created solely for informational purposes. Our content should never be used for the purpose of diagnosis or treatment of any medical conditions. Content shared on our websites is not meant to be used as a substitute for advice from a certified medical professional. Reliance on the information provided on our website as a basis for patient treatment is solely at your own risk. We urge all our customers to always consult a physician or a certified medical professional before trying or using a new medical product.