Winter Safety 101

Winter weather can bring beautiful snow laden landscapes as well as playgrounds for sledding, ice-skating, and skiing. While that is the upside to a winter wonderland, having to go outside and deal with the snow and ice during our everyday lives can lead to some hidden dangers. Shoveling snow and icy walkways can cause injuries as well as other dangerous health issues. Taking precautions can help us safely deal with whatever winter can throw at us.
Dangers of Winter Weather
When winter unleashes its fury on us it presents a unique challenge. Cold weather, snow, ice, and darkness can compromise our everyday safety. Shoveling snow and dealing with icy walkways can make getting around difficult, not to mention painful. While watching somebody else slip and fall may seem funny it is hardly laughable when it happens to you. The National Safety Council identifies a few simple things to be on the lookout for:
Avoid Strain While Shoveling: By taking some precautions you can avoid the dangers associated with snow shoveling.
Treat Frostbite Immediately: Exposed skin can be subject to frostbite, while prolonged exposure to cold can create hypothermia.
Prevent Carbon Monoxide Poisoning: Any burning of a fossil fuel can cause carbon monoxide to build up in the home and it is a silent killer.
Many of these precautions are common sense, but a false sense of security can lead to us cutting corners and creating an unsafe environment.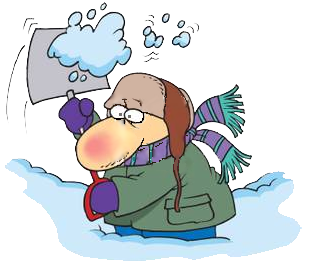 Exercise Care When Clearing Snow
It is inevitable (especially in colder climates) that during wintertime we will need to clear snow from our driveways or walkways. While it may seem like a mundane and common chore, it can be dangerous or even deadly. According to CBS news in Chicago, about 18 people had died in 2015 by February shoveling snow. Running right out and shoveling potentially hundreds of pounds of snow can put a great deal of strain on the heart and back. To guard against straining your back, try using a back brace such as the ALPS Neoprene Back Brace . It allows for therapeutic warmth in the lumbar region and helps prevent back strains, spasms, and sprains. For support after you are done shoveling the Acu-Life 360 Degree Hot and Cold Back Therapy Brace can be used to provide hot and cold soothing therapy. One lightweight back brace that may help is the Cybertech Flex Power Plus Lumbar Orthotic Back Brace. The contouring panel provides increased comfort and support and conforms to the user's body. Shoveling snow can put a strain on our back, but let's not forget about other body parts that can be strained. Lifting a heavy shovel full of snow can bother our knees as well. The Core X-Back Elastic Knee Brace can provide effective joint control and reduce stiff, swollen, and painful knees. For those that may need a little bit extra added support the BodySport Neoprene Knee Brace With Removable Stays retains body heat and stabilizes the knee with firm comfortable compression.
Treating Hypothermia and Frostbite
We should always be on the lookout for conditions that can quickly turn dangerous. You should always be aware of cold weather conditions such as temperature, wind, and even moisture. To avoid hypothermia you should dress in layers and keep extremities such as your hands, feet, and even ears covered with appropriate clothing. If some of these conditions are ignored, frostbite can become a real possibility. The National Safety Council suggests if frostbite is suspected you should immediately get indoors and seek medical attention. If you experience frostbite between your toes you should wrap them in sterile gauze such as the BSN Elastomul Sterile Elastic Gauze Bandage or the Cardinal Health Conforming Stretch Gauze Bandage. Make sure you wrap them loosely to avoid any damage to frostbitten tissue. If the affected tissue may become cold again, do not warm the area until you can be assured it will stay warm since this may further damage frostbitten tissue. For superficial frostbite, you can place the affected area in water heated to 100-105° until the tissue softens.
Be Aware of Carbon Monoxide
There is a reason carbon monoxide poisoning is called the silent killer. It can't be seen and doesn't have an odor. You should take care to never run a car in a garage (open or closed) and avoid heating homes with your stove or oven. Without properly operating carbon monoxide alarms you may not know until it is too late!! The Kidde AC Hardwired Operated Carbon Monoxide Alarm with Battery Backup can be used as a stand-alone unit or integrated into an alarm system in your home. Its 85 dB alarm at a distance of 10 feet will alert everyone to the presence of dangerous levels of carbon monoxide so you may escape your home. For a home that may have someone with a hearing disability, the Silent Call Carbon Monoxide Detector With Strobe Light will not only sound an 85 dB alarm, but will activate the hardwired strobe light for a visual alert. Old man winter throws a number of unique challenges our way, but with some foresight and precaution we can survive the cold, dark months of winter safely and securely and be around to enjoy the nice warm weather of spring and summer.
Disclaimer: All content found on our website, including images, videos, infographics and text were created solely for informational purposes. Our content should never be used for the purpose of diagnosis or treatment of any medical conditions. Content shared on our websites is not meant to be used as a substitute for advice from a certified medical professional. Reliance on the information provided on our website as a basis for patient treatment is solely at your own risk. We urge all our customers to always consult a physician or a certified medical professional before trying or using a new medical product.