Urinary Incontinence and Bladder Control Products

Urinary incontinence (UI) is a common but not a normal part of aging. Many do not discuss this with their doctors because of embarrassment. Finding the cause and seeking treatment would solve the incontinence problem. For those that don't or those that cannot be treated, many products have been created to help with this embarrassing health condition.
UI can affect people differently, based on the type of UI you suffer from. Some dribble small amounts while trying to get to the bathroom. Others can lose several ounces at a time. Yet others leak urine with activity, such as coughing, sneezing, laughing, or lifting. So how do you know what type of product is best for your situation?
Absorbency, odor control, and maintaining skin integrity are top priorities. Some products are disposable while others are reusable and washable.
Health Products For You carries a vast variety of products to help manage your incontinence.
Liners and pads are made to wick away moisture, locking it into the core and keeping the skin dry. They also lock odor into the core. These are available in light, medium, or heavy absorbency. Pads are contoured for men or women. They need the absorbency core in different areas of the pad.
Briefs and diaper products are designed for heavy incontinence or overnight protection. They are a perfect choice for anyone that has a full loss of urine. They are highly absorbent and protect against leakage through the outside. It is recommended to try different styles for fit and protection. Each brand offers different fit characteristics and one may fit or work better than others.
These products are reusable and reduce the cost of care. They can be used for light to moderate incontinence.
CareActive Ladies Reusable Incontinence Panty

Has a wicking layer that draws away wetness
Holds and locks away fluid
Made of waterproof, reinforced vinyl to prevent spillover

Salk HealthDri Men's Breathable Reusable Briefs

A breathable outer shield prevents liquids from penetrating clothing
Hold 6 ounces of liquid
Washable over 300 times

Medline Reusable Light Incontinence Pants

Can be washed 100 times like normal underwear
Light bladder control pants in options for both men and women
4. Moisture barriers and skin hygiene
Skin that comes in contact with urine regularly can irritate and increase the risk of rashes and infection. Cleaning the genital area when changing pads, guards, liners, or briefs is recommended. Cleansing with warm water or using pre-moistened wipes is helpful. Be sure the skin is dry before placing clean protection. For those with moderate to heavy incontinence, consider applying a moisture barrier to keep the skin protected. Here are a few products to try:
Attends Washcloths Convenience Pack

Gentle on the skin, pH balanced

3M Cavilon Durable Barrier Cream

Resists wash off
Latex free
Protects at-risk skin
Hypoallergenic

Sage Comfort Sheild Barrier Cream Cloth

Dimethicone to seal out wetness
All-in-one skin cleansing, moisturizing, deodorizing, and barrier protection
These pads are available in disposable or reusable. They are absorbent on one side but prevent leakage through the pad, keeping the mattress or chair dry.
Abena Essentials Washable Incontinence Under Pad

Breathable for better skin conditions
Looks and feels like a normal sheet, discrete, noiseless and comfortable
It can be washed a minimum of 300 times

Attends Dri-Sorb Underpads

Available in a variety of sizes and absorbencies
Latex Free
Disposable
6. Devices for men
There are a few devices for men to help with UI. Condom catheters are external catheter that covers the penis and drains urine into a bag. A penile clamp controls leakage by compressing the urethra and preventing urine flow. This can be worn for a few hours at a time. It is not meant for long periods.
Coloplast Freedom Cath Male External Condom Catheter- Self-adhering latex male external catheter

Easy to apply
Double-thick bulb and stem prevent kinking and twisting of the catheter
No straps that constrict

Wiesner Incontinence Clamp

Soft silicone cushions offer patient comfort
Fully adjustable with 4 different settings
This clamp can be worn during any activity
7. Devices for women
Women have the option of using internal devices (tampons or vaginal sponges) that go into the vagina, putting pressure on the urethra. This reduces urine leakage from stress incontinence (leakage that occurs when laughing, coughing, sneezing, and exercising.)
Kegel exercises can be done by men and women to strengthen to muscles of the pelvic floor. To tighten the muscles, try clenching to stop the flow of urine once you've started. Doing these exercises daily will help.
All in all, many products can help you cope with UI and lead a normal, active lifestyle. If you are dealing with UI, discuss it with your doctor. The cause can be something that is easily remedied.
Author Profile: Christine Kijek, Registered Colorectal Nurse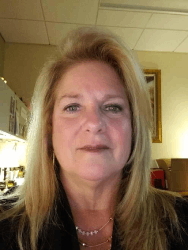 Christine Kijek is a colorectal nurse at Danbury Hospital in Danbury, CT. She has a wealth of knowledge in this field as well as personal experience. HPFY is thrilled that she has been an active participant in the Ostomy Support Group. She has experience working as a coordinator for cancer patients, post-operative care, and home health care for disabled children and adults. And guess what! Christine is also the recipient of the Nurse Exemplar Award. Christine lives in Bethel, CT with her husband Ed. Her children are married and live nearby. She has 4 grandchildren and is known as GiGi. Christine enjoys riding motorcycles and spends many hours gardening. She can often be found onboard a Carnival Cruise ship lounging by the pool.
Disclaimer: All content found on our website, including images, videos, infographics, and text, was created solely for informational purposes. Our content should never be used for the purpose of diagnosis or treatment of any medical conditions. Content shared on our websites is not meant to be used as a substitute for advice from a certified medical professional. Reliance on the information provided on our website as a basis for patient treatment is solely at your own risk. We urge all our customers to always consult a physician or a certified medical professional before trying or using a new medical product.