6 Best Pulse Oximeters for Home Use in 2023

Pulse oximeters are deemed essential in the post-COVID-19 world. An oximeter is significantly used to measure the oxygen level in the blood. These devices are positioned on a fingertip to monitor blood oxygen using light beams to ensure normal oxygen levels. Subsequently, the pulse oximeter readings can also provide relevant information about tissue perfusion. 
How Pulse Oximeter Works? 
A pulse oximeter is a medical device used to measure the oxygen saturation level in your blood. Its readings are easily read and offer fairly accurate oxygen levels when checked daily. Blood oxygen meters are inexpensive, require little or no prescription, and are non-invasive. At HPFY, you will get a wide range of best pulse oximeters for home use. Most FDA-approved oximeters are used by placing them on a fingertip.  
The pulse oximeter has a Perfusion index (PI), automatically calculated by pulse oximetry, which indicates peripheral perfusion at the sensor site. PI is a relative number and differs from patient to patient depending on physiological conditions and monitoring pulse site. 
PI values range from 0.02% to 20%, where 0.02 percent being the weakest and 20% being the strongest pulse. A sensor pulse site with a high PI number generally indicates an optimal monitoring site. Thus, each patient's "normal" PI is unique. 
6 Best Pulse Oximeters for Home Use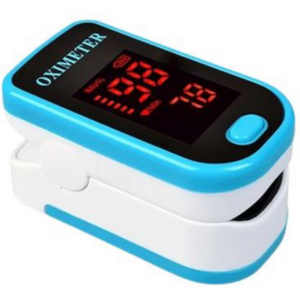 BodyMed Fingertip Pulse Oximeter provides real-time readings of your SpO2 (oxygen saturation) levels, pulse rate, and a plethysmograph waveform. It utilizes advanced technology to quickly and accurately measure your oxygen saturation levels. The user-friendly design makes it a best pulse oximeter choice with a one-button operation, making it suitable for both healthcare professionals and individuals at home.
Drive Medquip View SpO2 Deluxe Fingertip Oximeter is considered one of the best pulse oximeter which displays SpO2 and pulse rate, pulse bar, and plethysmogram. The oximeter applies to the widest range of finger sizes from children to adults. It has an easy-to-read high resolution, dual color, and multi-display modes. 
McKesson Finger Pulse Oximeter provides a non-invasive spot-check measurement of functional blood oxygen level and pulse rate. Suitable for infants to adult use. This fingertip oxygen monitor features low power consumption and user-friendly operation. The multi-angle display modes are clear to exhibit SpO2 and pulse rate readings. The adjustable brightness, automatic power off, long life battery (two AAA alkaline batteries) are some of the features of the Mckesson Pulse Oximeter that make it one of the best pulse oximeter for home use. 
Roscoe Pulse Oximeter allows users to monitor and maintain pulse and oxygen saturation levels on the go. Roscoe fingertip pulse ox reader accurately measures oxygen level and heart rate, ideal for sports enthusiasts during strenuous activities or mountain climbing. This pulse oximeter is recommended for spot-check monitoring.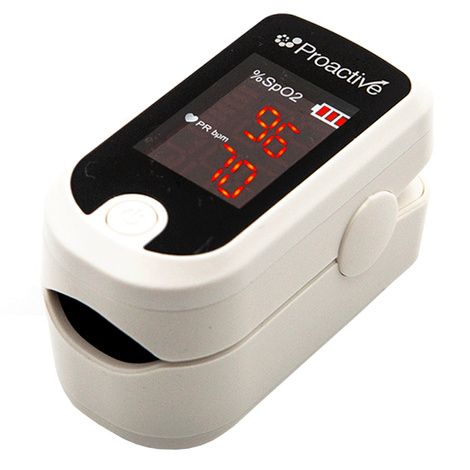 Proactive Finger Pulse Oximeter offers accurate reading of SpO2 values and is well suited for exercise, sport purposes, and high-altitude activities. It's intended for spot-checking or attended-care monitoring in home health care and medical facility. Proactive pulse oximeter is light in weight and easy to carry. It conserves power by shutting off automatically when no signal is detected, preserving the battery life.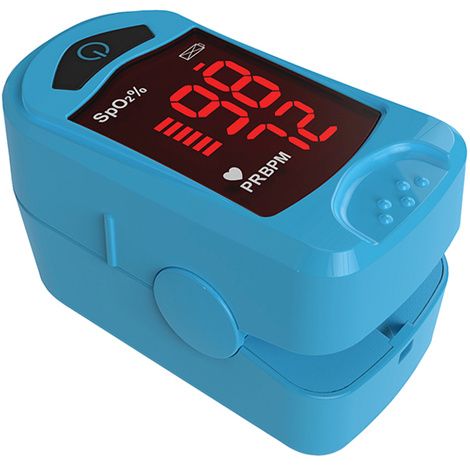 Carex OTC is one of the best pulse oximeters that allow users to monitor and maintain pulse and oxygen saturation levels on the go. It is commonly used in medical settings, as well as by individuals at home to monitor their oxygen levels, especially those with respiratory conditions or during physical activity. This blood oxygen meter has upto 30 hours of use.
Frequently Asked Questions
How to use pulse oximeters?

How accurate are pulse oximeters?

Pulse oximeters are generally considered to be accurate within an acceptable range between 90% and 100%. However, factors such as poor circulation, cold hands, nail polish, or excessive movement may affect the accuracy of the readings.

What are the benefits of keeping pulse oximeter at home?

Keep a pulse oximeter at home can help monitor oxygen saturation over time and offers peace of mind to people with chronic respiratory or cardiovascular conditions. If your oxygen saturation levels consistently fall below normal or if you experience sudden drops, it may signal an underlying health problem. Catching these changes early can prompt you to seek medical advice and potentially prevent complications.

What are the 2 readings on a pulse oximeter?

The two readings on a oximeter reader are the Oxygen Saturation that represents the percentage of oxygen-saturated hemoglobin in your blood and your Pulse Rate that indicates the number of times your heart beats per minute (BPM).
Where to buy the best pulse oximeter for home use? 
At HPFY, we offer a wide range of oximeters for personal or professional use in hospitals, homes, and medical diagnoses. Buy the best pulse oximeters from top-leading manufacturers like Drive Medical, Mckesson, Patterson Medical/Performance Health, and many more reputed manufacturers and ensure normal oxygen saturation levels.  
Related Articles
Disclaimer: All content found on our website, including images, videos, infographics, and text were created solely for informational purposes. Our reviewed content should never be used for the purpose of diagnosis or treatment of any medical conditions. Content shared on our websites is not meant to be used as a substitute for advice from a certified medical professional. Reliance on the information provided on our website as a basis for patient treatment is solely at your own risk. We urge all our customers to always consult a physician or a certified medical professional before trying or using a new medical product.