Introduction     |    Buy Masks     |    Mask Tips
The current coronavirus pandemic has forced us to change our behavior in public. Social distancing and minimizing large gatherings are a crucial tool in minimizing the spread of this virus. If we want to get back to the way things were pre-coronavirus, the use of facemasks can be a useful tool, but do we truly understand what prolonged facemask use means and the benefits of it? Since airborne particles are how the virus spreads, this might be our best weapon in the fight against this pandemic. We here at HPFY can give you a useful guide detailing the prolonged use of a facemask.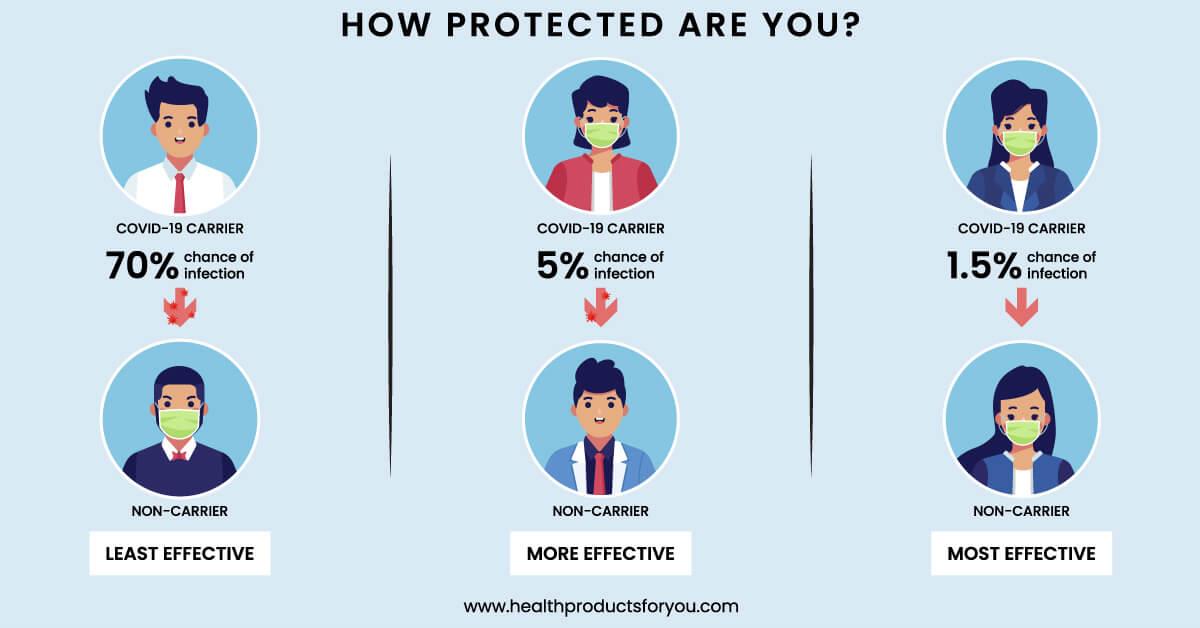 To Mask or Not to Mask
A close up of an object Description automatically generated. In order to slow the spread of coronavirus, health officials have suggested that those who can't be socially distant from each other (approximately 6 feet) wear a facemask or covering. This edict has been met with mixed reactions, some valid some not. Yes, prolonged use of a facemask can be uncomfortable and inconvenient, but do the pros outweigh the cons? One concern of prolonged facemask use is difficulty breathing. Particularly that masks force the user to inhale dangerous levels of CO2. While a N95 mask may restrict your breathing, there is minimal risk of CO2 danger. Also, everyday John q. Public should probably not be wearing this type of mask designed for healthcare workers or their patients. This leaves cloth masks for the rest of us and they present and even lower risk of breathing issues. The important thing to know about wearing face masks is that it minimizes the airborne particulates that can pass along the virus from person to person. While you may be healthy, your grandparents may be susceptible, so coughing or even singing could get them sick.
Mask Tips
When wearing your face covering or mask, be sure that it covers both your mouth and nose and fits snugly. So, if wearing a mask or face covering has benefits that outweigh any potential or even imagined downside, are there ways to make extended use easier? Turns out there are some simple tips that can make prolonged mask use more bearable. Steps to help with prolonged mask use that experts recommend often include:
Take Five Breaths: By taking five breaths before putting on your mask, right after you put your mask on, and after removal of your mask can stop your nervous system from developing an incorrect breathing pattern. This entails inhaling through your nose for 4 seconds and exhaling through your mouth for 6 seconds. Take a two-second break and repeat five times.
Breathe Deep: As some people wear their masks, they actually change the way they breathe. In order to avoid this, make a concerted effort to breathe slower and longer when wearing your face covering.
Take a Break: When possible, try to take a break from wearing your mask or face covering. It is these little respites that can make prolonged mask use bearable. Again, take five deep breaths during these breaks and be sure that during a break you are mindful of social distancing.
Train Yourself: The use of respiratory training can have a couple of benefits. First, it can make breathing through a mask or face covering easier, and secondly it improves the respiratory muscles which is important when dealing with issues such as Covid-19.
Unfortunately, mask or face covering use is the new normal (at least in the short term). Besides social distancing and frequent handwashing, mask use is our best defense during this or any pandemic. While it is an inconvenience and uncomfortable, finding ways to make prolonged use bearable is doable. Do your part and wear your mask when appropriate to minimize the spread of airborne particles that can help transmit coronavirus or any other viral health issue that may arrive.
Disclaimer: All content found on our website, including images, videos, infographics and text were created solely for informational purposes. Our content should never be used for the purpose of diagnosis or treatment of any medical conditions. Content shared on our websites is not meant to be used as a substitute for advice from a certified medical professional. Reliance on the information provided on our website as a basis for patient treatment is solely at your own risk. We urge all our customers to always consult a physician or a certified medical professional before trying or using a new medical product.