Ostomy Accessories - Guide To Find The Best Stoma Accessories

The least number of products used is the first step. Adding an accessory to improve fit may be needed. Some accessories are used for fitting options, while others are for improved wear time. They can be used to offer comfort or confidence.
Skin barrier film or protectant
Ostomy nurses have different opinions regarding the use of this product. My philosophy is to protect the skin by using one. Alcohol-free is best. This way, if the skin becomes red or irritated, it will not burn with the application. A good choice is Safe N Simple Skin Barrier Film. It is available in wipe form.
Stoma powder
This should be used if the skin under the barrier is broken and moist. After cleaning the skin, allow the skin to dry, then sprinkle the powder over the red, moist skin. Tap off the excess. Use a barrier film over the powder. This will hold the powder in place and create a tacky surface for the barrier to adhere to. The barrier film spray is often used when using powder but if wipes are all you have, dab over the powder, and don't wipe. There is enough product to soak the powder.
Stoma paste
Stoma paste is used to fill in gaps or to chalk the opening of the barrier. It works like the tiles in your shower. Chalking is applied to prevent moisture leakage behind the tile.
Moldable rings
Moldable rings work as chalking and can be placed around the stoma, under the barrier.
Elastic barrier strips or extenders
This product is placed around the outer portion of the barrier (wafer). They extend the adhesive surface. Many like this product because it offers security and confidence.
Stoma belts
Each manufacturer has a stoma belt available and most are interchangeable. The belt is recommended for those with a flush or inverted stoma and who have more frequent leakage problems. These belts are a 1" elastic band that is adjustable. Each end has a small hook that locks into belt tabs on the pouching system. The belt should fir snug, but not too tight to be uncomfortable. This will hold the pouch close to the body, minimizing leakage.
Pouch deodorants/lubricants
Emptying your ostomy pouch in a public restroom can be intimidating. Lubricating deodorants can be added to the pouch after emptying. This will help reduce embarrassing odor.
Biologic odor eliminator air fresheners
Odor control is a high priority for those with an ostomy. Many biological odor eliminator sprays are available in 8 oz, 2 oz, and refill bottle sizes.
Gel agents
Gelling agents can be placed in the pouch after emptying. It will turn the liquid output into a gel. This decreases leakage episodes and reduces noise related to the sloshing of liquid.
Adhesives
Adhesive agents are available for those that leak more often due to body contour or poorly placed stomas.
No matter what problems or difficulties you may experience with your ostomy pouching, many products are available to assist with getting a good fit and an acceptable wear time.
Health Products For You carries all these outstanding products for you to try.
LIVE STRONG OSTOMATES!
Author Profile: Christine Kijek, Registered Colorectal Nurse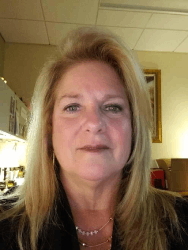 Christine Kijek is a colorectal nurse at Danbury Hospital in Danbury, CT. She has a wealth of knowledge in this field as well as personal experience. HPFY is thrilled that she has been an active participant in the Ostomy Support Group. She has experience working as a coordinator for cancer patients, post-operative care, and home health care for disabled children and adults. And guess what! Christine is also the recipient of the Nurse Exemplar Award. Christine lives in Bethel, CT with her husband Ed. Her children are married and live nearby. She has 4 grandchildren and is known as GiGi. Christine enjoys riding motorcycles and spends many hours gardening. She can often be found onboard a Carnival Cruise ship lounging by the pool.
Disclaimer: All content found on our website, including images, videos, infographics and text were created solely for informational purposes. Our content should never be used for the purpose of diagnosis or treatment of any medical conditions. Content shared on our websites is not meant to be used as a substitute for advice from a certified medical professional. Reliance on the information provided on our website as a basis for patient treatment is solely at your own risk. We urge all our customers to always consult a physician or a certified medical professional before trying or using a new medical product.