Let's Keep Our Grandparents Safe

We all love our grandmas, grandpas, Nanas, or pop-ups so their safety during the winter months is important to every family member. The treacherous conditions that cold weather months can present are particularly dangerous to the elderly. As we age we are not as agile or nimble as we used to be when we were teenagers. All it takes is one wrong step or slip and grandma may end up in the hospital. Preventing and avoiding falls (both inside and out) will give everyone a happy holiday season!!
Nana and Grandpa Are at Risk
As we all know, when we get older we are not as spry as we use to be. This means we become more unstable on our feet as we get older which can lead to slips and falls. The US Consumer Product Safety Commission reports that approximately 1 million people over the age of 65 end up in the emergency room due to every day due to just the products we regularly use. If you add cold weather into that equation the risk of injury can increase. The elderly have an approximately three times higher rate of death than the younger population, and that is just for accidents in the home!! The use of grab bars such as the Clarke Handi-Grip Portable Grab Bar With Suction Indicator (available in multiple sizes) can make navigating the house safer. Venturing outside during winter can leave susceptible elderly men and women at a higher risk for falls due to ice and snow. Identifying danger spots and making sure our older population has all the proper gear can help minimize instances that can lead to a major fall and possibly a stay in the hospital. Not only should we respect our elders, but we should be proactive in protecting them.
Slow and Steady
Winter can bring snow and ice which leads to dangerous walking conditions. As we age, we can become a little unsteady in our gait making us more susceptible to slips and falls which can lead to serious injuries. The best way we can help Nana get around in these treacherous conditions is with the aid of a cane or walker. One simple cane that can add stability is the Drive Adjustable Height Offset Handle Cane with Comfortable Gel Hand Grip. Its 1 inch sturdy aluminum tube has an ergonomically designed handle to reduce stress and provide comfort and security. Some canes are available with a tripod base, such as the Able Tripod Cane With Base. Not only does it offer the ability to stand on its own, but is adjustable from 30 inches-39 inches and is engineered to help normalize your gait. For those that need to rest while walking long distances, the Drive Folding Cane With Sling Seat doubles as a seat when opened and a quad cane when closed. Now shopping for the holidays can be easier for grandma or grandpa. One way to increase stability is to use a cane with a wide base. The Guardian Select Quadri-Poise Adult Large Base Quad Cane is engineered and tested to ensure its performance and quality to provide a stable base for the user. It is well-balanced and has a low center of gravity, not to mention a soft home handgrip for comfort. In order to take safety and security a step further, the addition of light can help the user see their surroundings. The Pathlighter Adjustable Lighted Walking Cane does just that. The added peace of mind of the illuminated cane can allow the user to see better, walk safer, and feel more secure. With a button on the end of the cane, turning the light on is simple and easy.
Some folks may need the added security and stability of a walker. These increase the user's stability by surrounding them with a frame they can use with both hands. The Cardinal Health Two-Button Folding Walker does just that by utilizing slip-resistant rubber tips and a steel cross brace for added rigidity. Some walkers are available with wheels on the front legs to make advancing the walker easier. These can be both fixed or on a swivel. The Carex Fixed Wheeled Walker with Glides and Five Inches Wheels can help those who need the added security of a walker but need a little assistance advancing it forward. It has three points of contact for added stability and longer wears while supporting weights up to 300 pounds. Many walkers even provide seats for their users. The Invacare Revolutionary WalkLite Walker has a flip-up seat and is adjustable seat to floor height while being lightweight and foldable for easy storage. This can help Nana and grandpa enjoy the holidays or maybe take in their grandchild's holiday play. These walkers can even be outfitted with accessories to allow the user to take with them what they need. The Sammons Preston Carrying Bag for Walker for Walker is a simple way to allow the user to bring with them their everyday necessities and keep their hands free to safely operate the walker. You can even add a basket so holiday shopping is simpler. The Carex Snap-On Walker Basket can be added to most walkers easily and without any tools. One way to keep small items from falling through your walker basket is to use the EZ-Access Walker Basket Liner. Made of durable nylon, it has different pouches to hold your cell phone and other personal items and has an adjustable drawstring to fit most baskets. Now spending time with your grandparents during the winter can be enjoyable and safe.
Stay Warm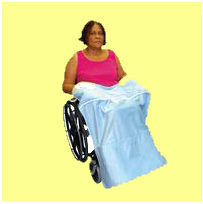 The elderly can be more susceptible to cold weather than their younger counterparts. Keeping them safe and warm during the winter is imperative. If our grandparents use a wheelchair, the Skil-Care Lap Blanket with Hand Warmer is designed to keep your lower body warm and is easily attached to the wheelchair with Velcro straps. For road trips with grandma or grandpa, the Wagan Soft Velour Heated Seat Cushion provides soothing warmness while driving by simply plugging in the cushion and has a universal fit for cars or even RVs. We often hear the news about fires being started by an improperly heated apartment. You should never heat your apartment with your stove or with an open flame. This can lead to a fire or carbon monoxide poisoning. Using a proper ceramic heater is safer and more efficient. The Honeywell EnergySmart ThermaWave Heater provides quick even heat and provides tip over protection as well as overheating protection to prevent fires. We all love our grandparents so let's make sure they have what they need to safely enjoy the winter months.
Disclaimer: All content found on our website, including images, videos, infographics, and text was created solely for informational purposes. Our content should never be used for the purpose of diagnosis or treatment of any medical conditions. Content shared on our websites is not meant to be used as a substitute for advice from a certified medical professional. Reliance on the information provided on our website as a basis for patient treatment is solely at your own risk. We urge all our customers to always consult a physician or a certified medical professional before trying or using a new medical product.