Hysterectomy: What is it & How to Prepare for Hysterectomy?

A hysterectomy is a surgical procedure that removes the uterus. It can include other surrounding parts of the reproductive organs, such as the cervix, the ovaries (oophorectomy), and the fallopian tubes (salpingectomy). The different types of hysterectomies are: 
Total hysterectomy: Removes the uterus and the cervix 
Partial hysterectomy: Removes the uterus but leaves the cervix 
Total hysterectomy with bilateral salpingo-oophorectomy: Removes the uterus, cervix, fallopian tubes, and ovaries.  
Radical hysterectomy with bilateral salpingo-oophorectomy: Removes the uterus, cervix, the upper portion of the vaginal canal, fallopian tubes, ovaries, surrounding tissue, and the lymph nodes in the pelvis. This type of surgery is done for those with a cancer diagnosis.  
Why is a hysterectomy needed? 
A hysterectomy is usually performed for conditions that do not respond to conservative treatments. These include: 
Heavy vaginal bleeding 
Injury to the uterus 
Prolapse of the uterus  
Recurrent uterine polyps 
Hyperplasia (abnormal cell changes that will progress to cancer) of the uterine lining 
Cancer 
Different approaches to hysterectomy surgery 
Based on the reason why a hysterectomy is needed, the type of approach will vary.  
Vaginal hysterectomy: the uterus is removed from the vaginal canal. An incision is made at the top of the canal. Dissolvable sutures are placed. 

Low rates of complication.
Most often, no hospital stay is required. 
The most common approach for vaginal prolapse or noncancerous conditions. 

Laparoscopic hysterectomy: 

3-4 small incisions in the abdomen 
A camera is placed at the umbilicus (belly button) site, tools placed through other sites 
Uterus is removed in small portions via the laparoscopic sites or through the vaginal canal 
Many do not require admission post-operatively 
Faster recovery  

Robotic-assisted laparoscopic hysterectomy 

3-5 small incisions for robotic tools and camera 
Robots are controlled by the surgeon 
Recovery is the same as laparoscopic surgical approach 

Abdominal hysterectomy 

Midline incision about 6-8 inches long. It can be vertical, starting at the belly button, or it can be side to side at the top of the pubic hair line (cesarean section).   
Requires hospital stay  
Slightly longer healing time 
Used for cancer surgeries 
Preparing for your surgery
Once you've decided to proceed with hysterectomy surgery, there are a few things you can do to prepare. First, be sure you understand which procedure you will be having. Ask your doctor about the expected recovery time. This way, you can prepare your employer for how long you will need to be out of work for recovery.  
If you have disability coverage, speak with your Human Resources department and gather the forms you will need to complete. There will be an "Attending Physician Statement" that will need to be completed by your doctor's office.  
If you are overweight, lose some. This will decrease your risk for post-operative complications. These include: 
Breathing difficulties, SOB, and post-op pneumonia 
Pulmonary embolism (PE) is a blood clot that travels to your lungs 
Longer heal time 
Longer time in surgery 
Increased blood loss 
If you smoke, quit prior to surgery. Smoking can affect your breathing afterward. Healing time may be delayed as well. Nicotine constricts the blood vessels.  
Other medical conditions should be well managed prior to your surgery. Your recovery will be smoother. These conditions include: 
Talk to your doctor about medications you take daily, including vitamins and supplements. Typically, you will be asked to hold any blood thinners prior to surgery, as well as supplements, because some can increase the risk of bleeding during your procedure.  
In the month before surgery, be sure to eat well. The body needs protein for healing. Choose good sources of protein with each meal. This includes: 
Lean meats 
Fish 
Eggs 
Peanut butter 
Yogurt, cheese 
Protein supplements (Ensure, Boost, Carnation Instant Breakfast, or other protein powders/drinks) 
Walking after surgery is very important. Anesthesia and narcotic pain medication slow the bowel. Walking helps stimulate the bowel to function. It also reduces the risk of developing blood clots in the legs. It is a good idea to be conditioned to walk prior to surgery. A good goal is to walk 20 minutes at least 3 times a week. If 20 minutes is too much, consider 2 ten-minute walks. Walking also increases your metabolism and helps to speed the healing process.  
If you live alone, shop the week prior to surgery. Plan easy-to-fix meals. Plan for drinking plenty of fluids. This will help with constipation and keep you hydrated after surgery.  
Plan for a ride to and from the hospital. You will not be driving for 1-2 weeks (depending on the type of surgery you have). Remember 2 things: 
No driving while taking narcotic pain medication. You will need to be off them for 24 hours prior to driving. 
You need to be able to react in an emergency situation and be able to turn to look at your blind spots while driving.  
It is a good idea to have over-the-counter (OTC) bowel regimen products available in case you need help with constipation. MiraLAX is an excellent choice for a stool softener. Some need fiber.  
OTC analgesics are good to have available. Consider acetaminophen and Advil or Motrin (ibuprofen).  
The day before surgery 
Eat light. Some doctors want you to do a bowel prep (cleansing) the day before. Follow the doctor's instructions for this. If your surgery is in the morning, you may be asked to hold fluids after midnight.  
On the day of surgery 
Nothing to eat or drink. Wear loose, comfortable clothing to the hospital. You will most likely be wearing these clothes home after surgery. Your belly may be tender and bloated afterward.  
Do not wear any make-up or jewelry. No contact lenses. No dentures. You can wear dentures and eyeglasses to the hospital, but you will be required to remove them prior. Your doctor will see you in the office for a post-operative appt about 10-14 days after your procedure.  
Should you have any questions or concerns about your recovery, do not hesitate to call your doctor.  
Author Profile: Christine Kijek, Registered Colorectal Nurse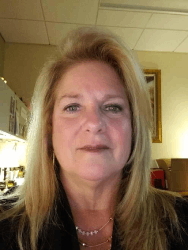 Christine Kijek is a colorectal nurse at Danbury Hospital in Danbury, CT. She has a wealth of knowledge in this field as well as personal experience. HPFY is thrilled that she has been an active participant in the Ostomy Support Group. She has experience working as a coordinator for cancer patients, post-operative care, and home health care for disabled children and adults. And guess what! Christine is also the recipient of the Nurse Exemplar Award. Christine lives in Bethel, CT with her husband Ed. Her children are married and live nearby. She has 4 grandchildren and is known as GiGi. Christine enjoys riding motorcycles and spends many hours gardening. She can often be found onboard a Carnival Cruise ship lounging by the pool.
Disclaimer: All content found on our website, including images, videos, infographics, and text were created solely for informational purposes. Our reviewed content should never be used for the purpose of diagnosis or treatment of any medical conditions. Content shared on our websites is not meant to be used as a substitute for advice from a certified medical professional. Reliance on the information provided on our website as a basis for patient treatment is solely at your own risk. We urge all our customers to always consult a physician or a certified medical professional before trying or using a new medical product.