Writing Effortlessly

Humans learned the art of writing 6000 years ago and since then we have been documenting everything we have been doing. We call this documentation history! So that well establishes the fact that writing has been, is, and will be an essential part of all humans. Every person who cannot write yearns to learn the art of writing. The written word is proven to be the most powerful of weapons.
Now coming to the important question, why do I need an aid to write? Well, as easy as it may seem, writing involves the use of a number of muscles and limbs working together in co-ordination with the brain to effortlessly execute the exercise. Even if one of these functions is impaired one cannot write properly or without any assistance. Here comes the necessity of writing aids. Different writing aids help to overcome different issue and difficulties that one encounters while one write.
What are the reasons for which I might need writing aids?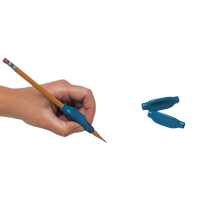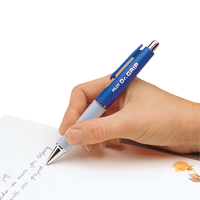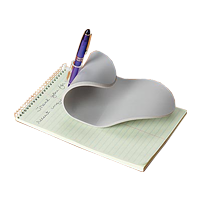 There can be a number of reasons why one might feel the need for a writing aid. For example, if one lacks the fine motor skills of holding or gripping a pencil they might need a grip aid that can help them hold the pencil or pen firmly in order to write. There are two types of grips though; the first is a detachable one that can fit on any writing tool such as a pen, pencil, or crayon. For example the Norco Roll Proof Writing Grips provide increased comfort and control while writing. These soft, plastic, bulb-shaped grips slip onto any standard-size pen or pencil. They offer a comfortable hold. The next type is which comes fitted on the tool. Many pens such as the Dr. Grip Retractable Pen are designed to reduce muscle strain and writing stress. This pen comes with an ultra-comfortable, soft, contoured rubber grip which is easy to grasp. It has a special design that reduces the power needed to grip a pen or pencil by up to 40 percent. Also has a medium point and uses standard pilot refills.
Another reason is the dexterity required to move a pen smoothly on paper. Many people have a problem gliding the pen on paper in a straight line, or even in a smooth motion. This causes the writing to be distorted and unreadable. The writing aid that can help is an Easy Glide Writer. It slides easily along a writing surface using upper arm strength. A slight downward pressure is needed to write. It is made of PVC foam and fits any size pen or pencil.
What if I write something on a computer?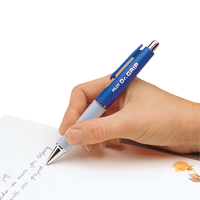 One can't obviously use a pen or a pencil to type. But the same kind of dexterity is required by a person to even type. Thus there are typing aids also that can help a person type flawlessly and fluently. They are worn over the hand and require a gentle push of the arms to type. The rubber tip at the end easily taps on the keys and helps in writing. For example, the Slip-On Typing or Keyboard Aid slips on and off hand easily, and tightens with a VELCRO® brand strap. It has a rubber tip for touching the keys. The molded plastic adjusts with a heat gun. It is easy to clean and is completely latex-free.
There are many more types of writing aids. Click on the link to read more. 
Disclaimer: All content found on our website, including images, videos, infographics and text were created solely for informational purposes. Our content should never be used for the purpose of diagnosis or treatment of any medical conditions. Content shared on our websites is not meant to be used as a substitute for advice from a certified medical professional. Reliance on the information provided on our website as a basis for patient treatment is solely at your own risk. We urge all our customers to always consult a physician or a certified medical professional before trying or using a new medical product.