Medical recliners, or geriatric chairs as they are commonly referred to, are comfortable reclining chairs with casters designed for patients recuperating post illnesses and surgery as well as for the elderly and infirm. These chairs help these individuals get out of a bed and be comfortably seated while being maneuvered around. Thus, they are used in home environment as well as in hospitals, nursing homes, rehabilitation centres, long-term care and other medical facilities.
Product highlight
Let's look at some key features which make these recliners indispensable for target users:
Versatile
With a reclining back and ottoman positioning, different comfortable positions to suit the user's unique needs can be attained on the recliner. These include upright position, TV watching and relaxing position, sleeping/napping position, and Trendelenburg position.
The Invacare Traditional Three Position Recliner provides exceptional comfort, durability and flexibility with full recline, ottoman elevation and full upright positions. The back and headrest are well cushioned and padded for comfort and lumbar support. The footrest is foldable enabling the user to gain a firm grip on the ground after leaving the recliner. The retractable drop-down arms are also well padded and angled to provide support in any position.
The Invacare Deluxe Three Position Adult Recliner is designed specifically for patient ergonomics. It has special padding for extra comfort and support. Different dimensions are available in terms of seat width and depth, back height, overall height – petite to tall; weight capacity - normal to heavy duty; and back styles - button and pillow backs.
Electrically operated via a hand controller, this adult recliner also has an integrated battery backup system in place making it very reliable in case of power failure.
Maneuverable
With casters, the medical recliner can easily be moved around in any facility with the patient seated in an upright position. Some of the recliners are narrow enough to fit through average width doorways or between rooms in a home.The rear two casters can be locked to safely station the recliner in one place.
Hygienic
Upholstery used is non-permeable, stain resistant, germ resistant, and inflammable. This makes it convenient to keep it clean and hygienic. It is available in fabric, leather, vinyl, and other materials.
Aesthetics
Offering the most comfortable seating in the house, medical recliners look simply fabulous and complement the home aesthetics. Some bear a very stylish and fashionable look. Available in varied materials, colours, designs and styles, medical recliners can even be customized to match with one's home interiors.
Add-on features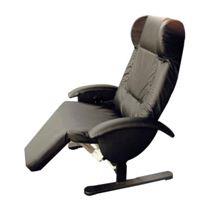 Adjustable folding tray tables make it easy for the user to eat and indulge in recreational activities. Other features include stereo head speakers, accessory hooks, side cushions, adjustable seat straps, etc.
The Somatron Motorized Clinical Recliner and Somatron Motorized EZ Access Recliner have two in-built full range vibration speakers. The resonating chambers permeate the body with stimulating and soothing sound vibrations.
Benefits of recliner chairs
With these special in-built features, used at home or in a medical facility, medical recliners offer some excellent advantages.
Comfort, safety and mobility
The cushioned back and headrest and padded arms make the medical recliner very comfortable in all its positions. The retractable footrest ensures easy-to-gain standing position after getting off the chair. The caster wheels allow easy movement of the recliner making the patient mobile.
Routine tasks
The various positions attainable by medical recliners supported by other in-built features, such as a folding tray table, make it convenient to perform routine tasks such as eating, relaxing, sleeping, enjoying therapeutic massages, undergoing art therapy, reading and other recreational activities.
Dialysis, infusion treatment and recovery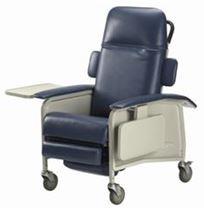 Since medical recliners are designed specifically for enhanced patient comfort while seated for long hours, they are particularly useful during treatments which require prolonged sittings such as chemotherapy, infusion therapy and dialysis. This also includes gynaecological clinics and other environments providing post-operative, cardiac and outpatient care.
The Invacare Clinical Three Position Recliner is intended for use in healthcare settings. Its non-locking reclining mechanism and soft padding support prolonged seating for blood collection, dialysis, oncology, chemotherapy, etc. Likewise, the Invacare Deluxe Wide Three Position Recliner extends superior ergonomic comfort for overweight users.
Improved blood circulation
Those who sit or stand long hours suffer the effects of gravity on the blood flow. Swollen lower legs, ankles and feet and clogged veins are usual occurrences. An elevated ottoman allows the lower legs to be raised in a comfortable position. This improves blood circulation thereby reducing swelling in ankles, legs and feet. Certain recliners entail heat-and-massage features which further contribute to improved blood circulation.
Stress reduction and complete relaxation
Most medical chairs allow the Trendelenburg and zero gravity positions. These positions distribute the body weight evenly, thus, decompressing the spine and relaxing the joints. This alleviates stress, enabling the body to experience a state of optimal, natural and relaxed position.
A correct medical recliner when bought is for sure to make the user feel that it is one of his/her best purchases ever made!
Disclaimer: All content found on our website, including images, videos, infographics and text were created solely for informational purposes. Our content should never be used for the purpose of diagnosis or treatment of any medical conditions. Content shared on our websites is not meant to be used as a substitute for advice from a certified medical professional. Reliance on the information provided on our website as a basis for patient treatment is solely at your own risk. We urge all our customers to always consult a physician or a certified medical professional before trying or using a new medical product.