What Is Robotic Surgery?

As your partner in wellness, Health Products For You is here to keep you up to date on the latest health options available to you. 
Technology is advancing at a very fast pace in every avenue in today's world. Whether it's in our homes or our cars, technological advances help us live our lives a little easier. 
The world of medicine is certainly no different and surgery that utilizes this technology is here. Robot-assisted surgery may seem like the subject of a science fiction movie but it is utilized every day now. Let's look a little deeper: 
No, It's Not Robot Surgeons  
When you hear robotic surgery or robot-assisted surgery, images of alien metal robots may come to mind but that is not quite it! 
Robotic surgery is still performed by human surgeons only with the assistance of technologically advanced equipment. This type of surgery allows doctors to operate with far more precision, flexibility, and control than with conventional surgical techniques, not to mention that robotic surgery is usually performed with smaller, minimally invasive incisions.  
According to mayoclinic.org, robotic surgery typically uses a clinical robotic system that includes a camera arm and mechanical arms with surgical instruments attached. The benefits of robotic surgery include:  
Shorter hospital stays  
Smaller incisions  
Reduced blood loss  
Since robotic surgery enhances precision, flexibility, and control during an operation, the surgeon can perform difficult or complex procedures that may not be possible with conventional techniques. Below is a timeline of how robotic surgery has progressed through the years going back to as early as 1985 and through until 2019. That's some progress!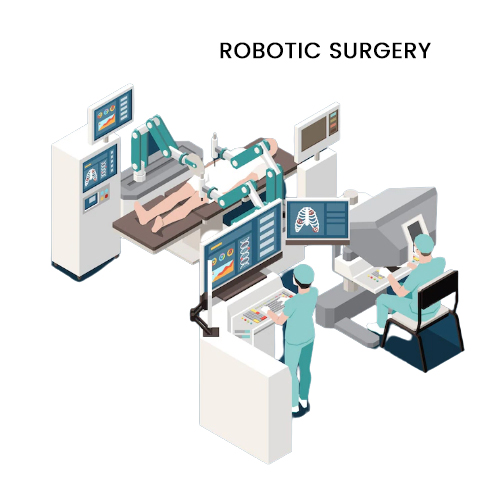 When Robotic Surgery Is an Excellent Choice?
Robotic surgery requires your surgeon to sit at a console and control robotic arms that have surgical tools attached. One of the benefits your surgeon has over other minimally invasive surgeries is the use of 3D cameras. Older surgeries using a laparoscope, which uses a lighted camera, only provided the surgeon with a 2D image. Procedures that can benefit from a robotic surgeon include:  
Gynecologic surgeries  
Prostate surgery  
Head and neck surgery  
Gastrointestinal surgeries  
Heart surgery  
Colorectal surgery  
Robotic surgery is becoming more commonplace than ever before and may be the best option for you. The key is to do your research and not get caught up in the hype of technological advancement.  
Ask your doctor about the options that are right for you. If you opt for a robotic procedure, be sure to choose a doctor that is experienced in the procedures since robotic surgery is a relatively new specialty. 
Weigh the pros and cons to find your comfort level and do what is right for you! 
Disclaimer: All content found on our website, including images, videos, infographics, and text were created solely for informational purposes. Our reviewed content should never be used for the purpose of diagnosis or treatment of any medical conditions. Content shared on our websites is not meant to be used as a substitute for advice from a certified medical professional. Reliance on the information provided on our website as a basis for patient treatment is solely at your own risk. We urge all our customers to always consult a physician or a certified medical professional before trying or using a new medical product.