Urostomy 101: What You Might Need to Know

Millions of people around the world encounter the need for a urostomy. An obstruction in the urethra or a problem with the bladder, such as cancer, can restrict or even block the flow of urine out of the body. When this happens, urine can back up into the kidneys and cause infections or other problems that can be life-threatening. In order to circumvent these problems there needs to be a way to get the urine from the kidneys out of the body and this surgical procedure is called a urostomy.
Reasons for a Urostomy
A urostomy is an operation that creates an opening in the abdominal wall that redirects urine away from the bladder that is defective or diseased. The need for a urostomy can be varied. The American Cancer Society lists several conditions that can lead to a urostomy such as: bladder cancer, birth defect, surgery, or spinal cord injury. The incontinence that accompanies bladder problems can often be overcome through the use of a urostomy appliance, therefore avoiding infections as well as urine backing up into the kidneys causing a life-threatening situation. A specially trained ostomy nurse will walk you through the process of becoming familiar with your urostomy and the care it needs. They can also recommend support groups, such as the United Ostomy Association of America, to connect you with someone who has a urostomy and has already adapted to life with one.
Are There Restrictions with a Urostomy?
Many people are concerned that living with a urostomy can have significant restrictions and limitations in their lifestyle. While this may be a legitimate concern, the good news is that living with a urostomy may have limited impact on your activities once you adapt to life with it. As webmd.com points out, immediately after surgery you may be restricted while driving or lifting until your stoma heals. Even while wearing a pouch you can still be active and participate in activities such as swimming, hiking, and yes even sports. Care should be taken participating in contact sports since they may result in an injury to your stoma or dislodging of your pouch. Consult your doctor or nurse before taking part in any contact sport. Usually there are no dietary restrictions, but you should drink plenty of liquids in order to avoid any kidney infections. For adults, intimacy can also be a concern after a urostomy. Men can be affected by a urostomy surgery, but usually only for a short period (according to webmd.com) while women are typically unaffected. Any intimacy issues can be directed to your doctor or therapist who can help you deal with any concerns.
Let's Do This!!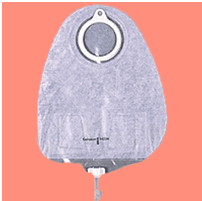 Okay, it's after your surgery and you have healed enough to come home. Now what? Your doctor or surgeon should connect you with a wound, ostomy, and continence nurse (WOCN) and with their help determine which urostomy appliance might work best with your lifestyle. For instance, your nurse may recommend the Coloplast Assura Original Soft One-Piece Midi Flat Extra-Extended Wear Cut-to-Fit Urostomy Pouch since it offers superior wear time. Its unique transparent adhesive is secure and flexible while preserving the surrounding skin. Some urostomy appliances come with a precut opening for convenience. The Hollister Premier One-Piece Extended Wear Flat Pre-cut Transparent 9 Inches Urostomy Pouch is available in ¾ inch through 2 inch pre-sized skin barrier stoma openings and is beige colored to be more inconspicuous. Some pouches are convex shape in order to conform to your body. The Marlen UltraLite One-Piece Shallow Convex Pre-cut Transparent Urostomy Pouch With Aquatack Barrier has a slim, contoured design and has a Push-Pull E-Z Drain Valve so you can avoid wet fingers while emptying your pouch. It also features a non-return reflux valve to prevent urine from backing up.
After consulting with your nurse, you may opt for a two-piece system such as the Coloplast Assura New Generation Soft Outlet Two-Piece Maxi Opaque Urostomy Pouch With Multi Chamber. It has a unique spiral adhesive that is specifically designed for urostomies and is divided into chambers to be more discreet and quiet. It is latex free and is ideal for someone with limited dexterity. For people living with a urostomy with unique needs, the Genairex Securi-T Two-Piece Transparent Urostomy Pouch Cap Closure with Belt Tabs is designed with a one-sided comfort panel that is easy on the skin and is available in three different flange sizes. The ability to easily drain your pouch cannot be something taken lightly. The Stomocur Clic Two-Piece Clear Urostomy Pouch with Locking Ring features a lockable urine outlet valve at the bottom of the pouch as well as an anti-reflux valve to minimize the risk of infection.
Sleep Soundly
At night those with a urostomy can have the peace of mind of knowing they don't have to get up and empty their urostomy pouch. You can safely and securely drain your urine into a collection container. The Marlen Night Drainage Container fits all Marlen urostomy pouches and eliminates the need for frequent emptying of pouches. For those that use the Coloplast SenSura or Assura urostomy pouches, the Coloplast Transparent Urostomy Night Bag will hold up to 2 L of fluid and has an anti-reflux valve to prevent urine from collecting around the stoma and the surrounding skin. No matter what your obstacle might be, by working with your doctor and nurse, you can regain your quality of life and maintain a healthy skin and urostomy area.
Disclaimer: All content found on our website, including images, videos, infographics and text were created solely for informational purposes. Our content should never be used for the purpose of diagnosis or treatment of any medical conditions. Content shared on our websites is not meant to be used as a substitute for advice from a certified medical professional. Reliance on the information provided on our website as a basis for patient treatment is solely at your own risk. We urge all our customers to always consult a physician or a certified medical professional before trying or using a new medical product.