A bunion, also referred to as hallux vegas, is a bump that forms on the joint at the base of the big toe. It actually reflects a change in the foot's anatomy. This happens when the big toe leans towards the second toe, rather than pointing straight ahead. As a result, the alignment of the bones in the foot changes, producing the bunion's bump.
It is a progressive disorder which develops over the years. Though some people may never have any symptoms, they usually appear in the later stages. They are mostly caused by inheriting a faulty mechanical foot structure. Shoes that crowd the toes do not directly cause bunions, but can worsen an existing bunion by increasing the pain and swelling. Trauma to the foot which results in sprains and fractures can also sometimes cause a bunion bump. Neuromuscular disorders such as polio and limb-length discrepancies can result in bunion in the longer leg. Inflammatory conditions such as arthritis can also cause bunions.
It is identified by pain and soreness in the concerned area. It may also appear inflamed and red with a burning sensation. These symptoms usually worsen while walking or wearing tight fitted shoes which crowd the toes. This explains why more number of women are found with a bunion bump when compared to men. If you are on your feet for long hours, you could get a bunion. Certain specific foot positions such as ballet dancing can also be a causative factor.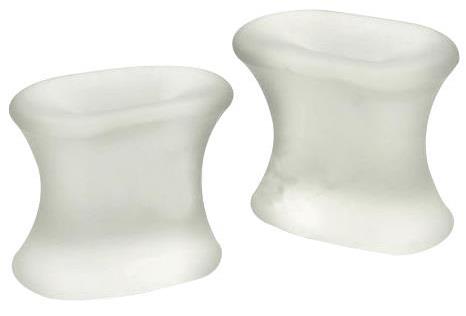 The pressure and friction resulting from bunion and overlapping toes can be corrected by the Silipos Antibacterial Gel Toe Spreader. It not only separates and aligns the toe but its antibacterial formula kills up to 99.9 percent of bacteria and fungus. A comfortable fabric sleeve coated with gel has to be slipped over the toe placing the gel pad directly over the affected area. The antimicrobial ingredient contained in the gel exudes on the skin giving immediate relief.
The inflammation may require an anti-inflammatory drug. Any skin breakdown and infection can be treated with antibiotics.
In case the bunion pain persists even after opting for a correct footwear and orthotics, it may be indicative of a surgery. A variety of surgical procedures are available. They remove the bump of the bone, thereby correcting the deformity of the bony structure of the foot. A foot and ankle surgeon can decide the surgical intervention required.