Showering With Ostomy Bag

Once you've had ostomy surgery, you will no doubt have many questions. An ostomate faces several challenges after this procedure, but with a little time and thought, everyday activities become easy and routine.  
As you probably already know, good hygiene becomes even more important after ostomy surgery. Bathing with an ostomy is not difficult. The stoma does not interfere with being clean and there are many options available to keep the stoma from getting wet while showering or bathing. The type of stoma you have may play a part in what technique you choose.  
5 Tips for Showering With Ostomy Bag
You can shower with a pouch and barrier in place. The material on the pouching system dries quickly by towel drying or using a blow drier on a low setting. Soap, water, and air will not harm the stoma. When showering without the pouching system in place, there are a few factors to consider - 
1. Stoma type 
Ileostomy: Since the output is unpredictable, choose a time when the stoma is least active. For most, it is first thing in the morning. Don't eat or drink until after the shower.  
Colostomy: Choose a time when the stoma is least active. If you have regular bowel habits, this is easy. If your BM occurs in the morning, you may choose to shower with the pouch off before bedtime.  
Urostomy: Showering in the morning before drinking fluids is best.  
2. Soap, shower gels & lotions 
Certain types affect the adhesion of your next pouching system. 
Avoid soaps with moisturizing agents, shower gels, and soap with residue. If you must use soap, Ivory or Dial are good choices. 
Do not apply moisturizing lotion to the skin around the stoma (peristomal skin) 
3. When to shower  
Shower with the pouching system off on days your pouching system is due to be changed. 
Do not shower with just the wafer (flange or barrier). Keep the pouch on. Showering with the barrier on without the pouch can compromise the seal of the barrier.  
Cover the pouch and barrier with a plastic bag (Ziplock works great). Tape on the top and on each side.
5. Keep the system dry
When you are in the shower, it is very important to keep the system dry. While that may seem impossible, there are many ways to make bathing an easy task. To make sure the pouching system does not get wet, consider the following tips: 
Personal hygiene with an ostomy is easy. Your routine may be slightly altered from what you were used to. It may seem overwhelming at first, but creating your new normal soon becomes a habit. Once that happens, comfort and confidence follow!  
Author Profile: Christine Kijek, Registered Colorectal Nurse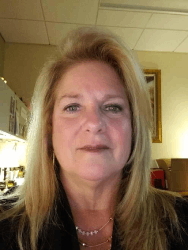 Christine Kijek is a colorectal nurse at Danbury Hospital in Danbury, CT. She has a wealth of knowledge in this field as well as personal experience. HPFY is thrilled that she has been an active participant in the Ostomy Support Group. She has experience working as a coordinator for cancer patients, post-operative care, and home health care for disabled children and adults. And guess what! Christine is also the recipient of the Nurse Exemplar Award. Christine lives in Bethel, CT with her husband Ed. Her children are married and live nearby. She has 4 grandchildren and is known as GiGi. Christine enjoys riding motorcycles and spends many hours gardening. She can often be found onboard a Carnival Cruise ship lounging by the pool.
Disclaimer: All content found on our website, including images, videos, infographics, and text were created solely for informational purposes. Our reviewed content should never be used for the purpose of diagnosis or treatment of any medical conditions. Content shared on our websites is not meant to be used as a substitute for advice from a certified medical professional. Reliance on the information provided on our website as a basis for patient treatment is solely at your own risk. We urge all our customers to always consult a physician or a certified medical professional before trying or using a new medical product.