Risk Factors for Urinary Incontinence

Urinary incontinence or loss of bladder or bowel control, is the involuntary release or leakage of urine. Any physical activity which exerts pressure on the bladder can cause involuntary urination. A sudden cough, sneezing, heavy weight lifting, exercise, could be the reasons. This is referred to as 'stress incontinence' and is the most common type of incontinence. Sometimes, a sudden change in position or a sexual activity can cause sudden involuntary contraction of the muscular wall of the bladder, leading to urine leakage. This is termed as 'urge incontinence'. 'Overflow incontinence', is a condition when men with prostate gland problems experience frequent urination or constant dripping of urine.
While there are several factors that can lead to urinary incontinence, not all of them are avoidable. The risk of incontinence increases with age, when the muscles in the bladder and urethra weaken. This is common for both men and women and is termed as 'functional incontinence'. There are times when a person knows there is a need to urinate, but cannot make it to the washroom in time. This could be due to dementia, poor eyesight, immobility, depression, anxiety or anger. Gender also plays a role in incontinence. Owing to the anatomy, females are more prone to incontinence than males. Also, multiple childbirths and menopause, increase women's susceptibility to incontinence. According to the American Urological Association, approximately 30 percent of women in the age group of 30 to 60 years suffer from it, compared to 1.5 to 5 percent of men.
Risk Factors of Incontinence
Obesity: Wherein there is increased pressure on the bladder and its adjoining muscles, causing leakage, especially while coughing, sneezing, etc.
Smoking: Heavy smokers develop chronic cough, causing incontinence.
Certain diseases and conditions: Certain diseases and conditions such as, diabetes, kidney & lung disease, spinal cord injury, neurological disorders, pelvic surgery, etc.
Caffeinated Drinks and Beverages: Caffeinated drinks and beverages are diuretics they make your kidneys produce more urine.
Acidic and Spicy Food: All of these foods and drinks contain irritants that, when they collect in the bladder, can cause the bladder muscles to spasm and may produce more urine.
Managing Incontinence
Due to the social stigma attached to it, incontinence is an under-reported, under-diagnosed and under-treated condition. However, it can be modified and managed with the right products, treatment and lifestyle changes. The first step towards managing incontinence is visiting your physician to find out the type of incontinence one suffers from and the treatment possible. You can manage incontinence by:
Timing your visit to the bathroom in a scheduled / routine manner
Practising Kegel exercises to strengthen pelvic muscles
Eliminating food and beverages which are bladder irritants from the diet
Avoiding medications which are bladder irritants
Controlling water/fluid intake post-dinner
Opting for surgery, which be considered carefully as it comes with risks and potential complications.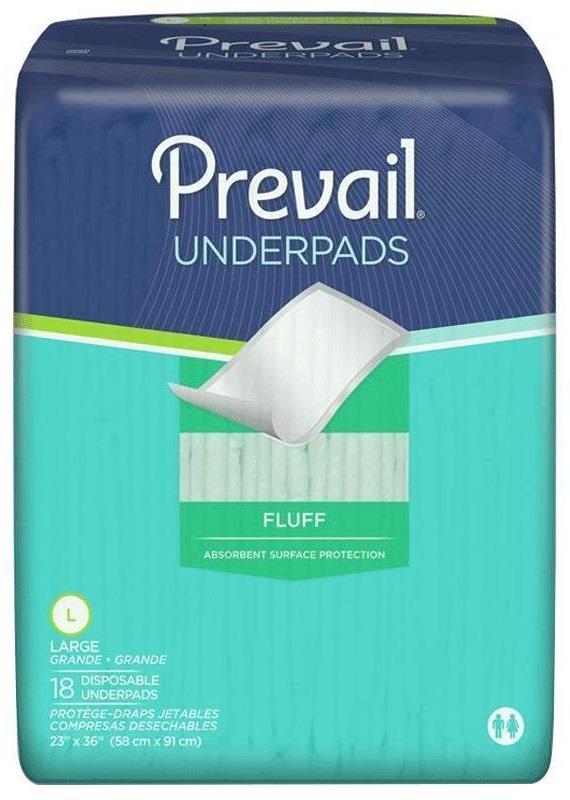 Incontinence protection products can be used. These products can be used discreetly and thus avoid any embarrassment associated with it. The choices include, pantiliners, bladder control pads, male guards, special under wears, under pads and disposable wash cloths. If you are young and suffering incontinence, Prevail Fluff Underpads, can meet your needs. Its super absorbent fluff layer and cloth-like waterproof layer, can address all incontinence needs.
Light to moderate bladder leakage can be discreetly managed using Secure Personal Care TotalDry Extra Length Light Incontinence Guard. Its ultra-soft texture has a silky feel. The thermal bonded core material locks fluid and odor from the body for a drier skin.
For daytime moderate incontinence, use Attends Dri-Sorb Plus Moderate Frequency Disposable Underpads. They have a soft non-woven facing which promotes healthier skin. It has a Hygard super absorbent polymer, fluff filler for softness with a peach color back sheet for moderate absorbency.
Nighttime incontinence calls for a disturbed sleep on the part of the caregiver and the one suffering from it. They require "all-through-the-night" products, such as Tranquility ATN All-Through-The-Night Disposable Brief. This is a full-fit poly-backed brief with expanded surface area. Since, it allows a longer wear time of around 6 to 8 hours, it allows uninterrupted sleep during the night. It can even be used for bowel incontinence. Since, it has a wetness indicator, unnecessary changes can be avoided.
Another useful product in the category of disposable briefs is the Medline FitRight Ultra Adult Briefs. It has a soft anti-leak guard to prevent leakage and improve containment. It is a super absorbent product which keeps the skin well-protected and dry. Being lightweight, contoured shape, and providing odor control phenomenon, the user can enjoy complete privacy
Another unique, one of its kind electronic device to beat bed-wetting in children is the non-metal urine sensor, Urocare DRI Eclipse Wireless Bed-Wetting Alarm. Designed like a small 'space rocket' for child appeal, it has a large detection area. The alarm unit is small and compact. The Urosensor has to be placed in the child's underwear and the alarm in the child's vicinity. No sooner the Urosensor is wet with the first few drops of urine, it sends a radio signal to the alarm unit, triggering the alarm.
The use of incontinence protection products, makes incontinence a very manageable condition. Visit your physician to identify the type of incontinence and the product type to be used, along with any other appropriate line of treatment.
Disclaimer: All content found on our website, including images, videos, infographics and text were created solely for informational purposes. Our content should never be used for the purpose of diagnosis or treatment of any medical conditions. Content shared on our websites is not meant to be used as a substitute for advice from a certified medical professional. Reliance on the information provided on our website as a basis for patient treatment is solely at your own risk. We urge all our customers to always consult a physician or a certified medical professional before trying or using a new medical product.