Limited mobility can be caused by a multitude of issues. Whether caused by an injury, illness, or old age these limitations on our mobility can be overcome by the use of a wheelchair. While this may solve one problem it sort of creates another. The world around us is relatively uneven and can create obstacles for those in wheelchairs. What is the safest way to overcome this obstacle? Portable ramps can be the answer to this dilemma and return our sense of independence and quality-of-life.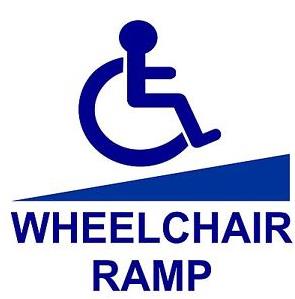 The World Is Uneven
For able-bodied people, traversing the world around us can be difficult at times. Now imagine having your independence and mobility limited due to an injury or illness. Wheelchairs are extremely effective on level ground, but anytime there is a change of elevation (even the slightest) the world around us becomes an obstacle. The best way to overcome this challenge is with a portable wheelchair ramp. Many portable ramps are easily transported with you so you can be ready to tackle any terrain you experience.
Try these six options to overcome the uneven world around us:
1. EZ Access Transitions Angled Entry Ramp:
This portable ramp is a standalone ramp with independently adjustable legs and swivel feet. EZ Access Angled Entry Ramp can be used as a temporary ramp to traverse over doorways that swing in/out, uneven surfaces, or even single step rises. With a vertical adjustment of 1 3/8 to 5 7/8 inches in height, the slip resistant surface can be used in just about any weather safely. For safety reasons, the 700 pound rated load should never be exceeded.
2. EZ Access Transitions Angled Entry Mat:
Ideal for traversing sliding glass doors, EZ Access Portable mat for homes does not interfere with the track of the sliding doors and is made of 100% recycled rubber. This smooth and safe entry/exit can handle harsh outdoor conditions and is slip resistant. The usable width of 36 inches can handle 850 pounds of weight and is available in 1.5 and 2.5 inch rises that can be trimmed/notched if need be.
3. EZ Access Gateway Solid Surface Portable Ramp:
When dealing with temporary ramps, assembly can become tricky. The Gateway Solid Surface Portable Ramp eliminates this since it is one piece. Constructed of durable aluminum, it will not rust and can survive the elements outdoors. Many outdoor ramps often can create a slippery surface, but the Gateway ramp has a permanent extruded nonslip surface to virtually eliminate any danger of slippage from wheelchair wheels. Its standard width of 36 inches can support up to 800 pounds of weight and is virtually maintenance free. Aluminum is the ideal material for this handicap ramp since it is lightweight and strong. This portable handicap ramp can be installed with or without handrails.
4. EZ Access Suitcase Single Fold Advantage Series Ramp:
Wheelchair portable ramps are only as effective as the ease of their portability. Difficult to transport, difficult to use!! The Single Folded Advantage Series Ramp is easily transported, so they can be used where ever they are needed. Available in an assortment of sizes ranging from 2 feet to 6 feet, any uneven terrain or grade can be overcome. Simply remove the pin and this ramp is separated into two, easy to carry sections. It offers a 29 inch platform that can support up to 800 pounds and has a nonskid surface for a safe, secure traverse. This portable handicap ramp offers self adjusting bottom transition plates which can independently adjust to match the ground beneath it. This folding wheelchair ramp is safe and secure!!
5. EZ Access Suitcase Signature Series Ramp:
Many times wheelchair users need access to the world around us when they need it, where they need it. The Suitcase Signature Series Ramp is made of lightweight, strong aluminum and is easy to carry. Available in lengths of 2-8 feet, the single fold opens to a 30 inch wide platform with a weight capacity of 800 pounds. Its nonskid surface allows for use in the most trying of weather environments. Simply use the ergonomic handles to transport your folding wheelchair ramp to wherever you may need it.
6. EZ Access Suitcase Trifold Advantage Series Ramp:
Ideal for raised landings, steps, or larger vehicles, EZ Access Suitcase Trifold portable handicap ramp folds into two individual sections to be used to navigate stairs or be a portable wheelchair ramp for cars/vans. The 800 pound weight capacity offers an applied, slip resistant surface and is designed to be used and carried as one single unit. Specifically designed for mobility scooters and wheelchairs, it should not be used for commercial purposes. It allows for greater portability when longer ramps are required, since it can be transported in two separate sections to reduce handling weight.
Understanding your surrounding environment and limitations should be part of the decision-making process when deciding on the type of portable handicap ramp you need. The world around us is uneven at best and can cause problems to those with limited or no mobility. Portable handicap ramps allow these folks the freedom to overcome these obstacles and maintain their quality of life and make sure they can access anywhere and any place they wish.
Disclaimer: All content found on our website, including images, videos, infographics and text were created solely for informational purposes. Our content should never be used for the purpose of diagnosis or treatment of any medical conditions. Content shared on our websites is not meant to be used as a substitute for advice from a certified medical professional. Reliance on the information provided on our website as a basis for patient treatment is solely at your own risk. We urge all our customers to always consult a physician or a certified medical professional before trying or using a new medical product.