New Year's Resolutions Can Come True

We all do it and we know there is little chance of us sticking to them. Yes, I'm talking about our New Year's resolutions. We all have the best of intentions, but whether it's time constraints, our busy lives, or we were kidding ourselves they never seem to come to fruition. One of the most common New Year's resolutions is to lose weight or get into better shape. Avoiding failure is just a matter of some self-discipline and willpower accompanied by the proper tools.
Reasons for Failure
How come most of our New Year's resolutions are destined for failure? There is probably no one answer since there are many factors that can go into having our best intentions fall by the wayside. Maybe it's our busy schedule that monopolizes our time or a career that has us on the run and doesn't allow us to eat properly. Who knows? To give us the best chance for success we need to come up with a plan that makes it too convenient not to achieve. Joining a local gym can be a great step in the right direction, but after the initial gung ho period we tend to start visiting the gym less and less. Personally, I hated leaving the house in cold weather and darkness just to go work out. Probably the best way to avoid failure is to be honest about ourselves. Don't allow excuses to stop us from succeeding.
Work out from Home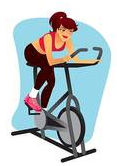 One surefire way to avoid the pratfall of spending money on a gym and not going is to make your home your gym. Working out at home has many advantages over driving to a local gym. First of all, you're already there!! Using a stationary bike, such as the Kettler Ergo Race Exercise Bike can help you lose weight and increase cardiovascular health. The onboard programmable computer provides 48 different programs for every user level. For the cycling novice, the Battle Creek Original Pedlar Light Workout Exerciser is an economic and simple way to pedal your way to achieving your New Year's resolution. Not only can it be used to pedal with your legs, it can double as an upper body workout!! Simple resistance exercises can go a long way toward toning muscles and doing them at home increases your chance of keeping your resolution. The BodySport Six Yard Exercise Bands are available in seven progressive levels of resistance and provides positive and negative force on your muscles to improve range of motion and strength. For an upper body workout the BlueRanger Shoulder Pulley Exerciser simply attaches over a door and has two molded plastic handles for comfort. This makes exercising easy and convenient, so no more excuses!! Your New Year's resolution to get in shape is looking easier. Simple exercises with dumbbells can help get you in shape in the comfort of your own home. The BodySport Neoprene Dumbbells are great for toning muscles and increasing your metabolic rate. They are available in a variety of weights to help you progress towards your goal. A simple way of using weights to improve your work out is the Elginex Econocuff Cuff Weights . Available in different weights, you can add from 1 pound up to 10 pounds of added weight to strengthen your muscles while you do a variety of exercises or just walking around the house. This makes your home your own personal gym and takes all the excuses out of achieving your resolution.
Protein, Protein, Protein!!
Exercising is one part of the equation, but the other part is eating better. If you truly want to succeed in losing weight or getting into better shape, try shifting your diet to more protein instead of carbohydrates. In order for our bodies to become stronger we need to fuel the fire with foods that are rich in protein. One way to make sure that our bodies get a good supply of protein is the Abbott Ensure High Protein Nutrition Shake . You can supplement everyday meals with 25 g of high protein with this convenient delicious shake that is available in chocolate and vanilla. You can even add protein to your favorite drinks and foods by using the Global ProCel Protein Supplement Powder . It dissolves instantly in food and liquids and is unflavored so it doesn't change the original taste of what you mixed it with. The convenience of adding supplemental protein to your diet eliminates any excuse you might have. The Nestle Boost High Protein Complete Nutritional Drink makes it convenient to add 15 g of protein to fuel your muscles during your workouts. You can even increase your protein intake with the Nestle Boost Nutritional Pudding . Who knew that pudding could help you get in shape? While protein is an important building block for our bodies, we should not ignore vegetables. A simple way to enjoy the health benefits of vegetables is the Omega Nutrition Center Masticating Juicer . It can turn your favorite vegetables, and even wheatgrass, into an enjoyable, tasty juice. This can even save you money instead of going to the nutrition bar at the health club. Now you can tell your mom you ate all your vegetables!!
Happy New Year!!
No more excuses!! Don't be afraid to make that New Year's resolution to finally get in shape and/or lose weight. Make it easy and convenient to work out at home in your pajamas if you have to, but make sure you maintain your self-discipline and you will succeed. On behalf of all of us at HPFY, we wish you a happy and healthy New Year!!
Disclaimer: All content found on our website, including images, videos, infographics and text were created solely for informational purposes. Our content should never be used for the purpose of diagnosis or treatment of any medical conditions. Content shared on our websites is not meant to be used as a substitute for advice from a certified medical professional. Reliance on the information provided on our website as a basis for patient treatment is solely at your own risk. We urge all our customers to always consult a physician or a certified medical professional before trying or using a new medical product.