Delayed Development- Understanding Types of Developmental Delays in Children

The initial years of development of a child are the crucial years as they build the foundation of the future of the child. They decide the kind of future the child will have based on the skills they develop during this age. Sometimes children might lag behind in some skills, but on the other hand some skills might be magnified. The increased level of stress among modern day couples has led to this becoming common in the first world countries.
What are Developmental Delays?
A child develops in various stages and each of their functions or skills develop gradually over the years. But all children do not develop at the same pace, and so parents might notice a lag in the development of one of the various functions. These lags or delays are referred to as developmental delays. They include speech, vision, motor skills, social and emotional skills, and cognitive skills.
Reasons for Developmental Delays
Many a time, delays may occur in some or all of the skills. Such a condition is known as global developmental delay. Down syndrome, fetal alcohol syndrome, etc are the most common reasons for a child to develop this disorder.
A major misconception among people is that children with developmental delays are less intelligent or less smart which isn't the case. A delay in the skill or skills of a child is a result of the biological factors or in layman's terms the wiring of the brain. While some skills are explicitly magnified, some might lag behind.
Types of Delays
1. Speech Delays
Speech refers to verbal expression, including the way words are formed. Language is a broader system of expressing and receiving information, such as being able to understand gestures. Language and speech problems are the most common type of developmental delay. Speech assisted technologies such as assistive communicators, oral motor tools, and language activities help in increasing the speed of speech development.
Recommended Produts for Speech Delays
Chattervox 100 Voice Speech Amplifier
With a voice boost of over 15 decibels, Chattervox Speech Amplifier is appropriate for individuals with mild to moderate impairment. People with low volume speech should consider this option. It has both easy power and volume control and can be easily controlled by a single person. It can be used for 14 hours non-stop one single charge and comes with a protective storage case.
Gonge Turbino Spellbinding Blowing Game
The game works by blowing the propeller that moves easily with one blow but the challenge is to stop the propeller at the desired square which requires practice and in turn helps the user's breath control techniques. This severely helps in speech improvement. Gonge Blowing Game is completely made of plastic thus no avoiding the injuries caused by metal or wooden parts.
2. Vision Delays
A newborn's vision is normally blurry for the first 6 months. It improves as the child begins to coordinate sight in both eyes. Sometimes this does not happen or other vision problems show up. Sensory lights and therapy mirrors are some of the most common vision assisted technologies.
Recommended Produts for Vision Delays
Cheap Talk Six Communicator For Visually Impaired
With high contrast colored switches, the twin colored switches are given a black border to highlight them for the user. Cheap Talk Communicator has six levels and can record up to 225 seconds in total. It has a built in icon holder and can be run on any easily available AA batteries.
3. Motor Skill Delays
Developmental delays may also be related to problems with gross motor skills, such as crawling or walking, or fine motor skills, such as using fingers to grasp a spoon. Peg boards, puzzles, tunnels, and activity mats are some of the most common motor skill improving technologies.
Recommended Produts for Motor Skill Delays
Tumble Forms 2 Neuro Developmental Training Balls
Tumble Forms Training Balls is a set of three balls, they are basically used to train vestibular responses, spatial delays, body awareness and muscle strength. They are completely latex-free. The 16 inch and 22 inch balls are specifically made for therapeutic exercises while the smallest one which measures 11 inches is designed for throwing, rolling, pushing, etc.
4. Communication Delays
Many children experience problems interacting with adults or other children, called social and/or emotional developmental delays. Many a time these problems show up before a child begins school. There are very few technologies that help in improving this skill as this purely depends on human interaction. For more information on communication aids, please read our blog Choosing the Right Communication Aid
5. Cognitive Delays
Problems with thinking, analyzing, and understanding are commonly termed together as cognitive developmental delays. Assessment kits, activity kits, and cognitive toys are some of the major types of technologies that help in improving the cognitive skills of a child.
Recommended Produts for Cognitive Delays
Drop-in-a-Bucket Cognitive Toy
Drop-in-a-Bucket Toy is built in such a way that a child has to just gently pick up the shape and place it in the bucket. It features six multi-colored lights that capture the child's attention and thus encourages the child to play. Whenever a child drops the right shaped toy through the right hole, a tune plays that even further engages the child in the activity.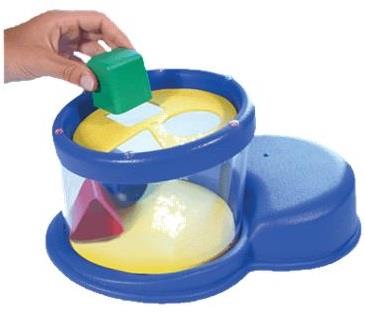 Mini Dome Cognitive Toy
Mini Dome Cognitive toy has to be colorful and should have features that attract the attention of a child. Eye-catchy colors and vibrations are the advantages of this toy. When a child presses any part of the dome or the surrounding, the confetti in the dome starts spinning, music plays, and the dome vibrates. This activity provides hours of tactile and cognitive stimulation.
The belief that developmental delays cannot be treated and that a child with delays is less intelligent are some of the major reasons parents shy away from actually treating the issue. Technology has enabled us to improve any skill that a child lags behind in. Thus choosing the right kind of device, product, or treatment is very important while tackling any kind of developmental delay.
Disclaimer: All content found on our website, including images, videos, infographics and text were created solely for informational purposes. Our content should never be used for the purpose of diagnosis or treatment of any medical conditions. Content shared on our websites is not meant to be used as a substitute for advice from a certified medical professional. Reliance on the information provided on our website as a basis for patient treatment is solely at your own risk. We urge all our customers to always consult a physician or a certified medical professional before trying or using a new medical product.
Taikhum Sadiq

Taikhum Sadiq has been a Health Products For You contributor since 2016.
He is an archaeology student and is passionate about learning about the past and how it impacts our future. He believes ...
Trending Articles
5 Facts about Syringes You Wish You Knew Before
A syringe is a pump consisting of a snugly fit piston(or plunger) within a calibrated glass or plastic cylinder called a barrel.The syringe is equipped with a hypodermic needle, nozzle, or tubing that helps direct the flow of medication.
TOP 5 BEST REVIEWED NEBULIZERS OF 2022
Breathing disorders, such as COPD or asthma, can be a major detriment when it comes to quality-of-life issues.Treating these breathing ailments with medications is the main course of treatment.Being able to deliver aerosol medication directly into the lungs in an expedited fashion is the best way to manage these lung disorders. The use of a nebulizer for aerosol medications allows for the efficient and easy delivery of these medications.
MINERAL OIL VS SALINE ENEMA: WHICH ONE TO CHOOSE?
An enema is used for many reasons.Just as there are many reasons, there are different types of enemas, each of which contains different ingredients and works differently in the body. While some may choose an enema to soften stool or for routine colon cleansing, the reason for using an enema may have more of a medical necessity.
FIVE BEST CERVICAL TRACTION DEVICES OF 2022
Cervical traction is a technique applied to the cervical region of the body to help alleviate neck pain, discomfort, and other physical conditions related to the cervical region.Cervical traction works by stressing the neck, pulling, and pushing, thus reducing the pressure on the spine, the neck, and the upper torso.Excessive stress on the neck, spine, and upper region, due to a wide range of conditions or injuries can cause severe pain and can lead to other complications.Cervical traction devices help alleviates these conditions thus offering overall body rehabilitation and treatment options.