Wheelchair bound people have a difficult time moving around in the house as the layout often times involves different levels, maybe just a step apart yet difficult for the wheelchair to navigate and so they end up always requiring assistance.This is where Modular Wheelchair Ramps can help. They provide the ease of travelling and moving around from all lower to higher places and vice versa easily, and can be fixed in one place and modified according to the user.
What are Modular Ramps?
Modular ramps are ramp systems specifically designed to assist with the transportation of wheelchair bound patients between two different levels of the floor. They are also used by people who cannot walk down the stairs or move from a higher level to the lower level and vice versa.
Why Does One Need a Modular Ramp?
A wheelchair bound person is many a time forced to move around in a confined place for the sake of their own safety. But everyone needs ample of space and freedom to go wherever they want. Modular ramps have made this easy for these people.
People bound to wheelchairs
People with crutches
Disability to climb or descend stairs
Benefits of Modular Ramps
Wide platforms
Semi-permanent and permanent installation
Stable for all kinds of wheelchairs and scooters
Can be disassembled and reconfigured almost anywhere
Can be used in almost all places
Modular Ramps - Some Value for Money Deals
EZ-Access Modular Ramp System
Specifically designed for residential use, these ramps are perfect for those who want the accessibility to go beyond the reaches of a portable ramp. There is less hardware and so the set up is easy. EZ-Access Modular Ramp is built with durable and lightweight aluminium thus ensuring there is no rust, rot, or decay. It fits well into the environs of the house and is extremely easy to use.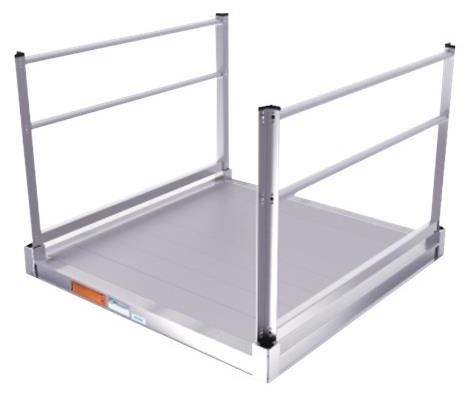 EZ Access Pathway Aluminium Modular Platform With Four Feet Handrail
Another considerable and worthwhile addition for residential use, EZ-Access Pathway Modular ramp is made of welded and high strength aluminium. It has easy access, is completely maintenance free, and is supremely durable. The ergonomic design is appealing to look at thus gelling in with the house easily. It is built to withstand all climates and is completely hassle free.
Ez-Access Transitions Modular Entry Mat
For those people that might have predispositions in using metal ramps or for people that have a small elevation that needs to bridged, using a large aluminium modular ramp is not a good solution. Ez-Access Mats are made of rubber which is 100% recycled. They can be trimmed and notched to meet all entry point sizes and can be used almost anywhere. They are portable and can withstand all kinds of climate and are completely water-proof.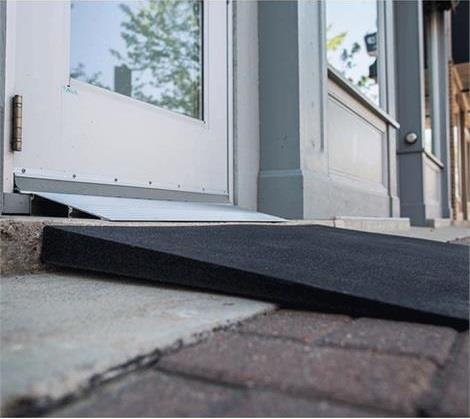 Modular ramps have changed the way people have been transporting people through elevations and have redefined the ideas of installing ramps that need to be affixed each time. They can easily blend into the home environment and become a part of your daily life.
Disclaimer: All content found on our website, including images, videos, infographics and text were created solely for informational purposes. Our content should never be used for the purpose of diagnosis or treatment of any medical conditions. Content shared on our websites is not meant to be used as a substitute for advice from a certified medical professional. Reliance on the information provided on our website as a basis for patient treatment is solely at your own risk. We urge all our customers to always consult a physician or a certified medical professional before trying or using a new medical product.