All About Golfer's Elbow
By Taikhum Sadiq
What is golfer's elbow?
The front part of the arm contains a number of muscles that are responsible for the movement of the digits of the hand. These muscles and tendons come together to form a sheath which originates from the elbow joint. When this region gets inflamed due to injury, the condition is called golfer's elbow. It is similar to tennis elbow but is common within golfers who use these specific muscles while playing.
What are the symptoms?
Major symptoms are the swelling of the elbow joint and excessive pain while flexing the fingers. The muscles become sore and are difficult to move. Grasping and holding things become painful and difficult.
What are the causes?
Golfers are usually vulnerable to this condition as they stress these muscles the most, but overtime, injury to these muscles was called golfer's elbow. It also commonly affects baseball players, especially pitchers as it's the same set of muscles that come into play. Since stress on fingers is also a cause for this condition, rock climbers and mountaineers are also vulnerable to this condition.
What are the treatment options?
There are a number of options for treatment. Exercise, therapy, and rest are the major treatment options. Combined with other therapies like hot and cold therapy, can reduce the inflammation and ease the pain. Your doctor might prescribe anti-inflammatory drugs such as ibuprofen. Braces and slings also help a lot to support an aching elbow and also serve as mediums of various therapies.
What are my options?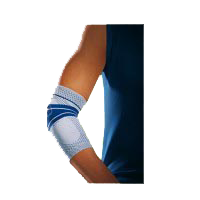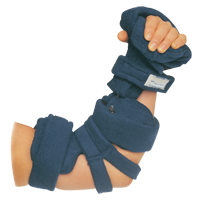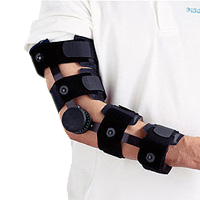 Bauerfeind EpiTrain Elbow Support helps reduce pain and relieve tension. As the user move, the special knitted compressive support with its built-in visco elastic pad stimulates the muscles and aids healing. EpiTrain massages the tissue during exercise and stimulates the metabolism. This can help the swelling to go down quickly.

Comfy Elbow-Hand Combo Orthosis extends the elbow and hand simultaneously. It is excellent for the spastic hand and elbow and takes into account the flexion synergy of the upper extremity. Quick and easy-to-use splint for support and progressive extension of the hand, wrist and elbow. The foam covered metal skeleton bends to fit a wide range of deformities and is great as resting splint.

Aircast Mayo Clinic Elbow Brace has unique control knob and adjustable hinge that provides exceptional stability and comfort while allowing for immobilization, static stretch or free motion option of the elbow. The brace is used immediately after surgery to protect and immobilize the elbow joint. The sturdy metal uprights provide stability, while the straps with aircells securely hold the brace in position, ensure patient comfort and avoid pressure points.