Using the Head

The hands are an important part of the body and impairment of these limbs can cause a great deal of difficulty to a person. But losing the ability to use the arms and hands doesn't make a person disabled. That is why we now a use a more accurate term of differently-abled people. Disabled means one not being able to do something. But people who cannot use their arms can still do things; this thus negates the fact of them being disabled.
 But one does require a proxy limb or aid that can use a different organ or limb to perform the function of the limb that doesn't function. This is where mouth sticks and pointers come in. These tools are basic engineering tools and are of great help to people who cannot use their hands and arms. They firmly use the head or the mouth to execute many functions that people usually perform using their hands.
Unfortunate injuries or conditions like quadriplegia and cerebral palsy can cause a person to lose the functioning of their hands. But that doesn't restrict them from performing tasks. A person can use a mouth stick to type, write, turn a page, read a book, and many more such tasks.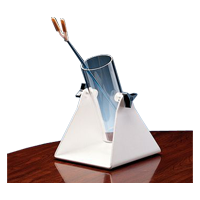 There are different types of mouth sticks and pointers. Some come with a grip to hold a pen; some can just be used for typing and reading a book. Some are enabled with all the accessories so that one can use only one tool to perform all tasks.  For example the Baseball Cap Head Pointer is an excellent option for kids and youngsters. It is a fully adjustable pointer that fits any size baseball cap with a button on top. It can be adjusted from 18-1/2 inch to 24-1/2 inch, from cap button to pointer tip. It is completely latex-free.
On the other hand the Clear View Headpointer is a unit that extends from jaw level, permitting better vision and body positioning than a forehead pointer. User stays comfortably positioned, and minimal head movement is required. The lightweight aluminum yoke can be bent to adjust pointer angle.
One also might require a proper place to store their mouth sticks and these places need to be sterilized so that you do not get in touch with any germs. The Wide Mouth Docking Station is a clear plastic cylinder which is ideal for less accurate mouth stick users or for training. It adjusts to different angles with large knobs that turn easily. Entire station cleans easily with mild soap and water.
For more options on Mouth sticks and Pointers, click on the following link.
Disclaimer: All content found on our website, including images, videos, infographics and text were created solely for informational purposes. Our content should never be used for the purpose of diagnosis or treatment of any medical conditions. Content shared on our websites is not meant to be used as a substitute for advice from a certified medical professional. Reliance on the information provided on our website as a basis for patient treatment is solely at your own risk. We urge all our customers to always consult a physician or a certified medical professional before trying or using a new medical product.