Shining a Light on Seasonal Affective Disorder

We all get a little bummed as the days get shorter and darkness is more prevalent, but for some this funk can be more serious. Seasonal Affective Disorder (SAD) is a depression that occurs usually in fall and winter. Since you can't beat Mother Nature, how do we deal with this disorder? Light therapy or bright light therapy is one way to combat this disorder.
More than Just SAD
Seasonal Affective Disorder (SAD) is more than just lamenting the end of summer and the shortening of daylight. According to mayoclinic.org, symptoms of this disorder normally begin in the fall and continue through winter. To a lesser degree, sufferers can also experience symptoms in the spring or early summer. Seasonal Affective Disorder is a subtype of depression based on the changing of the seasons and is often minimized during the abundant, sunnier times of summer. Some of the symptoms that are identified by mayoclinic.org include:
Irritability
Low energy or sluggishness
Oversleeping
Hyper sensitivity to rejection
A heavy feeling in the arms or legs
Appetite changes
Weight gain
What Brings on the Blues?
Since SAD is a type of depression, pinpointing the cause of symptoms may be difficult. It's more than just missing the nicer weather and daylight of summer. While the cause is unknown, there are factors that may play a role in causing this disorder. Mayoclinic.org identifies three different possibilities. One possible cause is your biological clock or circadian rhythm. The decrease in sunlight during the fall and winter can cause the onset of SAD. Your body's internal clock may be goofed up by the decrease in sunlight and lead to feelings of depression. Another possible cause can be a drop in levels of serotonin caused by reduced sunlight. Serotonin is a neurotransmitter in the brain that affects mood and any reduction can cause depression. A change in seasons can negatively affect your level of melatonin also. This chemical regulates sleep patterns and mood, so any disruption can trigger feelings of depression.
Turn on the Light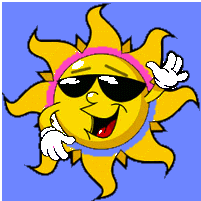 The lack of daylight during the shorter seasons seems to be the common denominator triggering the onset of SAD. To combat this, we need to "enlighten" ourselves, but how do we achieve this? As far as I'm aware there is no light switch for the sun (boy would that be convenient). Using an artificial light source for light therapy (also known as phototherapy) can help combat this disorder. For instance, the Carex SunLite Bright Light Brown Therapy Lamp uses 99.3% UV filtered light that produces 10,000 Lux at a distance of 10 inches and is perfect for those suffering from mild to moderate light deficiency symptoms. Another way to lift your spirits and fight off SAD is to use the NatureBright Sun Touch Plus Light and Ion Therapy Lamp . It can bathe you in sky effective light while releasing negative ions which simulates the healing effects of a waterfall or rain forest, which have an abundance of negative ions. It's safe and effective UV free light mimics a blue sky. To create a positive work environment for employees that need to be alert or work odd shifts, work areas can utilize the Northern Light Technologies SHOWoff / Light therapy Lamp . This 54W 4 foot long light provides therapeutic light levels and can deliver up to 4000 Lux to keep employees safe and alert. For some, the idea of taking the light with you is an attractive proposition. The SunBox SunSation Portable Sunlight Therapy Light Box provides the portability to provide a full spectrum, UV free light for home, office, or travel. It's perfect for your desk, table top, or vanity while weighing only 3.5 pounds. Many experts recommend that the light source being used during phototherapy put out 10,000 Lux. The Day-Light Sky Bright Light Therapy System does just that while eliminating 99.3% of harmful UV rays. Its high-efficiency electronic ballasts are height and angle adjustable for the user for optimal efficiency. By improving the light around you, you can uplift your spirits during the trying times of fall or winter and bring the bright light of summer into your house or office. Bright light therapy can help combat SAD or depression brought on by the change of seasons and improve your quality of life.
Disclaimer: All content found on our website, including images, videos, infographics and text were created solely for informational purposes. Our content should never be used for the purpose of diagnosis or treatment of any medical conditions. Content shared on our websites is not meant to be used as a substitute for advice from a certified medical professional. Reliance on the information provided on our website as a basis for patient treatment is solely at your own risk. We urge all our customers to always consult a physician or a certified medical professional before trying or using a new medical product.