Raising the Height

It happens often that we make a piece of furniture according to our current needs and later one we need the furniture to be a bit bigger, shorter, taller, and what not. But since we aren't wizards, once a piece of furniture is made it cannot be added on, unless it's adjustable or we use another tool. The name of this other tool is furniture riser. As simple as it sounds, a furniture riser works just like a stool or a heel would for a shoe. It raises the height of the object.
People usually buy high heeled shoes to look taller, but that's not the case with furniture. Sometimes due to an injury or due to old age, the regular position you sit in becomes uncomfortable. You might think that it would help if this chair or table was higher, but you wouldn't want it to be permanent. There comes the use of furniture risers. They are rubber or plastic made objects that fit around the legs of the furniture and raise the height of the object. They come in varied sizes, depending upon the height you want.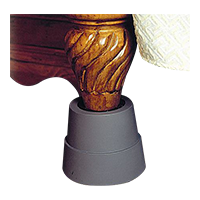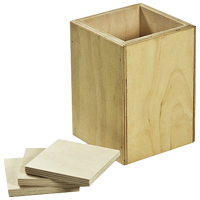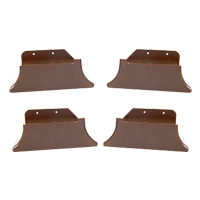 For example the cylindrical rubber risers increase the height of chairs and tables. They fit perfectly around the legs of the object thus giving you a raised platform to sit or eat on. In this category, the Standers Furniture Risers are part of elevators or lifters which adjust the height of any furniture. They are very affordable and safe way to give the furniture a little extra height, making standing or sitting from a couch or bed easy. They create instant storage space and help in giving a sophisticated look to the room. Furniture legs fit into the top of each riser that can accommodate legs up to two-and-half inch in diameter.
If you want something that doesn't need to be fitted, the Plywood Furniture Risers is an excellent option. They are sturdy blocks of multi laminated plywood, adjust three inch to six inch in height and are latex free. One block needed for each leg of furniture.
One would need a different kind of riser for a recliner chair. Normal risers would make it difficult for the person to stand again swiftly and easily and hence the Standers Recliner Risers Set is a safe and easy solution to give a lift to the chair. The recliner risers attach quickly and easily to the wooden base of a recliner. They raise a chair and limit the forward tilt allowing an additional three to four inches of lift making standing or sitting easy. This extra support gives a weakened person a biomechanical advantage and enables them to stand on their own.
Disclaimer: All content found on our website, including images, videos, infographics and text were created solely for informational purposes. Our content should never be used for the purpose of diagnosis or treatment of any medical conditions. Content shared on our websites is not meant to be used as a substitute for advice from a certified medical professional. Reliance on the information provided on our website as a basis for patient treatment is solely at your own risk. We urge all our customers to always consult a physician or a certified medical professional before trying or using a new medical product.