Maternity Belts: Enhance your joys of motherhood

Joys of pregnancy are overwhelming for every woman. However, as pregnancy progresses, the woman's body undergoes several hormonal and physical changes. The increased weight gain and abdominal growth exerts pressure on the pelvic, hip and back areas. It is here that the expecting mother needs to adopt a gear or aid which will ease out the pain and discomfort of an advanced pregnancy and provide the necessary comfort and support.
Maternity belts are the most sought-after pregnancy aid. They not only ease out the pain and discomfort a pregnant woman faces, but also support special medical conditions. They are worn over and under a pregnant belly and wrapped around the lower back. This lifts the abdomen thereby reducing the pressure on the lower back and the pain associated with it. This also helps maintain a good posture.
Most important uses of a maternity belt are:
Relieves aches and pains in the lower back, hip, pelvis and sciatica pain in the legs

 

Reduces stretch marks

 

Improves posture

 

Provides gentle compression during prenatal exercises

 

Special support for pregnant women suffering from hernias

 

Useful post-partum as well when the stretched, strained muscles and ligaments require time to heal

 
Let us look at some of the maternity belts and girdles used by pregnant women:
1. Core Better Binder pregnancy belly support belt
Designed by a physical therapist with over 40 years of experience in women's health and orthopedics, Better Binder helps support the belly and back, stabilizing excessive joint motion in the pelvis, back and ribs. Since Core Better Binder pregnancy belly support belt is versatile and flexible it
a) holds and hugs a post-partum belly
b) remodels lymphedemic bellies
c) gives extra support and comfort to bariatric persons
When used post-partum, it strengthens the abdominal muscles and stabilizes the back. It can be worn over or under clothing, but never over a wound. Its latex-free elastic is soft but strong enough to attain the desired stretch. Fastened from top to bottom, its edges do not cut in or fold over. By adjusting the tension or stretch, desired results can be seen. It is available in beige color and in Small, Medium, Large and X-Large sizes.
2. OPTP SI-LOC Maternity Support Belt
Supporting the pelvic structures, this belt is targeted towards relieving the pain in the Sacrum Ilium (SI) joint, lower back and hips during pregnancy and post-partum. During late pregnancy, the pelvic joints and ligaments shift and stretch naturally, causing severe back, hip and sciatic leg pain. Wearing the maternity sacroiliac belt supports the pelvic structures. Likewise, when worn post-partum, the OPTP SI-LOC Maternity Support Belt supports the pelvic structures aiding the body return to its pre-pregnancy alignment.
Featuring an exclusive non-bulky design, it offers comfortable compression. The fabric used is lightweight and breathable and can be easily concealed under clothing. The easily adjustable, 'no-buckle' design makes it very convenient to use. It is accessorized with a detachable abdominal pad which gives extra support and comfort. The non-slip pads provide even pressure distributionbecause of its wider design at the innominate.
3. Best Cradle Prenatal Adjustable Orthotic Support
This pregnancy belt offers support to the pregnancy weight without restricting the mother and fetus. It is fully adjustable and provides ample orthotic support for abdominal and back straining. It eases out the pain resulting from hip separation pubic symphysis. Let us look at the distinct features of Best Cradle Prenatal Adjustable Orthotic Support which makes it a must for pregnant women:
Lifts weight from the pelvis, improving blood circulation to the lower extremities thereby reducing ankle and leg swelling.

 

Improves the mother's posture while relieving back pain.

 

Soft and comfortable elastics lie flat under clothing for no bulk under clothing.

 

Designed with an open abdomen, it keeps the body cool and comfortable.

 

Hook and eye closures are soft and securely fitted.

 

Non-shoulder straps give it a perfect fit.

 
These features make it a perfect choice for a mother carrying twins or triplets. With its extended support and comfort, she can remain active even in the third trimester. It is available in Small, Medium and Large sizes.
4. Gabrialla Maternity Support Girdle
This maternity support girdle is made of nylon, cotton and lycra and beautifully adorned with a stretchable lace and satin. It also has an additional Velcro closure in the back to accommodate maximum abdominal growth. Gabrialla Maternity Support Girdle minimizes back pain and stretch marks which appear after an increased weight gain and dry skin. The 3-inch band and stretchable lace and satin give that extra support during the abdominal growth spurt. Cotton lining keeps the skin breathable and prevents skin allergies. Pregnant women experience improved posture and balance. Used as an underclothing, the girdle is available in different sizes - X-Small, Small, Medium, Large, X-Large and XX-Large.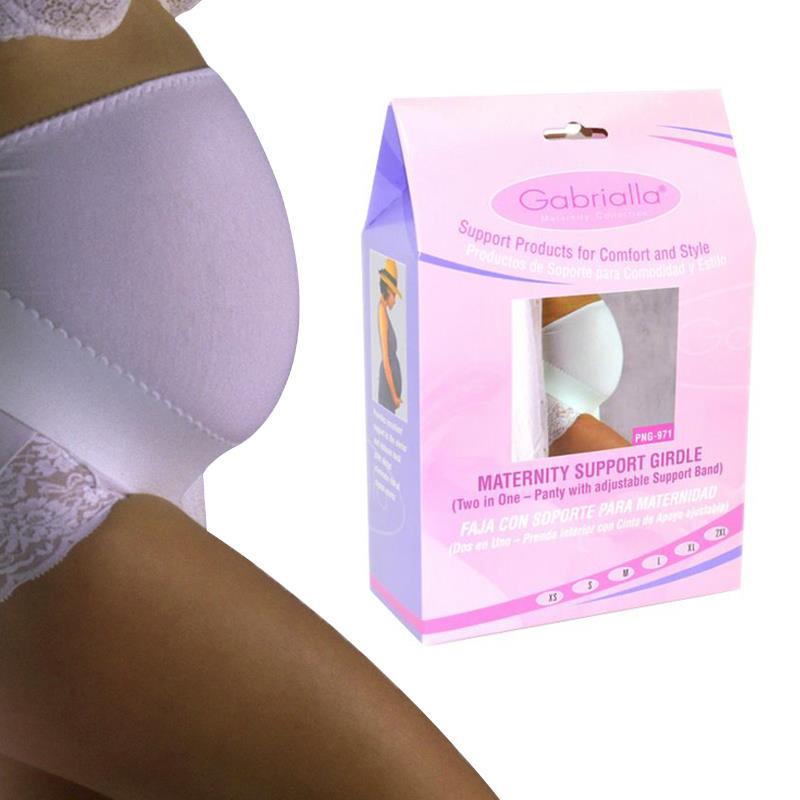 5. Prenatal Cradle Hip V2 Supporter
The V2 Supporter is a vulvar compression garment and eases out the pain and swelling resulting from vulvar varicosities. When women feel "everything is falling out the bottom", the V2 Supporter is extremely helpful. It also supports a prolapsed bladder and prolapsed uterus. Pregnant women also use it for undergoing pelvic floor prenatal therapy. It is adjustable so as to give the best fit for maximum comfort and support. The V2 supporter is soft, lightweight and machine washable. Available in different sizes, Petite, Small, Medium and Large, it is for sure an expecting mother's most helpful gear. It is easily concealed underclothing and so makes it go along with any maternity wear.
So with maternity belts, you can somewhat be assured that the aches and pains of a pregnancy do not overpower the joys associated with it. Pregnancy, when supported by appropriate aids, can make the entire experience very pleasant for a woman. It will also expedite her recovery and healing during the post-partum period.
Disclaimer: All content found on our website, including images, videos, infographics and text were created solely for informational purposes. Our content should never be used for the purpose of diagnosis or treatment of any medical conditions. Content shared on our websites is not meant to be used as a substitute for advice from a certified medical professional. Reliance on the information provided on our website as a basis for patient treatment is solely at your own risk. We urge all our customers to always consult a physician or a certified medical professional before trying or using a new medical product.
Swati Chadha
Swati Chadha has been a Health Products For You contributor since 2017. A stay-at-home mom of two wonderful children, her professional experience has been in the social development sector with a focus on reproductive health and HIV/AIDS prevention. She considers ...
Trending Articles
5 Facts about Syringes You Wish You Knew Before
A syringe is a pump consisting of a snugly fit piston(or plunger) within a calibrated glass or plastic cylinder called a barrel.The syringe is equipped with a hypodermic needle, nozzle, or tubing that helps direct the flow of medication.
TOP 5 BEST REVIEWED NEBULIZERS OF 2022
Breathing disorders, such as COPD or asthma, can be a major detriment when it comes to quality-of-life issues.Treating these breathing ailments with medications is the main course of treatment.Being able to deliver aerosol medication directly into the lungs in an expedited fashion is the best way to manage these lung disorders. The use of a nebulizer for aerosol medications allows for the efficient and easy delivery of these medications.
MINERAL OIL VS SALINE ENEMA: WHICH ONE TO CHOOSE?
An enema is used for many reasons.Just as there are many reasons, there are different types of enemas, each of which contains different ingredients and works differently in the body. While some may choose an enema to soften stool or for routine colon cleansing, the reason for using an enema may have more of a medical necessity.
FIVE BEST CERVICAL TRACTION DEVICES OF 2022
Cervical traction is a technique applied to the cervical region of the body to help alleviate neck pain, discomfort, and other physical conditions related to the cervical region.Cervical traction works by stressing the neck, pulling, and pushing, thus reducing the pressure on the spine, the neck, and the upper torso.Excessive stress on the neck, spine, and upper region, due to a wide range of conditions or injuries can cause severe pain and can lead to other complications.Cervical traction devices help alleviates these conditions thus offering overall body rehabilitation and treatment options.