Spirometry: A Brief Guide to Lung Capacity Measurement Device

What is Spirometry?
Spirometry is a diagnostic test used to assess the lung's functioning and measure the air a person can inhale and exhale. It can help diagnose various respiratory conditions, such as asthma, COPD, and restrictive lung diseases, and monitor disease progression. During a spirometry test, a person breathes into a device called a spirometer device. It is a lung capacity measurement device used to measure the volume of air inhaled and exhaled by the lungs. Spirometry device measures ventilation, the air movement into and out of the lungs. The spirogram will identify two types of abnormal ventilation patterns: obstructive and restrictive. Various types of spirometers use a number of different methods for measurement (pressure transducers, ultrasonic, water gauge, etc.). A person breathes into the spirometer forcefully and with all their strength. The spirometer then measures the amount of air exhaled by the lungs and also the speed at which it was exhaled.
It lets the user know whether there is an obstruction in the lungs or the airways. It can detect the presence of lung disease and also lets the user know the severity of the lung disease. One should always contact a doctor based on the readings and should not assess the problem on their own.
What does a Spirometer do?
Spirometer is an instrument to measure lung capacity that diagnoses certain types of lung diseases such as asthma, bronchitis, and emphysema. It is also used to find the cause of shortness of breath and measure whether exposure to chemicals at work affects lung function. It is used to check lung function before someone goes through surgery, assess the effect of the medication, and measure the progress of the treatment.
Why is a Spirometer used?
A lung capacity measurement device is used for the following reasons:
Diagnose certain types of lung disease
Find the causes of shortness of breath
Measure whether exposure to chemicals affects the lungs
Assess the effect of some medications
Measure progress in disease treatment
Types of Spirometry Devices
There are six different types of spirometers based on the location where they are placed and the techniques they use to measure lung function:
Whole Body Plethysmograph - It gives the most accurate measurements since it is taken in an enclosed space.
Pneumotachometer - Determines the flow rate of gases. The best part is that the user can breathe fresh air during the test.
Fully Electronic Spirometer - Household spirometers can be used to measure basic lung function easily and without any hassle.
Incentive Spirometer - Used to help the patient improve their lung function.
Peak Flow Meter - It is used to measure how well a person's lungs expand.
Windmill-type Spirometer - It is used for measuring the forced vital capacity without using water.
What is an Incentive Spirometer?
An incentive spirometer is a lung capacity measurement device that is used to help patients improve the functioning of their lungs. It is given to patients who have had any surgery that might put in danger the respiratory function, particularly surgery to the lungs themselves. It is also commonly given to patients recovering from cardiac or other surgery involving extended time under anesthesia and prolonged in-bed recovery. The spirometer device is also issued to patients recovering from pneumonia or rib damage to help minimize the chance of fluid build-up in the lungs. It can be used as well by wind instrument players who want to improve their airflow.
Our Best Spirometers
CareFusion AirLife Spirometer measures the volume of air inspired by the patient during inhalation, which helps monitor and track the progress of lung function. The one-way valve ensures that the patient can only inhale through the device, preventing exhaled air from re-entering the spirometer. This helps maintain the accuracy of measurements and minimizes the risk of contamination. The CareFusion AirLife Volumetric Incentive Spirometer is designed to be lightweight and portable, making it convenient for patients to use at home or in healthcare facilities.

CareFusion AirLife Volumetric Incentive Spirometer With One-Way Valve
Voldyne Incentive Spirometer encourages patients to take deep breaths and sustain maximal inspiration, which helps expand their lung capacity and maintain healthy lung function. As the patient inhales, the ball rises within the cage, providing visual feedback on the strength and volume of the inhalation.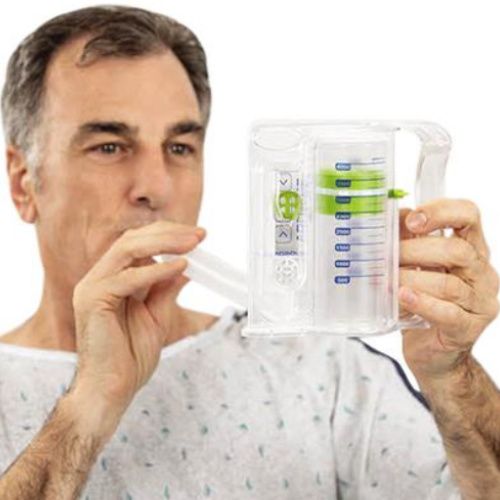 Medline Voldyne Incentive Spirometer
Medline Voldyne Incentive Spirometer is an instrument to measure lung capacity and it assists patients in improving their lung function, particularly their inspiratory volume. It has a maximum volume capacity of 2500 mL, which allows patients to measure and track their inspiratory volume during each breath. This volume capacity is typically marked on the device for easy reference.

Voldyne 2500 mL Incentive Spirometer
Where to buy Spirometers Online?
At HPFY, you will get a wide range of spirometry devices from top-selling brands and manufacturers at the best prices. Unlock Your Lung Potential - Harness the Benefits of Spirometry!
Disclaimer: All content found on our website, including images, videos, infographics and text were created solely for informational purposes. Our content should never be used for the purpose of diagnosis or treatment of any medical conditions. Content shared on our websites is not meant to be used as a substitute for advice from a certified medical professional. Reliance on the information provided on our website as a basis for patient treatment is solely at your own risk. We urge all our customers to always consult a physician or a certified medical professional before trying or using a new medical product.